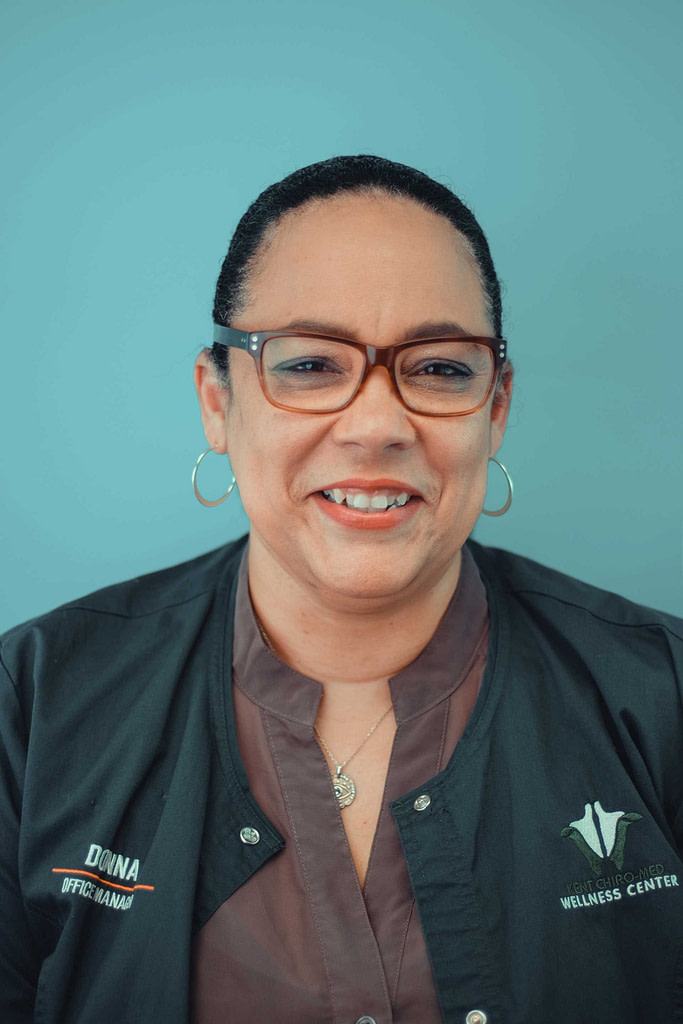 When she is not at work, Donna enjoys reading horror novels, playing games with her son, and watching movies with her family and friends.
Born in Vancouver, Donna moved to Ottawa to establish her family.
I am a mother of two wonderful kids: my daughter Abra-Lyne (33 years old) and my son Emery-John (13 years old). So yes, I am that old… I have two wonderful grandchildren; a girl aged 6 and a boy aged 2 years old. I also have two pets: a dog (Channel; she is a Havanese and is 9 years old) and a tabby cat (Mick; he is 10 years old). I enjoy spending time taking walks with my son and my fur baby Channel. I am an avid horror and mystery novel reader and love a good scary movie.
My role at Kent Chiro-Med Wellness Clinic is to ensure that the clinic runs both upfront and behind the scenes smoothly. I handle the motor vehicle accident cases and claims that our practitioners treat. I ensure that all the paperwork is correct and submitted on time so that the care given by the practitioners is not interrupted for our patients. I also work at the front reception desk, booking patients, ensuring that their follow-up appointments are scheduled and making sure to keep everyone smiling.
The experience of Kent Chiro-Med Wellness Clinic is memorable because every patient is treated as a family member. The practitioners have a vested interest in the well-being of everyone they treat. We all want to ensure our patients are living their best pain-free and healthy life.
I don't JUST like working at Kent Chiro-Med Wellness Clinic. I LOVE working here! We are a family. We care about each other. We check on each other and ask how our days are going, how our families are doing, and if we need someone to talk to, there are always enough shoulders to lean on in times of need. Since the COVID-19 pandemic has happened, our clinic has become our social bubble. We help each other stay sane during this pandemic and keep our mental well-being in check.