Learn about our passion for healing people
What Makes Kent Chiro-Med Wellness Clinic Unique?
It all comes down to patient care and experience. Think about it. As a patient, what do you wish for most when you visit your doctor's office? Your doctor spending more time with you? Check. Unique and customized treatment plans? Check. Seeing substantial progress in your recovery? Check. Meeting a friendly and welcoming staff? Check. Empathetic and knowledgeable practitioners? Check.
Those are the exact attributes that laid the foundation of our clinic!
We are a state-of-the-art
clinic in downtown Ottawa
At Kent Chiro-Med Wellness Clinic, you can have all of the above! We specialize in 2 primary health services: Chiropractic and Physiotherapy. We're here to transform your life by empowering you to reach your optimal health. As a prospective patient, we will provide you with a safe, fun and professional environment where you can feel respected, valued, and encouraged by a positive healthcare team. We will do the best we can to help you recover the function and the lifestyle you had before your injury.
Whatever the reason for your visit to Kent Chiro-Med Wellness Clinic, you can be sure of one thing: you'll remember the team who helped you and the experience you had for the rest of your life!
Dr.Maryam Hassanzadeh is known for being friendly, personal and remembering her patients' names. She goes above and beyond
She works well with older patients and patients with chronic issues.
Dr. Raphael is known to make patients feel at ease, to pay particular attention to details during his treatments, to conduct thorough investigations, to find lasting solutions, and to create individualized treatment plans for each patient.  

Dr. Raphael's philosophy is to win the hearts of his patients.
As a graduate from the Masters of Science in Physical Therapy program at the University of Toronto, I work with my clients to improve mobility, restore function, relieve pain, and prevent injury. Implementing my knowledge with previously gained experience and qualifications allows me to provide a holistic approach to enhancing your quality of life.
Dr. Broadhurst is a genuinely kind and compassionate individual who always puts the needs of her patients first.

She focuses on identifying and understanding the root cause of her patients' issues in order to deliver them with the best possible care.
If you see patients entering the halfway with an aura of feeling relaxed, then you can guess that they have just seen me in room 15. What a coincidence; my lucky number is 15.
After completing a Bachelor Degree in Physical Therapy in Lebanon, my passion for helping others led me to complete a Doctor of Physical Therapy Degree. This journey was followed by more than 7 years of experience treating patients having mild to severe injuries.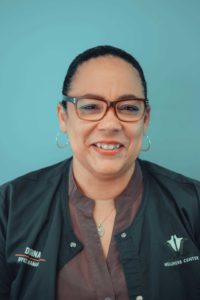 Born in Vancouver, Donna moved to Ottawa to establish her family. I am a mother of two wonderful kids: my daughter Abra-Lyne (33 years old) and my son Emery-John (13 years old). So yes, I am that old… I have two wonderful grandchildren; a girl aged 6 and a boy aged 2 years old. I also have two pets: a dog (Channel; she is a Havanese and is 9 years old) and a tabby cat (Mick; he is 10 years old). I enjoy spending time taking walks with my son and my fur baby Channel. I am an avid horror and mystery novel reader and love a good scary movie.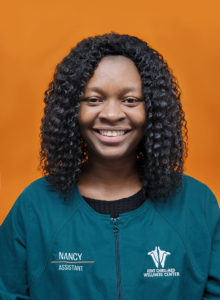 Nancy
Administrative Assistant
I am the resource person that welcomes you to the clinic (when you visit), schedules your appointments, speaks to you when you call the clinic, responds to your emails, handles payments, and follows up on you to ensure you meet up with your appointment.

As your first contact point in the clinic, I help to ensure that you have a seamless, awesome experience.
Join many others in healing

Kate Croteau
Absolutely amazing! I'm so glad that I found a place where I felt comfortable and Ramy does excellent work! This was my first time going to see a chiropractor so I was very nervous and skeptics, but they did not disappoint one bit! Excellent customer service and everyone is very friendly and helpful. Couldn't be happier with my experience!
Read on Google

Yadollah Parmoun
I was suffering from severe pain around my neck and down to my back for a year, which was caused by hard physical work and incorrect lifestyle. The pain had limited my activities considerably. Prior to me, my family had a very satisfactory experience with the Clinic, and were especially talking about Dr. Maryam Hassanzadeh's expertise, experience, and devotion to ...
Read on Google

Daniel Bermel
As an athlete, I've been seeing Ghaith for a hip impingement injury that was restricting me from sports/workouts. Ghaith helped me get back in the action! Its always a pleasure seeing him, as he's friendly & enthusiastic, he genuinely enjoys explaining the mechanics of the injury and discussing the big picture theory (which I love as a bit of a nerd & athlete). Thanks Ghaith & Kent Chiro-Med!
Read on Google
What time works best for you?
Mon-Thur
Friday
Saturday
Sunday
9 AM – 6 PM
9 AM – 3 PM
8 AM – 3 PM
Closed