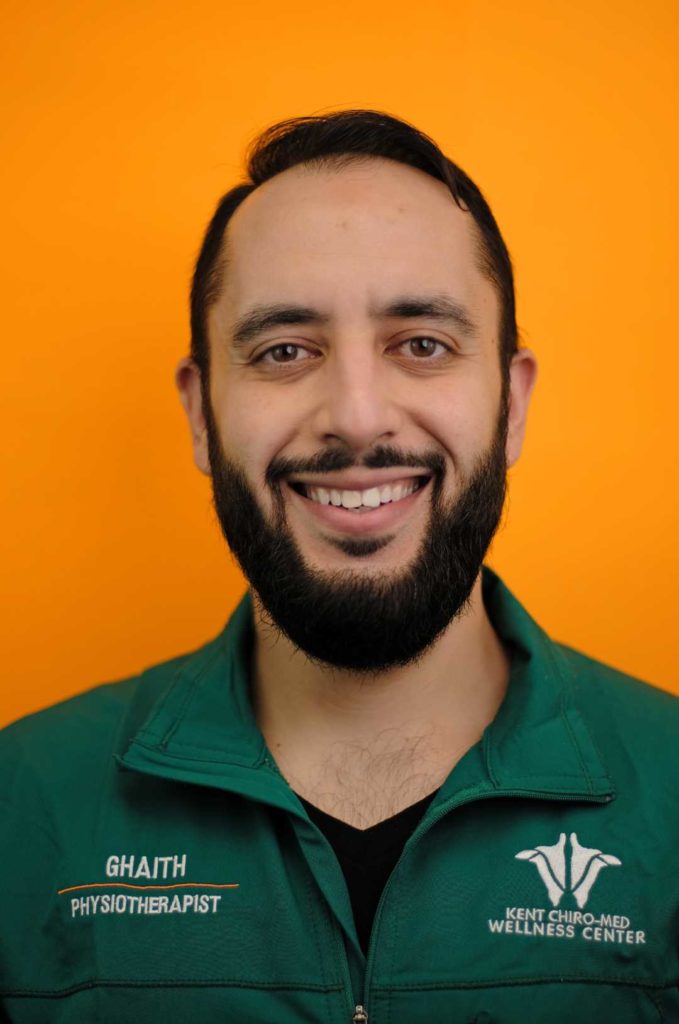 Offers services in: Arabic, English


What makes Kent Chiro so special to me?
This is what I love most about the people at Kent Chiro-Med. We all believe in the values of hard work, honesty, teamwork, staying humble, and being the absolute best at what we do. We all aim to give 100% every day, no excuses, or shortcuts and want to leave an impact on those we work with.

We are here to make a difference in people's lives, not to make a quick buck or chase fame.
Having completed my Honours Bachelor of Science with Specialization in Human Kinetics at the University of Ottawa, I pursued to complete a Master of Science in Physical Therapy at the University of Toronto. I fulfilled 9 years of service and deployments with the Canadian Armed Forces as a Medic, where I qualified in being an International Trauma Life Support (ITLS) instructor, a chosen participant in The Prince's Operation Entrepreneur Business Camp, Chemical Biological Radiological Nuclear and Explosive (CBRNE) medical and tactical response, and a host of leadership training.

As my focus shifted to developing my Physiotherapy career, I expanded my knowledge base through qualifications in Acupuncture, Dry Needling, and NeuroKinetic Therapy, and I continue to participate in annual conferences on a national and global scale.
Having suffered a variety of injuries, from minor sprains and strains to rotator cuff impingement and labrum tears that require surgery, I understand what it feels like to be unable to participate in the sport or activity you love and how challenging it is to go through a lengthy rehab process.

This allows me to relate to athletes and people who come to our clinic to heal and return to their normal lives. I bring my 'no-nonsense, do what you have to do' mindset from the military, my work ethic and diligence from athletics, and my positive energy to all my treatment sessions, as I genuinely believe that anything can be accomplished with the right attitude and dedication.
What should you expect from your first session?
I believe in treating the person, not just masking your pain, so in our first session, expect us to get deep into your medical history, previous injuries, and lifestyle factors that will influence your overall health. These include eating habits, sleep hygiene, stress management, proper nutrition, exercise routines, etc., before moving onto the physical assessment.

The physical assessment will cover your whole body, as well as joints and regions that are connected to your area of concern, as our body is connected and works in conjunction to allow us to do the amazing things we are capable of.

That is where collaboration with other healthcare practitioners becomes indispensable, as certain disciplines and medical techniques are better suited to treating specific diagnoses. I am a firm believer in a multidisciplinary approach to treatment, as no practitioner can perform miracles.
Patient Testimonial About Ghaith
Join many others in healing

Kate Croteau
Absolutely amazing! I'm so glad that I found a place where I felt comfortable and Ramy does excellent work! This was my first time going to see a chiropractor so I was very nervous and skeptics, but they did not disappoint one bit! Excellent customer service and everyone is very friendly and helpful. Couldn't be happier with my experience!
Read on Google

Yadollah Parmoun
I was suffering from severe pain around my neck and down to my back for a year, which was caused by hard physical work and incorrect lifestyle. The pain had limited my activities considerably. Prior to me, my family had a very satisfactory experience with the Clinic, and were especially talking about Dr. Maryam Hassanzadeh's expertise, experience, and devotion to ...
Read on Google

Daniel Bermel
As an athlete, I've been seeing Ghaith for a hip impingement injury that was restricting me from sports/workouts. Ghaith helped me get back in the action! Its always a pleasure seeing him, as he's friendly & enthusiastic, he genuinely enjoys explaining the mechanics of the injury and discussing the big picture theory (which I love as a bit of a nerd & athlete). Thanks Ghaith & Kent Chiro-Med!
Read on Google
He's Proudly Associated With