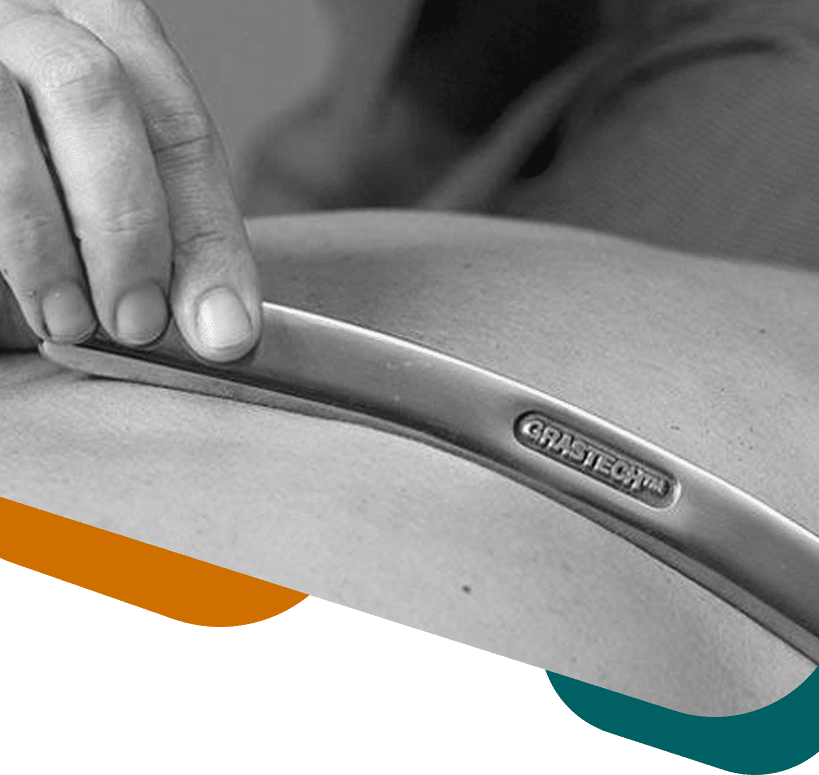 Break down scar tissue and fascial restrictions
If there is one exciting treatment that we would recommend to many patients at Kent Chiro-Med Wellness Clinic, it would be Graston Technique®. You could compare this unique form of therapy to a "deeper" and "more intense" form of manual therapy, except we're using specific instruments (instead of our hands) to mobilize muscles and connective tissue. Graston Technique® can be particularly useful for patients who suffer from chronic tightness in their body and lack of flexibility in their joints as a result of repetitive strain/sprain or a particular trauma. This treatment works well for those who are looking for sports physiotherapy in Ottawa / sports chiropractor.
Who should not receive Graston Technique®?
Patients who have the following conditions should not receive Graston Technique®:
Because Graston Technique® is pro-inflammatory, stimulates cell growth and improves blood circulation, the last thing you want to do is introduce these outcomes in someone who have any form of pathology or injury that affects hormones, blood circulation or the skin. Our practitioners have many years of experience, and are well trained to ensure a safe and appropriate use of Graston Technique®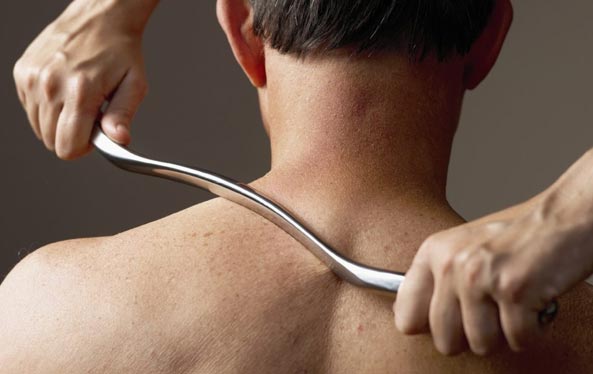 How does Graston Technique work?
Graston Technique® works on both cellular and tissue levels. The practitioner approaches the affected area by identifying the location of painful muscles knots and restrictions with their hand. Once located, they will choose the appropriate Graston® tool and begin swiping the instrument over these knots. The swipe is described as a "deep, calculated stretch" applied in the direction of the muscle fibres. The practitioner may or may not move a particular joint during the swipe to gradually stretch the affected tissue even more. Progressively, the swipe will become deeper, depending on the patient's tolerance and tissue thickness. Many of our patients report better mobility, less tightness, improved local circulation and restored functionality. Graston Technique® is one of those treatments we love to use at Kent Chiro-Med Wellness Clinic because it demonstrates incredible results for patients, almost instantaneously after the treatment.
I've seen some videos of patients receiving Graston Technique® and it looks intense. Should I worry?
If you look up Graston Technique® on the internet, you are mostly likely going to come across pictures and videos of patients with redness and bruising on their back. For our patients who experienced this technique, they will tell you that, surprisingly, it looks worse than what it feels like. When the body is in a dormant state (>6 months post-trauma or injury), it fails to recover, leading to a stagnant plateau of healing. At this time, the patient's condition is not going to improve anymore. As a result of that, chronic pain and major functional limitations persist. Therefore, the goal of Graston Technique® is to re-introduce appropriate recovery to a dormant and chronically injured muscle tissue. One way to do that is to break down tight scar tissue that surrounds the muscle and prevents it from relaxing. During the treatment, signs of redness, warmth, bruising, small red dots, and itchiness over the treated areas can be evidenced and are signs of good "controlled" inflammation. With "controlled" inflammation, you are recruiting healing cells to the affected muscle and stimulating them to grow again and do their job. It is possible to apply different level of pressure on the body, depending on the patient's comfort level. We always start with light pressure to allow tissue desensitization. When a tissue is desensitized, the patient gets used to the pressure. At that moment, your practitioner can apply more force and depth to the tissue.
I just received Graston Technique® at your clinic. Is there anything I should do at home?
You can expect bruising and redness after receiving Graston Technique®. You do not have to worry about it. These are temporary symptoms that will dissipate slowly over the next few days, and are part of the normal process of recovery. Should you feel sore after treatment, you can always apply ice on the treated area (above a wet towel to protect the skin from ice burn) for 20 minutes. Avoid any strenuous activities such as heavy weight lifting at the gym or carrying heavy items.
How long does it take for Graston Technique® to start working?
One of the best things about Graston Technique® is that, should it be working well, you will feel and see the results almost right after the treatment or in the next few hours. It does not matter how long your injury is, most patients should witness incredible results within 6 to 12 sessions of Graston Technique®. This is why this form of treatment is so popular at Kent Chiro-Med Wellness Clinic. If it is not working, your practitioners will re-assess you and propose alternative solutions. Keep in mind that Graston Technique® is just a modality of treatment. It does not however replace the important role of active rehabilitation which should always be added to the treatment plan of any patient to sustain the great results over a longer period of time.
Our treatments are done in private rooms and not open spaces.
We are proud to support a 5-Star Google and FaceBook rating from our patients.
Book your appointments yourself. View your invoices, future and past appointments and more.
Conveniently located in downtown Ottawa. Free street and building parking.
Our team is available evenings and Saturdays for your convenience.
The healing power of a diverse team
We provide multiple services & treatments all-in-one location. We sell equipment, orthotics, give home-care advice and stretches.
Join many others in healing

Kate Croteau
Absolutely amazing! I'm so glad that I found a place where I felt comfortable and Ramy does excellent work! This was my first time going to see a chiropractor so I was very nervous and skeptics, but they did not disappoint one bit! Excellent customer service and everyone is very friendly and helpful. Couldn't be happier with my experience!
Read on Google

Yadollah Parmoun
I was suffering from severe pain around my neck and down to my back for a year, which was caused by hard physical work and incorrect lifestyle. The pain had limited my activities considerably. Prior to me, my family had a very satisfactory experience with the Clinic, and were especially talking about Dr. Maryam Hassanzadeh's expertise, experience, and devotion to ...
Read on Google

Daniel Bermel
As an athlete, I've been seeing Ghaith for a hip impingement injury that was restricting me from sports/workouts. Ghaith helped me get back in the action! Its always a pleasure seeing him, as he's friendly & enthusiastic, he genuinely enjoys explaining the mechanics of the injury and discussing the big picture theory (which I love as a bit of a nerd & athlete). Thanks Ghaith & Kent Chiro-Med!
Read on Google
What time works best for you?
9 AM – 6 PM
9 AM – 3 PM
Closed