Promote movement of water, oxygen, and nutrient-rich fluids into the disks so they can heal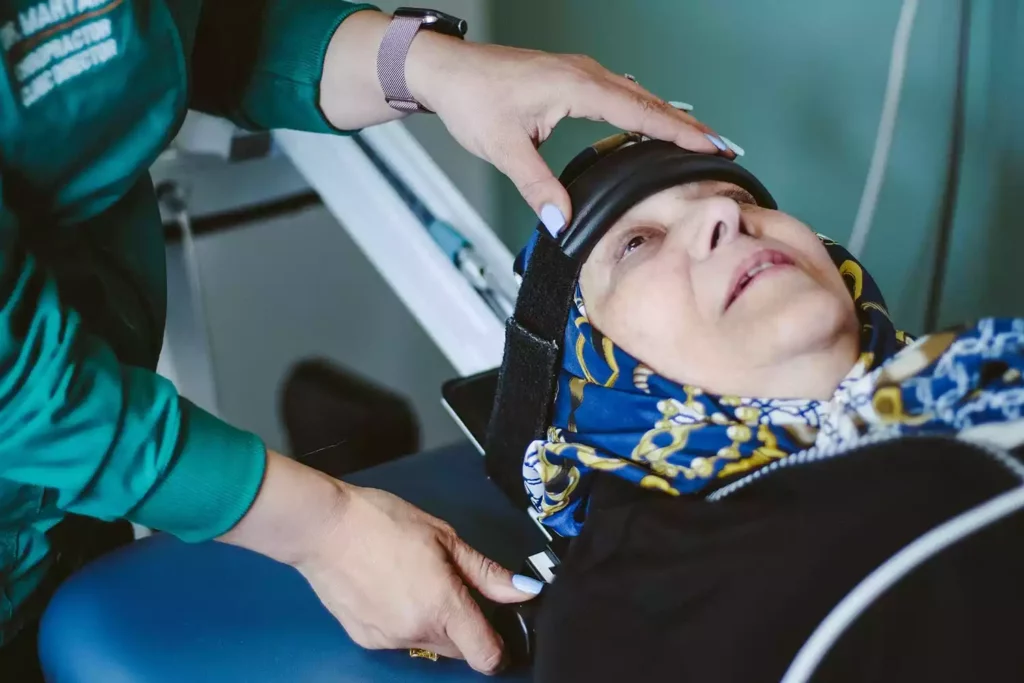 What exactly is Spinal Decompression Therapy?
We are one of the few clinics in Ottawa who proudly provide spinal decompression therapy. Spinal decompression therapy can help fix chronic low back and neck pain due to disc herniation and advanced arthritis when everything else failed. It is a revolutionary technology that has been gaining attention as a nonsurgical option for disc or spinal injuries. It is very safe and efficient. Our physiotherapists and chiropractors can both treat you with this therapy.
The procedure is very easy. To treat the low back, you will be lying comfortably on your back with a set of nicely padded straps snug around your waist and another set around your lower chest. To treat the neck, you will be asked to relax on your back with a pair of soft rubber pads around your neck. During the session, you will feel relaxing distraction forces being applied to your spine in a precise and graduated manner. It's such a remarkable feeling! With each visit, you will gradually feel less pain in your legs and back. Your practitioner will be with you during the session to monitor everything for you and to ensure you are always safe and comfortable!
Some patients present to our clinic with musculoskeletal conditions that are challenging. It may be you! Some of these conditions are not indicated for chiropractic adjustment. Patients with conditions such as unstable disc herniation, severe osteoarthritis and advanced degenerative disc disease can benefit from spinal decompression therapy. Unlike surgery, it is a non-invasive, effective and very comfortable procedure. That means fewer worries for you and more peace of mind!
Our practitioners are experts in tailoring the settings of the spinal decompression therapy to match your needs. Properly assessing the extent of your injury through medical imaging, establishing your baseline ranges of motion, as well as evaluating your muscle tone, are crucial for a successful outcome. Your practitioner may choose to also incorporate other conservative methods of treatments such as muscle relaxation techniques, electrical modalities, exercises, acupuncture and etc.
How can Spinal Decompression Therapy help?
Many studies demonstrated the efficiency of spinal decompression therapy in reducing the size of a herniated disc. Through traction, it is possible to diminish the pressure on the vertebral disc by providing sufficient nutrients and oxygen to the injured area. As a result, this creates an area of negative pressure within the herniated disc. Our practitioners can accurately calculate the direction and angle of the pull to suit the location of the disc.
Gradually, this traction can cause reduction in size of the herniated disc. As a result, less pressure is applied to the adjacent spinal nerve. People who have tried spinal decompression therapy reported less pain, better outcome measures, and improvement in their ability to extend their legs. They can go back to their normal life! There is a correlation between pain reduction and restoration of disc height. When a disc experiences resorption through traction, its height automatically increases. Therefore, adequate space is restored between two vertebrae. It is not uncommon to see improvement in spinal health in patients who have advanced osteoarthritis or degenerative disc disease and who experienced spinal decompression therapy – especially when everything else failed.
New Patient, please book an appointment for Spinal Decompression.
Scientific References: • Apfel C, Cakmakkaya O, Martin W, Richmond C, Macario A, George E, Schaefer M, Pergolizzi JV. BMC Musculoskelet Disord. 2010; 11:155. Published online 2010 • Macario A, Pergolizzi JV. Systematic literature review of spinal decompression via motorized traction for chronic discogenic low back pain. Pain Pract. 2006 Sep; 6(3):171-8. • Choi J, Lee S, Hwangbo G. Influences of spinal decompression therapy and general traction therapy on the pain, disability, and straight leg raising of patients with intervertebral disc herniation. J Phys Ther Sci. 2015 Feb; 27(2): 481–483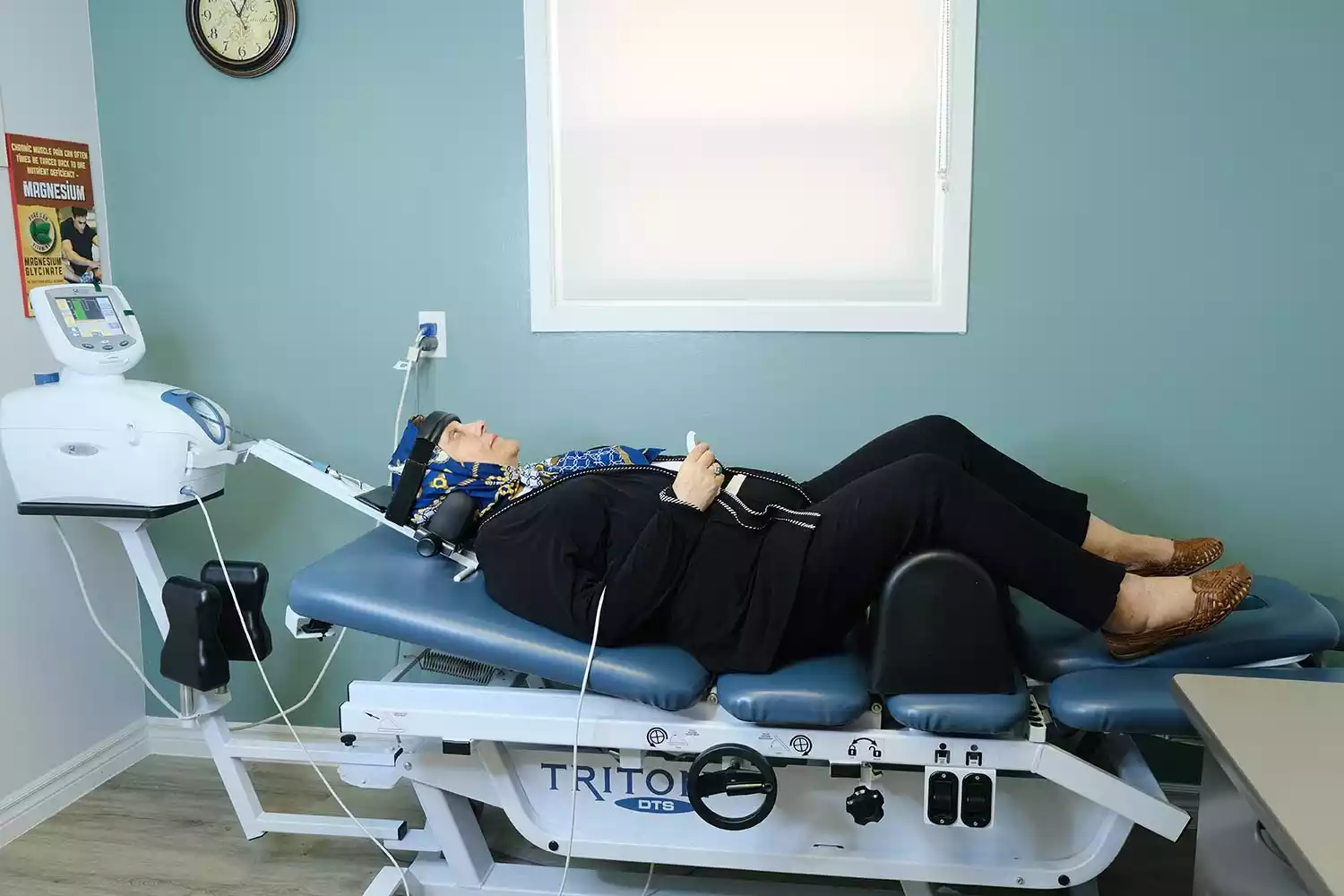 Our treatments are done in private rooms and not open spaces.
We are proud to support a 5-Star Google and FaceBook rating from our patients.
Book your appointments yourself. View your invoices, future and past appointments and more.
Conveniently located in downtown Ottawa. Free street and building parking.
Our team is available evenings and Saturdays for your convenience.
The healing power of a diverse team
We provide multiple services & treatments all-in-one location. We sell equipment, orthotics, give home-care advice and stretches.
Join many others in healing

Kate Croteau
Absolutely amazing! I'm so glad that I found a place where I felt comfortable and Ramy does excellent work! This was my first time going to see a chiropractor so I was very nervous and skeptics, but they did not disappoint one bit! Excellent customer service and everyone is very friendly and helpful. Couldn't be happier with my experience!
Read on Google

Yadollah Parmoun
I was suffering from severe pain around my neck and down to my back for a year, which was caused by hard physical work and incorrect lifestyle. The pain had limited my activities considerably. Prior to me, my family had a very satisfactory experience with the Clinic, and were especially talking about Dr. Maryam Hassanzadeh's expertise, experience, and devotion to ...
Read on Google

Daniel Bermel
As an athlete, I've been seeing Ghaith for a hip impingement injury that was restricting me from sports/workouts. Ghaith helped me get back in the action! Its always a pleasure seeing him, as he's friendly & enthusiastic, he genuinely enjoys explaining the mechanics of the injury and discussing the big picture theory (which I love as a bit of a nerd & athlete). Thanks Ghaith & Kent Chiro-Med!
Read on Google
What time works best for you?
Mon-Thur
Friday
Saturday
Sunday
9 AM – 6 PM
9 AM – 3 PM
8 AM – 3 PM
Closed