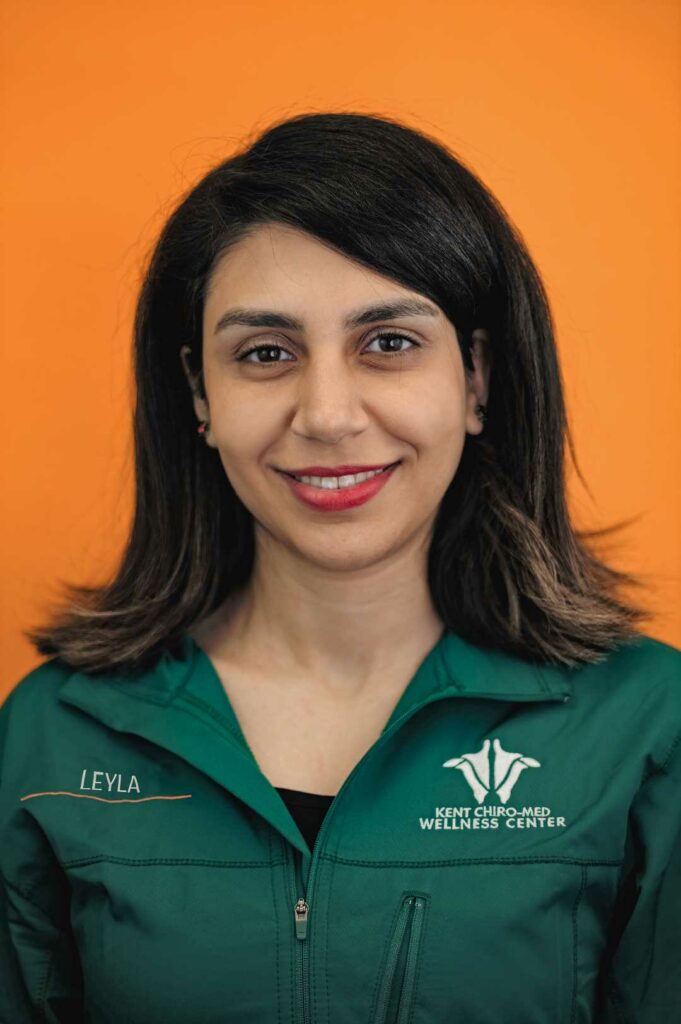 Offers services in: English, Farsi


Feel free to visit me in room 15 if you're looking for a caring and friendly healthcare provider. The goal of my work at the physiotherapy department is to facilitate the healing process of people suffering from various injuries and help them return to their everyday lives. Having completed my Bachelor of Science in Physiotherapy at Isfahan University of Medical Sciences (Iran), my passion for working with athletes led me to pursue my education. I completed a Master of Science in Sports Physiotherapy at the Tehran University of Medical Sciences (Iran). More than seven years of working with professional athletes with acute and chronic injuries made me qualified to be the physiotherapist of the Women's National Wushu team and accompanied them in the 8th Wushu Sanda World Cup in 2016.
Expanding my knowledge has always been a passion in my life, so I chose to pursue higher education. I am now a Ph.D. candidate and teaching assistant in the Rehabilitation Sciences at the University of Ottawa. I am honored to be the recipient of the Ontario Physiotherapy Association Scholarship in Rehabilitation. Being interested in becoming a competent clinician in the physiotherapy world and to learn practical physical therapy skills, I completed the extra qualifications in Dry Needling, Myofascial Release Techniques, Corrective Exercise, Kinesio, and Athletic Taping. While I love treating everyone, my field of interest includes sports-related injuries (mostly knee and ankle problems), chronic injuries, and aging. I am currently researching Functional Movement Screening and Playing-related Musculoskeletal Disorders in Music Students.
To me, being a good practitioner goes beyond knowledge and experience to understanding patients' personalities and feelings. My passion is to help patients achieve their functional goals and improve the quality of their lives by making them aware of what they need to do and what they should avoid. The relationship I have with my patients as humans is just as important to me as the results I achieve.
Physiotherapy at the forefront of treatments:
I am a big believer that physiotherapy is a practical treatment approach to help people suffering from musculoskeletal disorders and pain. Long-term effects of this non-invasive and safe treatment, such as soft tissue methods and exercise therapy, can alleviate the pain that prevents patients from doing their daily activities and hobbies. Working with professional athletes who had to undergo long rehab treatments and could not participate in the tournaments they had trained so hard for motivated me to learn new skills and use manual techniques to help them return to their sports activities.
I am a hands-on practitioner; I enjoy working with patients using soft-tissue techniques and teaching them to exercise appropriately. Since our body is a chain and all different parts are connected, I firmly believe it is necessary to examine the person as a whole to have an effective result. Not only to treat the painful area but also to consider their lifestyle and treatment goals.
Your experience at the first session:
Based on the initial assessment and the diagnosis, you will undergo specific treatment approaches, mostly manual techniques, stretching, and strengthening. Aside from my professional responsibilities, I am deeply committed to building trusting relationships with my patients, encouraging them to play an active role in their treatment plans. Since I do my best to treat the underlying cause of your pain and discomfort and not just the symptoms, each treatment session will differ from patient to patient and session to session, according to your progression. Generally, each treatment session includes 30 minutes of implementing soft tissue treatment and exercise.
Non-professional Activities:
Having the opportunity to work in the clinic, study for a Ph.D., and assist in teaching all satisfies me professionally and educationally. However, in my spare time, I enjoy being with my friends and family, watching real story movies, listening to podcasts on psychology subjects, dancing, and being outdoors in nature. My recent move to Ottawa has given me the opportunity to experience many new things and enjoy them.