If you have never tried a Pilates studio before, we would very much recommend it. Developed in New York in the 1920s, this low-impact yet highly effective form of workout is a top pick to improve strength, posture and flexibility. Our team of health experts has curated a list of the best Pilates classes in Ottawa. Whether you are a seasoned practitioner or a beginner, you can find top-notch instructors, state-of-the-art equipment and a welcoming environment in these top-rated Pilates studios in Ottawa.  
This article discusses each studio's unique offerings, class schedule and the specific areas they excel in. The following criteria were kept in mind while compiling the list. 
Instructors
Training Programs
Facilities
Infrastructure
Feedback and testimonials
First thing first, let us discuss what Pilates is. It is a 20th-century mind-body exercise. In Pilates, repetitive exercises are performed on a yoga mat or other equipment to promote core strength, stability, and flexibility. Pilates exercises develop the body through muscular effort that stems from the core. These exercises support everyday movements and promote efficiency.
Benefits of Pilate Exercise
Pilates has numerous health benefits.
It helps in recovering from acute injuries, sports injuries and back aches. 
It improves flexibility.
It increases muscle strength and tone.
It balances muscular strength.
It improves posture.

Here's a list of the professional pilates studios in Ottawa. Choose the best from the list.
Address:
340 MacLaren St #100 ,Ottawa, ON K2P 0M6, Canada 
Phone: +1613_745_2837 
Email: Info@pilatesspace.com 
What is Fletcher Pilates?
Fletcher Pilates is a workout which combines principles of classic Pilates with dance moves, deeply engaging body and mind. It involves strengthening and stretching exercises, which improve overall flexibility.  
Why did we like this studio?
Jacqueline Ethier, Pilates Space's co-owner, had studied with Robert Fletcher for a decade before his death in 2011. This experience greatly impacted her teaching and growing success in business. 
Pilates Space is the premier studio for practicing Fletcher Pilates in Ottawa. When we visited Pilates Space, we noticed that the studio had a highly professional environment. They also have well-trained and friendly instructors and great equipment. 
The studio also provides the facility of an infrared sauna so that you can relax your muscles and enjoy the hot steam.   
Programmes and Facilities
Fletcher Pilates Program
Infrared Sauna 
Reformer pilates class 
Private (Required if being treated for a recent injury)
5 Private Classes $475 $95 / class valid for three months 
10 Private Classes $849 $85 / class valid for four months 
20 Private Classes $1599 $80 / class valid for six months 
Customized training according to your fitness level
 Friendly and knowledgeable staff  
Address:
270 Catherine St, Ottawa, ON K1R 5T3, Canada 
Phone: +1613_699_0932 
Email: info@livebypilates.com 
What is Clinical Pilates?
Clinical Pilates is a therapy which helps you to recover from various types of injuries, surgeries or other health conditions. The exercises in clinical Pilates are performed under the supervision of certified and trained physiotherapists, osteopaths or massage therapists who are also certified Pilates instructors.
Clinical Pilates is low-impact strength training that is personalized according to your health conditions and fitness goals. This type of training helps in posture correction, reducing pain and rehabilitation of injuries.  
What did we like about this studio?
This studio is the best place for all those people who need to recover from various types of injuries. There are private sessions that are covered under extended insurance. A certified pilates instructor works with people to correct all kinds of imbalances, mobilizing the joints and spine. Upon completion, most of the patients join regular pilates classes to continue their fitness journey. 
Moreover, the studio also offers bodybuilding classes. They are also modified according to body weight, health issues and the location of the injury. Clinical Pilates is very suitable for strengthening the muscles of the neck and lower back. It also aids in post-operative recovery.
Programmes and Facilities
Private Sessions
Clinical Pilates
Muscle Activation Technique 
Osteopathy Teacher Training Pilate 
Bodybuilding technique
Drop in: $45
4 class package: $144 ($36/class)
8 class package: $264 ($33/class)
12-class package: $360 ($30/class) 
Great environment
The friendly and hardworking coaching staff
This studio is expensive, so watch out your wallets first.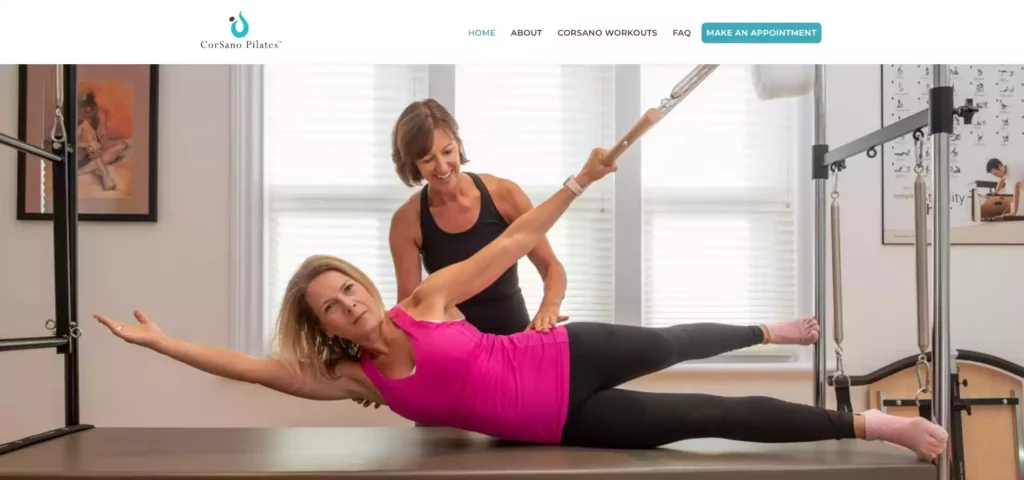 Address:
151 Stanley Ave, Ottawa, ON K1M 1P2, Canada
Phone: +1613-863-3449 
Email: michele@corsanopilates.com
Stott Pilates is a fitness training which aims at restoring strength and stability. It is ideally performed with a cardiovascular exercise like running, walking or weight training. This training is beneficial for all those people who are suffering from intense pain, spinal injuries and surgery.
Stott Pilates focuses on the alignment of your posture with the help of props. While normal Pilates makes use of your flat back during exercises, Stott Pilates favours a neutral spine alignment with one foot on the ground.  
What did we like about this studio?
During our visit to the studio, we noticed that the studio offers personalized training programs for individuals. Many members reported that they experienced great improvement in their movement, energy, vigour and stability while decreasing pain and aches. You can expect a focus on technique from the instructors who really know their stuff. 
The studio is well-equipped with machines like V2 Max Plus Reformer, rotational disks, vinyasa triangle, ladder barrel, arc barrel, pilates edge-spine supporter, and Ped-i-Pul. The lead trainer Michele Carini is certified, competent and experienced. 
The studio lays a special emphasis on nutritious movement and restorative exercise. If you are in need of any of these services, don't miss the opportunity and visit Corsano Pilates.
Workshops and master class programs(divided into three parts) Part 1: "Small Moves, Big Gains" Workshop Part 2: "Unlock Your Upper Body" Workshop Part 3: "Pilates for a More Dynamic Posture." 
Melt Method Program
Franklin Method Program
Stott Pilates 
Introductory three-session package: $295 
Foundation 90-minute session: $155
Package of 5 sessions: $515
 Package of 10 sessions:$975 
Semi-private packages Single session: $75 
Neat and clean environment
hard-working staff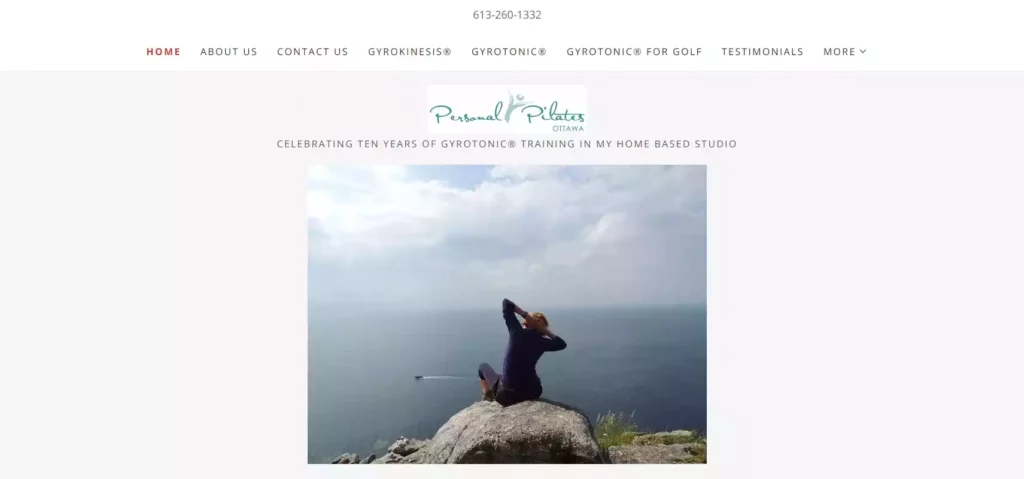 Address: Pebble Rd, Ottawa, ON K1V 7R7, Canada 
Phone: +1613- 260- 1332 
Email: CIindy V@personal pilaresottawa.com 
What are Gyrotonic Exercises?
Gyrotonic exercise is a unique method of whole-body movement that flows in circular and spiralling patterns to promote strength, balance, flexibility, and efficiency of movement. It emphasizes spinal mobility and expansive movements. The Gyrotonic method utilizes specialized equipment to guide, assist, and challenge the trainee. Gyrotonic classes are conducted as private sessions or in small group classes.  
Why do we like this studio?
Cindy, the owner of the studio, has years of experience in pilates training. She offers one-on-one coaching, according to your unique requirements, depending on your fitness goals. The most prominent feature of this studio is its specially designed Gyrotonic exercise program for golfers. The program helps in increasing and strengthening hip and shoulder turns and improving the rotation of your arms, wrists and forearm.  
Gyrokinesis
Gyrotonic
Gyrotonic for Golf 
Customized fee plans are available in the studio. 
Excellent and clean environment. 
The coaching staff is also very reasonable. 
The fee structure has not been specified on their website.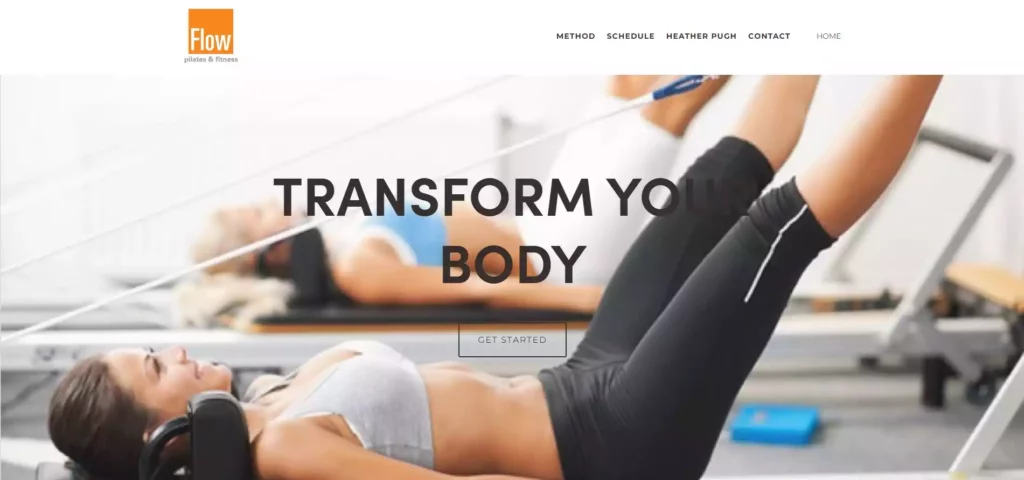 Address: 317 McRae Ave# 300, Ottawa,ON K1Z 8P4,Canada 
Phone: +1613-729-8844 
Email: Studio@flow pilates.net.au 
Flow Pilates consists of a series of quick, fast-paced movements. While traditional Pilates doesn't help you burn many calories, Flow Pilates gets your heart rate up and helps you burn more calories. Flow Pilates emphasizes the fluidity of movement. This type of Pilates allows you to practice certain movements and create a great shape for your body through this great workout. By including other pilates principles such as control, concentration and centring, the body can flow within each movement and throughout the class. 
Why do we like this studio?
On our visit to the studio, we found that the coaching staff under the supervision of Heather Pugh is really hard-working. Heather had twenty years of experience, and she aimed to transform the lives of her clients by using her expertise. 
The trainees start with an assessment. They are offered individualized lessons to build up their core strength before proceeding to the group training lessons. The Four Key Elements Program is designed to reduce stress on joints and connective tissues and shape up muscles.  
Optimal workout 
Effective Resistance 
Effective Range Of Motion 
Effective Angle 
Effective Tempo 
Visit the website for info. 
Excellent and clean environment
The coaching staff is also very reasonable.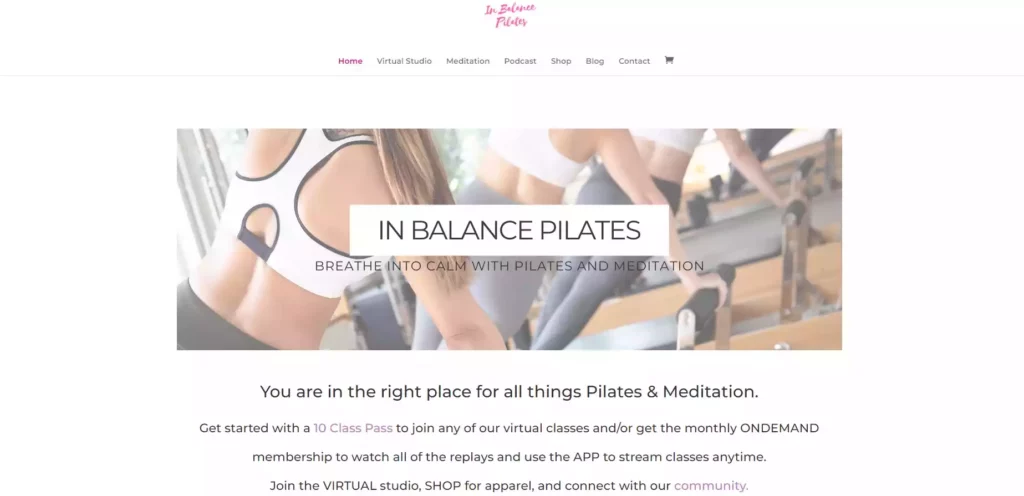 Address: 39 Naismith Crescent, Kanata, ON K2L 2K7, Canada 
Phone: +1613-266-9848  
Email: Inbalance pilates.ca 
Why do we like this studio?
The best thing about the studio is that it offers 10 class passes to join any of its virtual classes or to get membership on a monthly basis. You can also watch all of its replays or use the app to join live streaming at any time. 
The meditation session at the studio is also good. The studio also offers podcast sessions to all individuals who want to achieve their fitness goals. The studio has a shop, too, where you can buy all the necessary equipment for Pilates and develop your studio on your own 
home. 
Pilates All Levels
Virtual classes 
Meditation
Virtual Membership: 10 class passes Virtual Studio: CA $140 (Join us for live Zoom sessions. Save on this10)
On Demand Monthly Membership: CA $ 21 (Get full access to our online library)
 Neat and clean environment equipped with wonderful facilities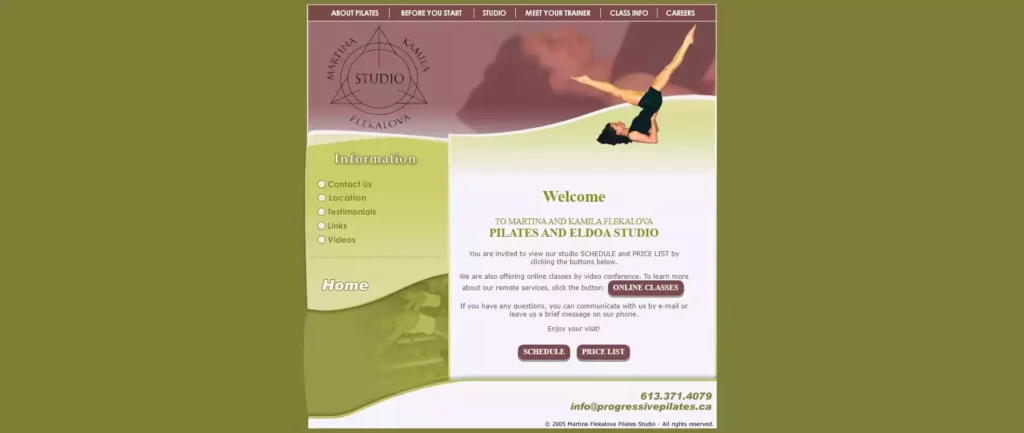 Address:779 Bank St, Ottawa, ON K1S 3V5, Canada
Phone: +1613-371-4079
Email: Info@ progressive pilates.ca
What is the progressive pilates technique?
Progressive Pilates is a blend of the modern approach to classical Pilates. It strengthens bones and muscles and is an ideal workout for trainers of all ages. Since it is quite a gentle form of workout, it is great training for pregnant women. 
It offers a low-impact, whole-body workout that will shape all areas of your body, including abs, buttocks and thighs. In addition, the progressive pilates technique can help to strengthen back muscles and improve flexibility along with body posture. So if you're looking for an effective workout that will benefit your whole body, be sure to check out the progressive pilates technique. 
What did we like about this studio?
The studio is centrally located in the Glebe, just a few blocks south of the Queensway, at 779 Bank Street. Based on her studies of psychology, anatomy, physiology and biomechanics, Martina Flekalova has designed training programs to enhance the wellness of body and mind.   
Her classes focus successively on the five major parts of the body: arms & chest, back, hips & buttocks, legs and abdominals. Martina also teaches new postural habits to alleviate joint and lower back pain. Her continuous coaching, with gentle, clear and highly motivating instructions, enhances overall body awareness so that clients can increasingly take responsibility for their own bodies, personal health and well-being.
Classes follow the general structure of Warm-up, Main Workout and Cool-down. Martina Flekalova Pilates Studio offers a constructive and beneficial workout experience for the entire body that will, over time, result in real changes in the quality of life for her clients.
Introductory training session—$315
Drop in Classes—$70
Ten sessions—$790
Excellent, neat and clean environment
A very hardworking staff
Ottawa offers a vibrant and diverse selection of pilates studios that cater to practitioners of all levels and preferences. Whether you're a seasoned enthusiast or a beginner looking to explore the world of Pilates, these Pilates studios are sure to provide you with exceptional instruction, state-of-the-art equipment, and a welcoming atmosphere. Choose the best studio in Ottawa from the above-mentioned list and achieve your fitness goals.