Did you know that playing golf for 1 to 1.5 hours can burn 600- 1500 calories? Golf offers a wide range of health benefits, but where can we find good golf courses in Ottawa? Ottawa has many beautiful and lush green golf courses. These golf courses are ideal for experienced and novice golfers alike. Our team of health experts and physiotherapists has done some research to compile a list of the top Ottawa golf courses. While compiling our list of top golf courses in Ottawa area, we have kept the following criterion in our mind: 
Size of a golf course
Affordability 
Location 
Membership options 
Amenities 
Ratings
Reviews

Choose the best golf courses in Ottawa from the list mentioned below. Have a look at the best golf courses in Ottawa, grab your golf sticks and let's tee off!
1. Pine View Golf Course- The Best Parkland Golf Course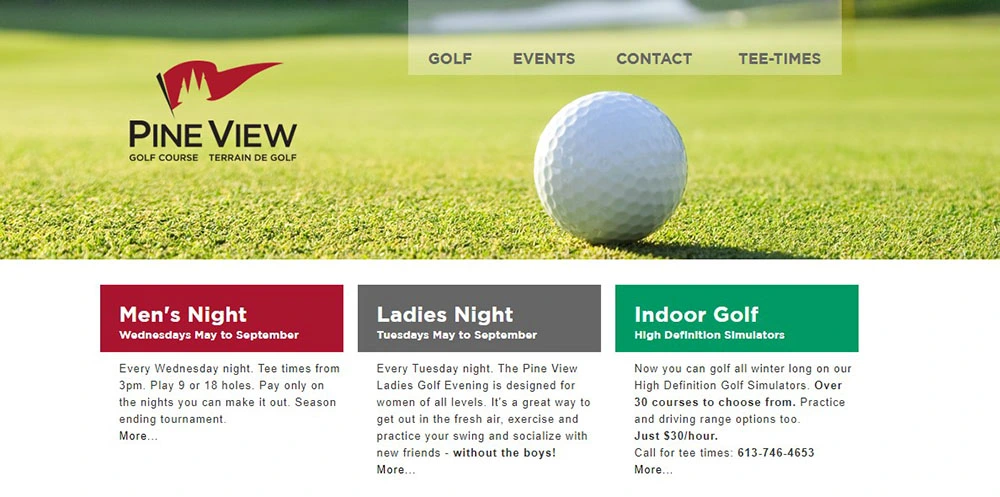 What is a Parkland golf course?
A parkland course has lots of trees and lush grass. Playing golf on a parkland-style golf course feels as if you are playing golf in a park. The courses are well-manicured with dug bunkers, ponds and built-up rough. The maintenance of the grass and soil for this type, of course, is more difficult and expensive. The architects for this course work very hard to add intrigue and excitement to the course. 
What Do We Like About This Golf Club?
Pine View Golf Course combines breathtaking scenery with a consistently challenging parkland design that combines challenging fairways with large and fast, undulating greens.
It features a 36-hole Championship golf course and an 18-hole Executive golf course. The Championship Course is a 6540-yard par 72 parkland design. It has ample landing areas for tee shots and large putting surfaces that are well-guarded by bunkers. It also offers a sitting capacity of 250 people. 
The 18-hole Short Course is a 3516-yard par 62 parkland-style course. The short course is a perfect setting for both beginners and seasoned players.
This club is one of the largest and most favourite golfing attractions in Eastern Ontario. If you are looking to playing some challenging golf in Ottawa area, go to this club.   
A 36-hole and a 9-hole golf course 
Teaching Pro
Tee Times
Pitching and Chipping Area
Club Repairs
Length Adjustments
Club fitting
Banquets
Season Pass
Leagues
Lessons
Junior Camps
Indoor Golf
Tournaments
Wedding Packages
Score Cards & Packages
Junior camps for kids
Summer Golf Camps
Indoor Golf: This program gives you the opportunity of playing golf throughout the winter season on high-definition golf simulators. 
Championship Course: This program challenges every level of golfer with ample landing areas for tee shots.
18 Holes
Regular Rate: $49
After 2 pm: $45
After 3 pm: $40
After 4 pm: $35
After 5 pm: $30


9 Holes 
Before 9 am: $30
After 9 am: $35


Rentals:
Power Cart (18 holes): $42
Pine View has a superb track. 
Amazing layout 
cooperative and encouraging staff. 
In fairways, there are portions with muddy pits, drainage troughs and a scarcity of grass.
Many of the tee boxes are uneven.  
2. Ottawa Hunt and Golf Club- The Best Championship Golf Course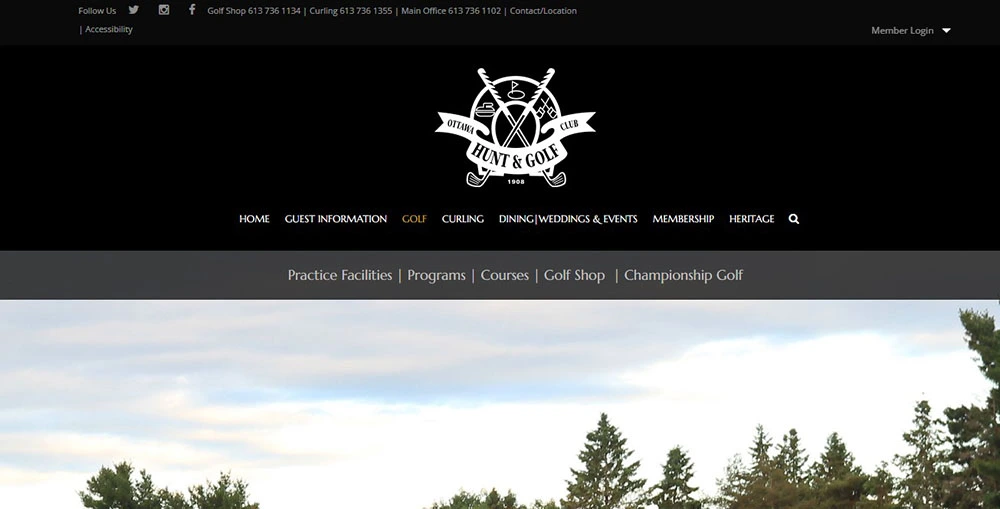 What Is A Championship Golf Course?
First thing first, let us discuss what qualifies a golf course to host a championship. According to liveabout.com, a championship course is a course that has more than one golf course. It also needs to have the best facilities. 
Another quality of a championship golf course is a demanding and challenging golf course. It should also have a combination of regular and short courses, excellent ranges, practice areas, golf academics, golf superstores, and teaching facilities. 
What Do We Like About Ottawa Hunt And Golf Club?
If you are looking for the finest facilities and amenities, Ottawa Hunt and Golf Club is the best choice. Founded in 1908, the club hosted multiple major championships like Canadian Pacific Women's Open in 2017, CN Canadian Women's Open in 2008, the du MAURIER Women's Classic in 1994, Canadian Amateur – Willingdon Cup in 1970 and America's Cup in 1960. 
The club offers a challenging course. Each of the 27 holes and 225 acres offers lush scenic beauty. With three 9-hole courses, there are also 6 unique 18-hole layouts. 
The club has a great location. It takes a 15-minute drive from downtown to reach here. 
The club offers great practice facilities. The experience hit off real grass, not mats, for most of the year at the full-length driving range. 
Professional clinics and lessons are available throughout the season. 
Men's Golf League
Prestigious, two-day member-guest tournament
Intersectional play
Club Championship
Beef and Greens (closing event of the season)
9 and 18-hole leagues for ladies
Team Play events
Intersectional & Interclub events
Member-Guest tournament
Junior Golf
Introduction to Golf Clinics
Intersectional & trophy play
Junior Club Championship
Mixed Golf Highlights
Weekly league
Monthly events
9 & Dine Events
18 and 9 Hole Golf Course
Driving Range
Junior Golf
Mixed Golf Highlights
Golf Teaching Professionals
Leading Club Manufacturers
Power Cart Rental
Pro Shop
Pull Carts for Golfers 
Locker rooms
Luxurious lounges
Banquet facilities
Dining rooms
Canadian Club of the Year (CSCM) 2018 
Top 100 Golf Courses in Canada 2018 
An amazing place for playing golf
 Well maintained 
 Great management 
Motivating staff
3. Metcalfe Golf Club- The Best For Natural Scenic Beauty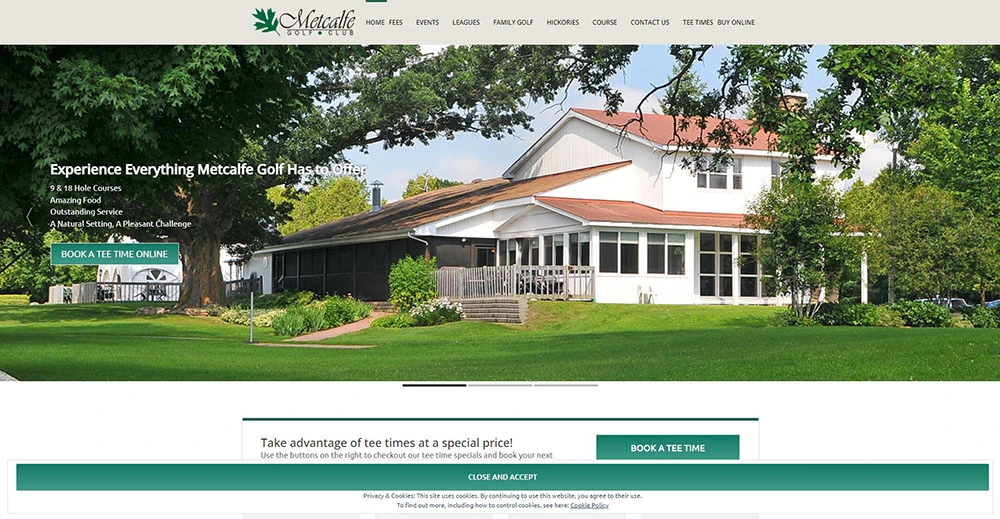 Course designers often select a location due to its natural beauty and enhance it to offer a great experience to the golfers. Some of these golf courses excel in natural beauty and maintenance of grounds, offering spectacular scenery. Even if the golfers despise the game, they consider themselves fortunate to play in the most breathtaking surroundings. 
What Do We Like About This Club?
Metcalfe Golf Club is a triumph of natural beauty. Its beautiful natural landscape, scenic views of the mountains, and challenging holes make it a must-play course for a golfer of any level. Surrounded by mature trees, intertwining creeks and streams, these courses allow you to relax in a serene environment. 
The club has 18 and 9-hole golf courses, fairways, water hazards and sand traps. This allows the golfers of all levels to practice and improve their skills. 
The club has hosted memorable tournaments. The staff is quite friendly, and the club offers great recreational services. 
18 and 9 Hole Golf Course
Tee Times
Family Golf
 Pro Shop
Clubhouse
 Driving Range
Cart Rentals
 Tournaments, Leagues, Memberships
 Restaurant, Weddings & Special Events
Men's League
Women's League
Senior 9 holes league
Junior League
18 Hole Course Rates

Open – 2:00 pm: $53
2:00 pm – 4:30 pm: $43
4:30 pm – Close: $36
Replay extra 18: $26


9 Hole Course Rates
All Day: $31
18 Hole Cart Rental – Per Person: $19.47
9 Hole Cart Rental – Per Person: $10.62
Pull Carts
Excellent customer service 
Friendly atmosphere 
Affordable range both for playing golf and menu 
The Best Value Golf Courses In Ottawa
The average cost of a round of golf in Ottawa varies between $36 to $80. In some cases, it includes the green fee, cart rental and other costs. There are many factors that affect the cost of a round of golf, such as the time of the Day, the Day of the week, the season, the location of the golf course and its scenery and landscape. If you are on a budget, and looking for reasonably priced golf courses in the Ottawa area, consider the following: 
If you are looking for the best value for money, you should go to one of the following two public golf courses. They have made it to our list because of their reasonable rates (under $80 for a round), excellent facilities and great environment.
4. Loch March Golf & Country Club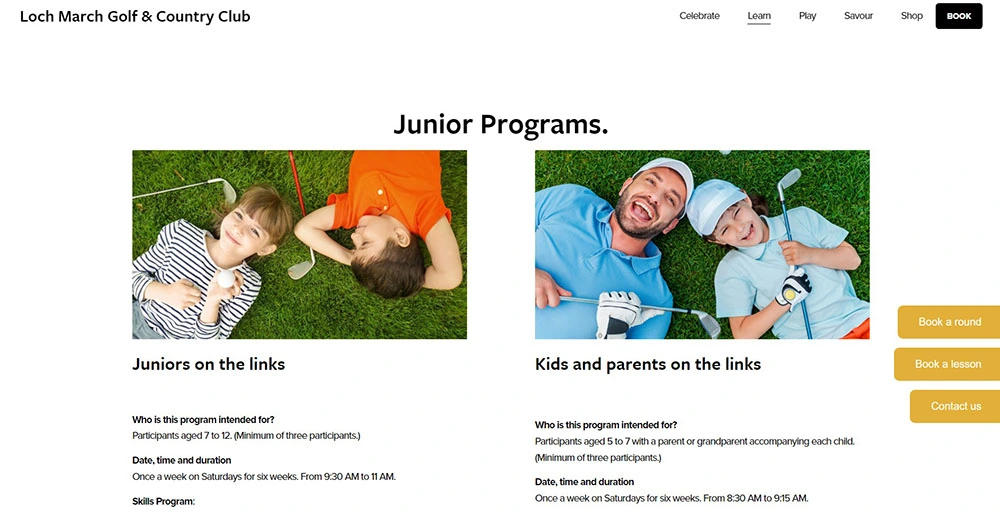 What Do We Like About This Course?
It is one of the best public golf courses in Ottawa. The green fee pricing for an 18-hole course is $69 on weekdays and $79 on weekends. The club offers a premier golfing experience in the Ottawa region. Rich historical landscape adds beauty to the course.
It is suitable for all levels of golfers. It has an 18-hole championship course. These championship courses host all types of golf tournaments. 
This club is a great place to relax. The beautiful scenic views offer plenty of photographic opportunities. The club has a great junior program. It has something for all family members. 
There is a full-service restaurant in the club
 Pro shop with all the supplies
Visitors can enjoy lessons and clinics
Junior Programs
Teen Skills and competition camp
Family golf lessons
Adaptive golf lessons
Green Fee Pricing 18-hole

Weekdays before noon
Adult: $69
Junior: $49.50

Weekends and public holidays before noon
Adult: $79
Junior: $79
Beautiful lush green Course with lots of trees, wildlife and lily pad-laden ponds.
Quite affordable. 
Excellent junior program. 
Some of the members complained that the management was unprofessional and a bit rude to their patrons. 
Some reviewers complained about the mosquitoes on the grounds. 
Many of their patrons mentioned that the Course Marshalls kicked them off prior to it being too dark to golf.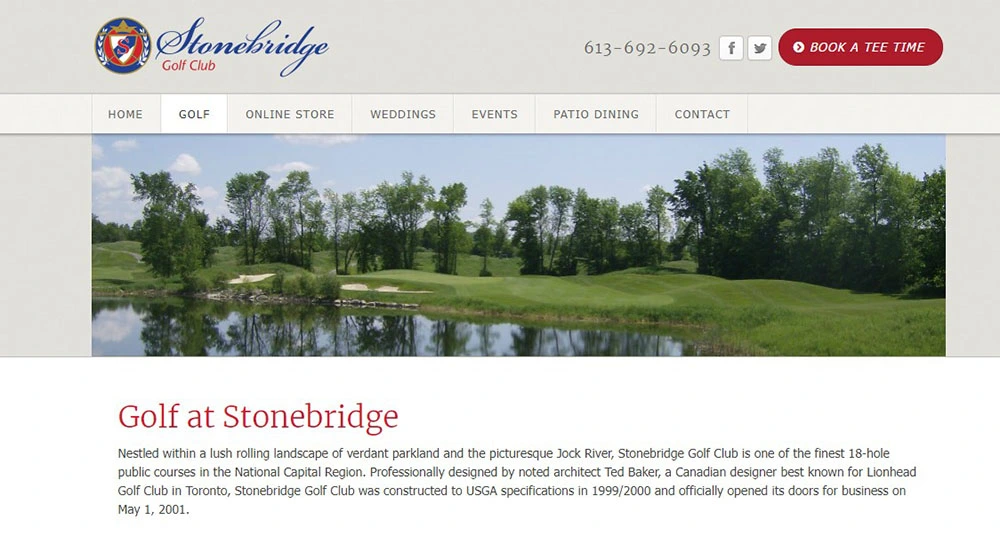 If you are looking forward to playing challenging and diverse golf in the Ottawa area at reasonable rates, Stonebridge Golf Club is the best choice. The public green fee for the 18 holes course before 4 pm is $75. After 4 pm, it is $55. Similarly, the fee for the 9-hole course before 4 pm is $45.  
The is spread over 180 acres having a great combination of both parkland and links-style golf courses. The club has grass tees, greens and fairways.
There are a large number of putting surfaces, sand bunkers and natural fescue areas. The management specially cares to preserve the natural features of this site.
The 18-hole golf course is designed around beautifully landscaped fairways and impressive horizon-view tees.
The natural scenic view alongside the golf course provides a memorable golf experience amidst gorgeous scenery.
Golf shop with golf accessories, equipment, and apparel.
A restaurant with a fine dining environment
 Banquet facilities
 The club has three elegant lounges for socializing and relaxation. 
Driving range
Men's Night
Ladies League
Tournaments 
18 Holes before 4 pm $ 75     $ 85
18 Holes after 4 pm    $ 55     $ 55
9 Holes before 4 pm   $ 45     $ 55
9 Holes after 4 pm      $ 45     $ 45
Both Parkland and Links-style golf courses are available
Top-notch friendly staff
Affordable
Poor service at the bar and the restaurant. 
6. eQuinelle Golf Club- The Best Links Style Course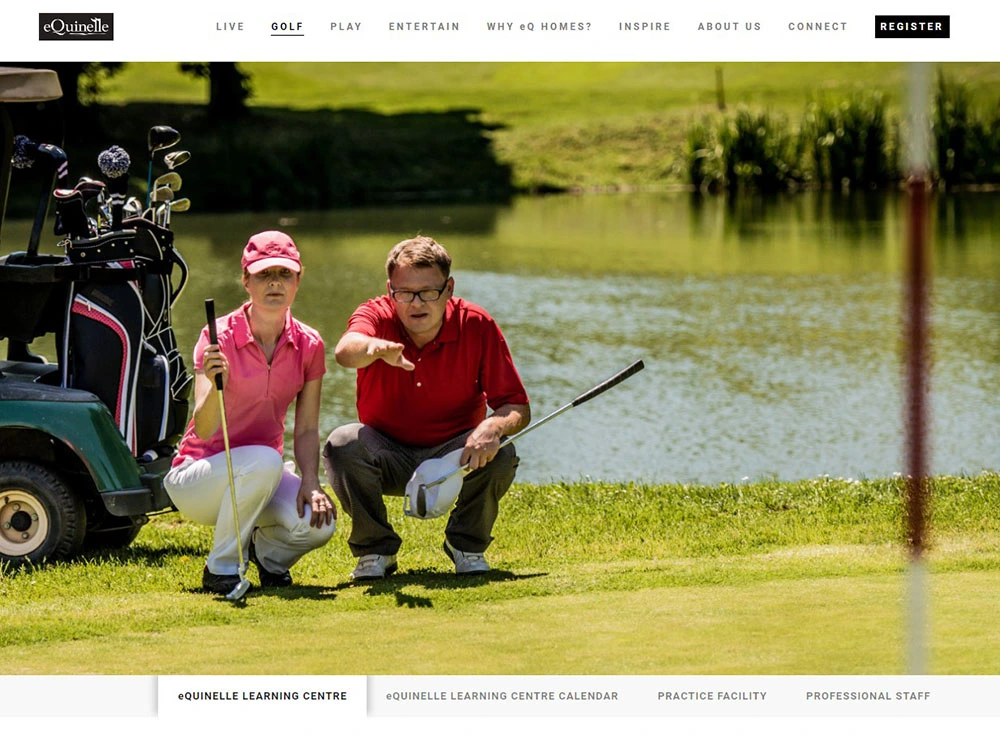 What is a Links Style Course?
The definition of links golf courses has consistently been changing. Broadly, it is defined as a golf course with a natural and open layout and lying on sandy soil. It has very few trees and thick and rough grass. The course also features deep pot bunkers.     
What Do We Like About This Course?
Conveniently located 35 minutes South of Ottawa, eQuinelle Golf Club is a links-style course. It has five sets of large bentgrass tees per hole, bent grass fairways, many deep bunkers and natural fescue areas. 
The course is designed around waterways. It's a par-72 golf course stretched to around 7,100 yards. 
It is one of the finest golf courses in the region. 
a fully-stocked pro shop
a practice facility
a clubhouse with a bar & grill
private dining rooms
There are a number of events and outings arranged by the management. This provides a platform for all the golfers to compete with the professional staff.
Adult group programs
Junior group programs
eQuinelle summer camp
Individual coaching
Semi-private coaching
Adult Semi-private coaching lessons: 8 lessons for $480
Junior semi-private coaching lessons: 8 lessons for $300
Beginner golf program: $140
Full Day junior golf camp: $425
Well maintained course
Scenic views 
Great condition 
Some of their members complain about the incompetent and rude staff. 
The holes are not very interesting.  
7. Thunderbird Golf Course- Ottawa's Only Night Lit Course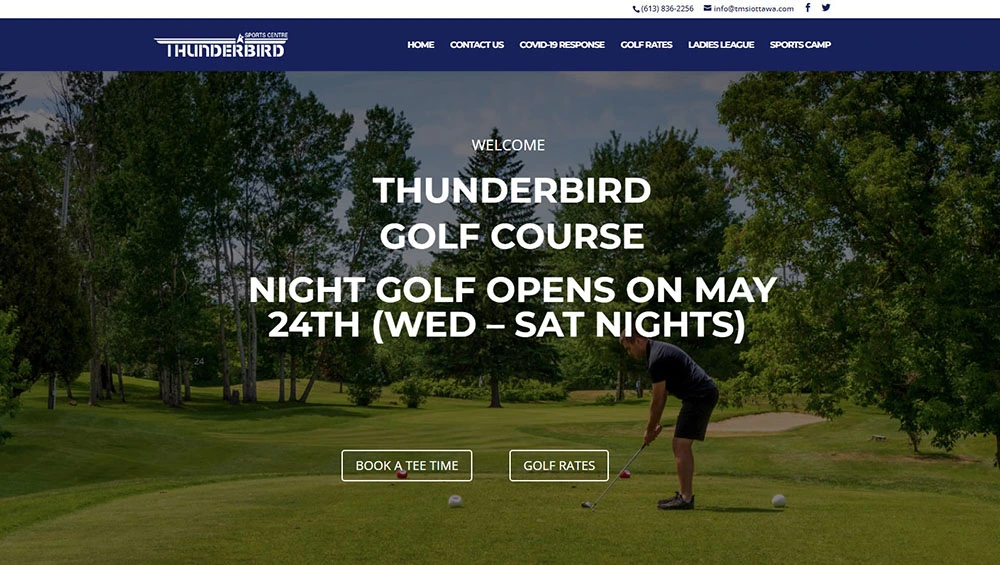 Why Is Night Golf Gaining Popularity?
Night golf is gaining popularity fast due to a variety of reasons.No need to take time off work during weekdays or spend Saturday enjoying a round of golf. All you have to do is to go home after work, have dinner and head to the course at 8 pm. Say goodbye to basking in the sun for 5 hours. You can enjoy a relaxed atmosphere at night. 
Another reason why night golf is preferred by many people is because it is a great way to introduce beginners to the game. During night golf, golfers can avoid snooty members and cranky marshals around. They can improve their game conveniently.   
What Do We Like About This Course?
It is a nine-hole golf course that is open until 10 pm on selected nights. It is Ottawa's only fully lighted course, very well maintained and family-friendly. 
It has an 18-hole championship golf course that accommodates beginners as well as experts. The golf course is surrounded by lush green fairways and amazing water features taking your game to a new level altogether.
Ground practice facility
Driving range
Chipping
Pitching and putting greens. 
Beaver Bar & Grill 
Banquet hall for weddings and events
Summer sports camps
Junior Program
Adult Program
Well-maintained greens and tee boxes
Helpful front desk staff
Night-lit golf course 
On some edges of the fairway, water has been spilled from the traps, which disturbs the game. 
8. Cedarhill Golf and Country Club- The Most Inclusive Golf Course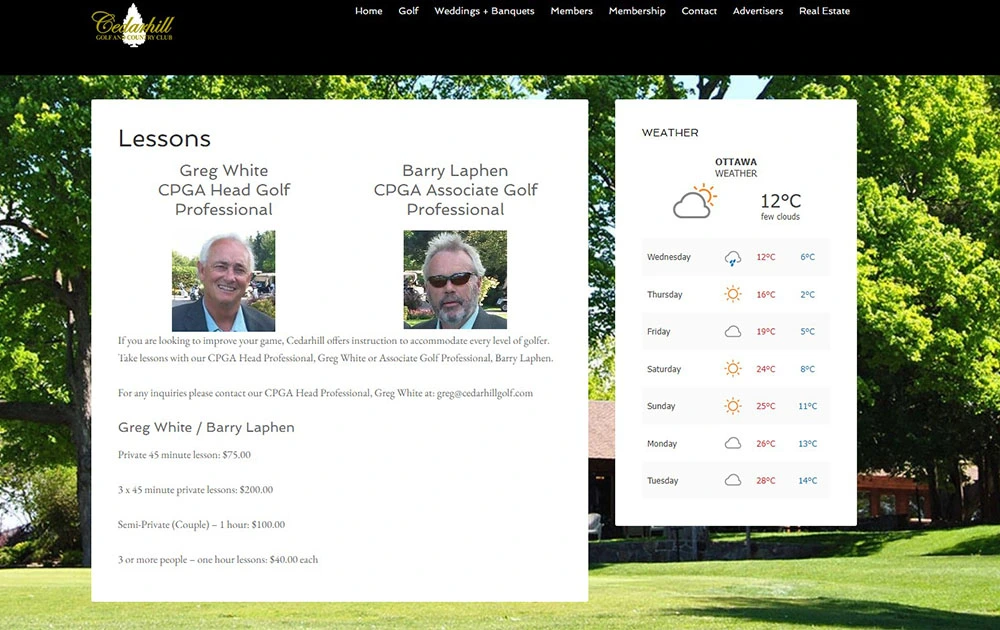 What is An All Inclusive Club?
An all-inclusive golf club should offer superb service, a variety of bars and restaurants, and excellent golfing facilities for everyone. It should welcome golfers from different walks of life. 
What Do We Like About This Club?
Cedar Hills Golf and Country Club is one of the most inclusive clubs in Ottawa. This club offers an outstanding country club experience. Located in the affluent suburb of Ottawa, it holds tournaments, leagues and championships for business ladies, men, women, and juniors. The members of Cedarhill Golf and Country Club enjoy an 18-hole championship golf course, state-of-the-art "Player's Lounge," exquisite dining and fitness center that are open to both members and non-members.
The club regularly holds tournaments such as championships for men, women, and business ladies.  
The club was founded in 1986. It is known for the best golfing experiences in the region. Cedarhill Golf and Country Club has both parkland and championship golf courses. As the club has both types of courses, there is a variety of terrain which includes tree-lined fairways, strategically placed traps and lush greenery. 
The par-70 layout is quite challenging for avid golfers. 
Well-stocked pro shop with a wide range of quality golf apparel and equipment
Extensive practice facilities 
Restaurant and bar facility
Event space for private functions
Senior Men's Program
Men's Program
Women's Program
Private 45-minute lesson: $75.00
3 x 45-minute private lessons: $200.00
Semi-Private (Couple) – 1 hour: $100.00
3 or more people – one-hour lessons: $40.00 each
Well-maintained golf course
The wildlife is an added bonus
Margins on all sides make it easy for the golfers to find the ball
Helpful and friendly staff 
9. Greensmere Golf & Country Club- The Only 36 Hole Golf Club In Ottawa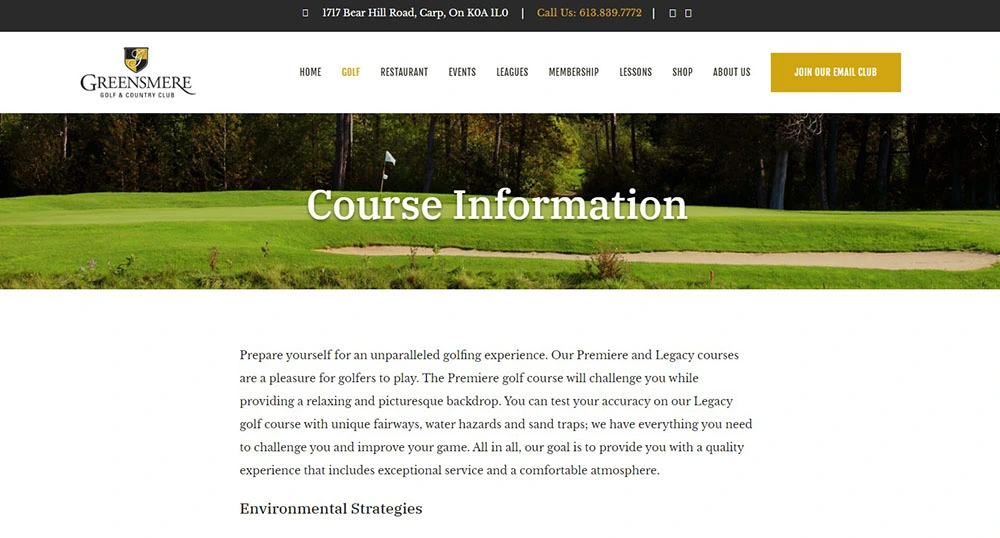 What Do We Like About This Club?
Located just ten minutes west of Kanata, Greensmere Golf and Country Club is the only 36-hole championship golf course in the region. Situated in a picturesque 400-acre estate, it is a very popular golf course in Ottawa. It offers a tranquil and calm setting which allows you to relax while having a competition. 
Another great thing about this club is the diversity of the property that adds challenge to your game. Experience shot challenges at sixty feet of elevation, where hole settings range from wide open to serene locales.   
You can choose from either of the two courses, the Premiere Course or the Legacy Course. The Premiere Course is considered ideal for golfers of intermediate skill levels. Expert golfers enjoy the Legacy course as it is quite challenging.  
Pro-shop with the supply of major equipment brands
Lounge with dining facilities 
Men, Women and Junior apparel
full catering services both onsite and outside locations for private events
Golf School Programs
Women's Programs
Junior Academy
Private lessons
Pam Le Blanc's Tip of the Month
Adult Single (32+) $2,300
Adult Couple (32+) $3,900
Weekday Season Pass Single $1,950
Weekday Season Pass Couple $3,550       
Intermediate (31) $2,100
Intermediate (30) $1,905
Intermediate (29) $1,710
Intermediate (28) $1,515
Intermediate (27) $1,320
Intermediate (19-26) $1,125
Full-Time Student (19-25) $975
Junior (17-18) $650   
Junior (10-16) $475 
Well-maintained fairways and greens. 
36-hole course. 
Opportunity for a diverse and challenging game. 
Some of the members complained that the marshall was not very professional. 
Some members also complained that the Premiere course wasn't very interesting and challenging. 
10. Stittsville Golf Course-The Best Par-3 Golf Course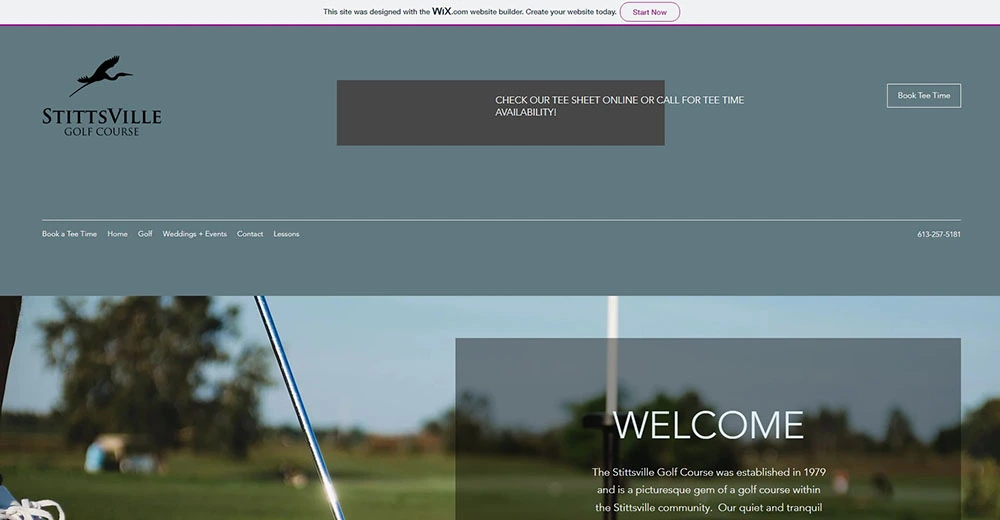 What Is A Par-3 Golf Course?
Par-3 golf course is also known as golf lite. These beginner-friendly courses are loved by beginners, kids and golfers of advancing age as these types of courses take up less land, so they are cheap and environment friendly. These courses are even enjoyed by the first timers.
What Do We Like About This Course?
The Stittsville Golf Course is one of the best public golf courses in Canada. It is a championship and par-3 golf course. As mentioned above, par-3 golf courses are a great place for beginners to practice. You can expect an easy walk and a decent course at Stittsville. 
 It is also quite inexpensive. You can buy a single 18-hole round for as low as $35 (after 4 pm, walking), while the regular Rate is $45 for a single walk. 
The championship courses are ideal for all types of leagues and tournaments, and as they have both 18 and 9 holes so all types of golfers can enjoy playing in these combination golf courses. 
Driving range and practice bunkers
A full-service clubhouse and bar
A pro shop with all golf equipment=
The 18-hole golf course 
Multiple challenging and interesting holes with elevations, water hazards and bunkers.
You can have a beautiful view of the Ottawa Valley from long par 5s. The short par 3s are ideal for low-handicappers. 
Consistently well-maintained fairways and greens.
18 Holes (Monday to Thursday) 
Regular Rate $45 walk / $63 riding
Afternoon (after 2 pm) $40 walk / $58 riding
Evening (after 4 pm) $35 walk / $48 riding

18 Holes (Friday to Sunday and Holidays)
Regular Rate $51 walk / $69 riding
Afternoon (after 2 pm) $45 walk / $63 riding
Evening (after 4 pm) $40 walk / $53 riding

9 Holes (Monday – Thursday)
Regular Rate $33 / $46 riding

9 Holes (Friday to Sunday and Holidays)
Regular Rate $38 / $51 riding
Gorgeous setting
Convenient location
Scenic golf course
Amazing food
Exceptional staff
Ample free parking
Competitive Pricing
Some members complained that the carts were not in good condition. 
The marshall does nothing to speed people up ahead of you, so it takes a long time to finish the run. 
Unprofessional customer service. 
Get fit this summer by playing golf at your favourite golf club. Don't bother if you are a beginner; Ottawa has the best golf clubs for both beginners and experts. Choose the best golf course in Ottawa from the list mentioned above and take your fitness to another level.