If you ask virtually any physiotherapist or medical expert out there about the powerhouse recipe of fitness, we'd bet the bucks that a gym would make the grade. But which gyms can help you to achieve your fitness goals? There are so many fitness clubs and gyms in Ottawa, which ones are worth looking into? We can help here. Our team of physiotherapists, medical experts and chiropractors checked out the national gym chains, as well as local fitness gyms in Ottawa. 
We gathered the information for this article by:
Soliciting opinions from gym users and knowledgeable friends while visiting the facility. 
Surveying 3500 gym members to get their feedback 
Analyzing data points such as ratings on equipment, facility and customer service.
Digging any other information from reliable sources on the internet. 
The following are the best gym memberships according to both fitness professionals and real-life members.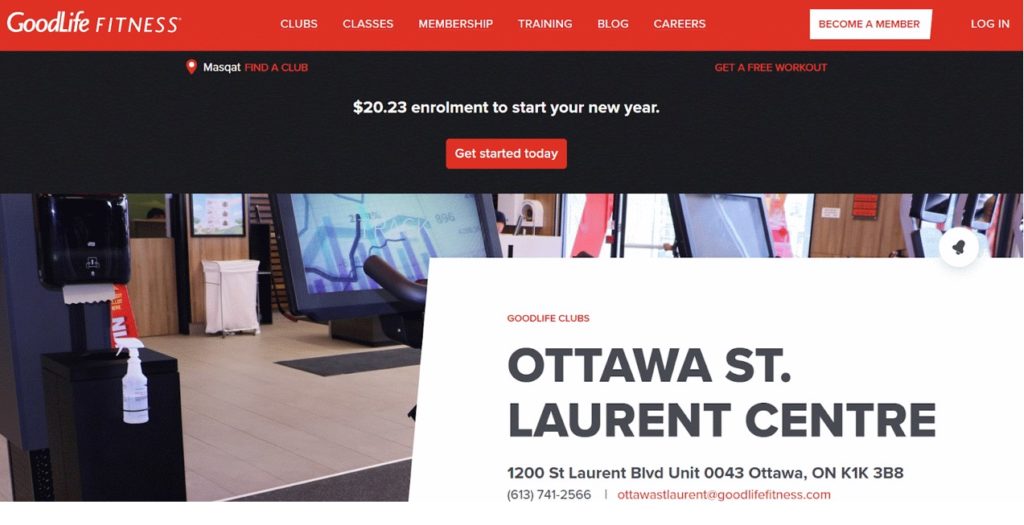 The best gym overall should have something of everything. It should have enough space, a good design and an impressive layout. State-of-the-art equipment, cleanliness and competent staff are some other qualities of a good gym. When evaluated on this criteria, GoodLife Fitness Ottawa makes the cut. It is the largest health club chain with over 450 facilities all over Canada. To gather data for this article, we visited GoodLife Fitness in St. Laurent Centre.  
This gym is a great opportunity for people who are looking for a decent variety of equipment, and tutorials. Benefitting teams and individuals, this gym is ideal for people who want to lose weight, strengthen muscles and have fun. Our reviewers loved the squash court, steam bath and sauna. The membership is a bit pricey but the perks of paid membership are worth the money you spend. 
Group Cycling 
Hot Yoga 
Personal training 
Group fitness 
Virtual fitness classes 
Towel service 
Locker rental 
20-minute fit-fix 
Turf Zone 
Cardio equipment and Free weight equipment 
1200 St Laurent Blvd Unit 0043 Ottawa, ON K1K 3B8
Contact Number: (613) 741-2566
There are three membership programs, Essential Membership costs $60/month, and allows access to a commercial gym, swimming pool and digital services like fitness plans and virtual classes. Premium Membership costs $64/month and provides access to all the features in basic membership not only at one gym but to all GoodLife gyms around the country. Ultimate Membership costs around $74/month and provides access to all the features in the Premium Membership plus access to tanning rooms, saunas, fitness classes and all other programs.  
Nice and clean facility
Great equipment 
Decent charges 
Amenities to relax and have fun 
Child care is available 
Some gym members complained that the it is a bit overcrowded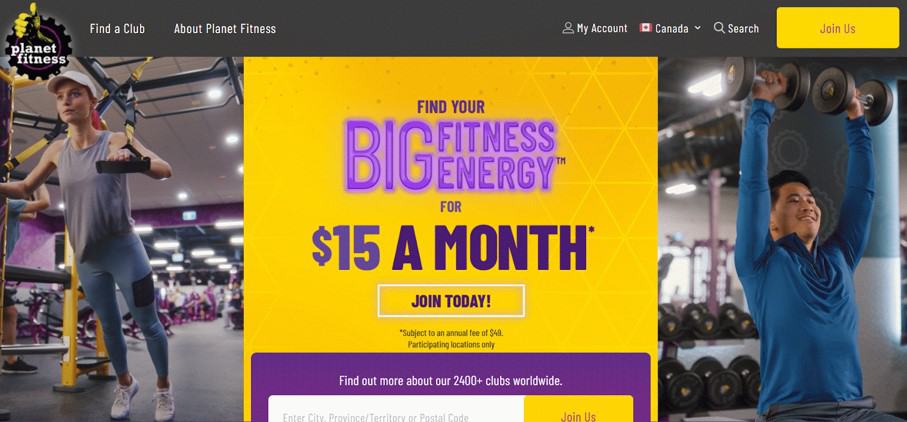 Let us start with a basic question. What is the average cost of a gym membership? In Canada, a gym membership costs between $30 to $170 per month, depending on the location and facilities. But there are gym memberships that cost as low as $10. Keeping a balance between affordability and value is very delicate but a few facilities seem to be keeping it up. 
Planet Fitness is one such example. It is a global chain with over 2400+ locations worldwide. CNN calls it a "no-frills, low-cost gym that gets people off the couch and gives fitness a try."
The monthly costs for using Planet Fitness in Ottawa (Merivale) are $15 plus tax. Considering the value for money, Planet Fitness stands out. 
Unlimited Access to Home Club 
PF App Workouts 
Free Wifi 
Clean space and tons of machines 
Massage chairs 
50% off select drinks 
1642 Merivale Road
Ottawa, ON K2G 4A1
Canada 
Phone Number: (343) 882-5990
There are two membership programs PF Black Card at $24.99/month and Classic Membership at $10/month. Both the programs offer almost the same amenities such as fitness training, bringing a guest anytime, use of tanning, massage chairs, HydroMassage and Total Body Enhancement. However, the PF Black Card membership allows you to use any Planet Fitness facility worldwide, whereas the Classic membership allows you to use a gym where you signed up.
The gym is quite clean. 
The machines are logically organized.
The gym is quite affordable. 
It is ideal for beginners. If someone has 3 to 6 months of training experience, they would find the equipment not very advanced. 
There are many cardio machines but the gym lacks basic pieces of strength equipment. Most of the barbells, squat racks or dumbbells are all less than 50 lbs.    
It is not a gym for people who are serious about getting stronger.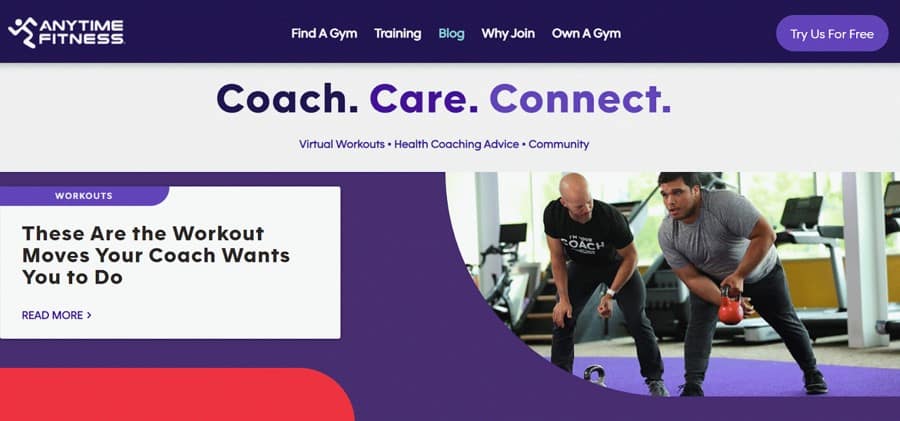 Anytime Fitness is a franchise of gyms and fitness centers located all around the globe. It is a bit more expensive than some other gyms on the list but we think it is ideal for beginners. 
First, the facilities are a bit small so the beginners can easily learn their way around. Secondly, they have all the basic equipment for beginners like cardio machines, resistance machines, and free weights. Thirdly, we noticed that they have a very community-oriented environment. The staff is friendly without being pushy. These positive vibes are ideal for beginners to stay motivated. 
Treadmills
Ellipticals
Exercise Cycles
Free Weights
Racks
Synergy 360 Systems
Kettlebells
Lateral X Trainers
Personal Training
Team Workouts
Tanning
Body Conditioning Classes
Yoga Classes
 
96 George St 
Ottawa, ON K1N 5W1
 (613) 421-9523
Their best-selling plan is a 12-month plan that costs around $49 plus tax/per month. This membership plan includes 24/7 gym access, free fitness consultation, a 30-day fitness plan and a member-exclusive app.
The 24-month plan costs $27.5 plus tax for two weeks. The gym offers students a discount ($35/month) There's also a 7 days free trial if you haven't been a member before.  
It is open 24/7. 
The personal trainers are friendly and motivating. The environment is helpful for beginners.  
There are 45,000 locations all over the world. You can use any location worldwide if you are a member.
The free personal training session allows you to test if this gym is a good fit for you. 
It doesn't have facilities like childcare, pools, or saunas. 
It doesn't help competitive powerlifters as most locations don't allow you to use chalk or drop weights.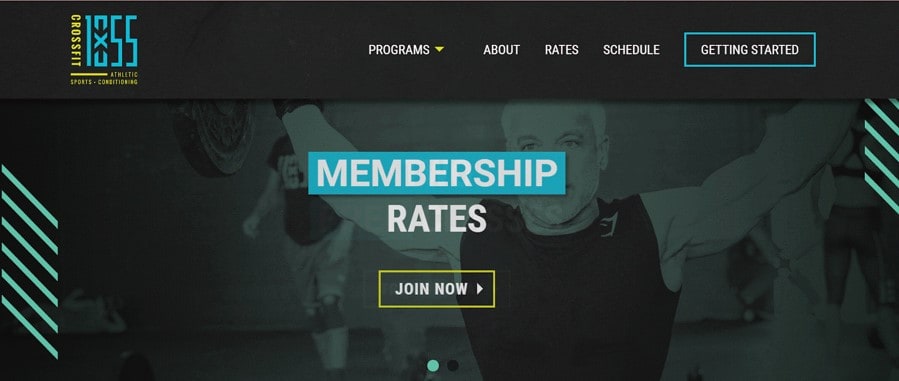 In case you are a beginner in the journey of fitness, let us clarify what CrossFit training is. It is a strength and conditioning workout that consists of movements like squatting, pushing or pulling at a high-intensity level. It is different from a traditional workout as it may tell you how many reps to do over any time. Crossfit training is one of the most intense workouts that tone your body and makes you feel amazing.   
Out of many Crossfit gyms, CrossFit 1855 has made it to our list. We loved the fact that it was quite spacious, and well-fitted and welcomed visitors from other boxes. We also noticed that the gym offered a variety of classes with athletic conditioning, Crossfit and Yoga. Both professional and recreational athletes found the gym valuable.   
Another thing we liked about the gym was the friendly, welcoming environment. The coaches Andy and Steve were quite welcoming and made the workout quite fun with a great sense of humour. 
The gym offers a kids' training program too. So it has something for everyone. 
Olympic weight lifting 
Athletic conditioning 
Personal training 
Open gym access 
In-facility athletic therapy 
Chiropractic care 
1523 Laperriere Ave, Ottawa, ON K1Z 7T1 
Contact Number: +1 613-558-9037
Their most affordable plan is Lump Sum For The Year which requires you to pay $1966.20 at the beginning of the membership. However, most people do not want to tie a bigger amount especially if they are beginners. The best option for them is to opt for either a monthly plan at $209.5 or 1-year contract that requires them to pay $175.15 each month for the whole year. 
If you do not exercise every day, opt for a 6-month contract that costs $109/month. This plan allows you to use the gym thrice per week. 
The gym, like almost all other gyms, offers an affordable option for couples/families. One year contract costs $163.85 for each person per month. 
If you are looking for athletic conditioning classes, you are in luck! The 6-month contract allows you to attend 3 sessions per month. You are required to pay $109 per month. 
If you are new to the gym and want to test the waters, you can attend a free trial for up to two classes. If you do not regularly go to the gym, another option is to attend a "Drop In" session for $20. You can attend as many "Drop in" sessions as you like. 
Kids CrossFit and AC sessions are designed for kids between the age of 7 and 12 years. The program offers 3 classes per week for 9 weeks and costs $310.75. 
It is a great gym with a community of people who want individuals to achieve their fitness goals at their own pace. Their coaches can even create an effective program for your specific needs. 
The gym provides a range of exercise programs. From a high-intensity workout system to weightlifting techniques to treadmills and stretching stations, you can find out anything you need.  
The 1855 Barbell Club is prestigious for training athletes for competitive seasons. Athletes participate in Olympic weightlifting classes as well as train in the open gym area.   
The gym doesn't have saunas or steam baths. The people who want to relax do not have much to find here.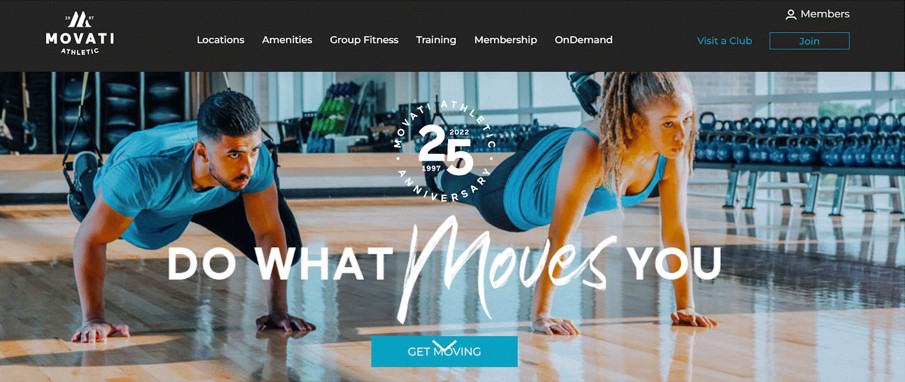 First thing first, let us discuss what a boutique-style gym is. It focuses on group exercise and specializes in one or two fitness areas. Boutique gyms are expensive but they are desired for their close-knit community, positive environment, specialized equipment, and a motivating instructor. 
Ottawa has quite a few boutique gyms but the one that has made it to our list is Movati. It has 16 different locations but the one we reviewed for this list was in Kanata. 
The club features seven different boutiques for your favourite type of exercise program such as a Hot Yoga Studio, a Cycle Studio and a Women's only Studio. When we went to the facility, we found it neat and clean. The equipment was top-notch. There's even a nice playroom for the kids.  
There's an indoor swimming pool and spa-like amenities. If you are looking to achieve your health goals with like-minded people in a great facility, Movati is the best choice. You can sign up for group fitness classes or exercise on your own. 
When we surveyed a few existing members, several people complained that the staff hasn't been very friendly. Some people also had to deal with poor management and miscommunication. We personally didn't experience it but since it had been frequently reported, it might be an issue for some members.  
We also noticed that in the late afternoon (from 5 pm to 7 pm), the gym was a bit overcrowded. However, during the rest of the day, nobody would have to wait to exercise on their desired equipment.     
When we checked out their business hours, we found out that they closed a bit early on the weekends. This might be a problem for some members who would like to spend more time exercising over the weekend.
Indoor pool 
Women's-only area 
Kid's play area 
Spa-like facilities 
Cafe and lounge 
Outdoor patio 
Free Wifi 
1395 Meadowlands Drive East Nepean, Ontario K2E 0C4
613-515-2665
Movati offers two membership programs. The basic membership costs around $68 for a month and requires a 12-month commitment. This program allows access to gym equipment, fitness classes and programs, workouts with a personal trainer and access to local locations. 
The premium membership costs $88/month and requires a 12-month commitment, access to out-of-city locations as well as towel service. 
Nice and clean facility
Large space 
A good selection of equipment 
Turf areas, and swimming pool access  
A welcoming front desk. 
Poor management and customer service 
At peak hours, the place is a bit congested 
They have limited hours of operation. Especially on weekends, it closes at 7 pm which is quite early compared to other gyms.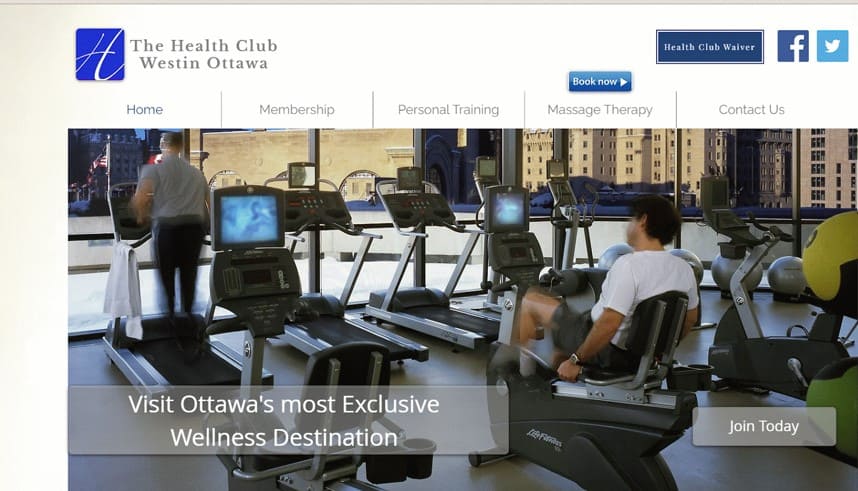 If you are looking for a combination of fitness and fun, The Westin Ottawa Health Club is the best choice. Located on the 6th floor of The Westin Ottawa hotel, the health club stands out among all the downtown Ottawa gyms. 
Everyone's idea of fun is different but The Westin Ottawa Health Club has something for everyone. Do you like to look at a scenic view while exercising? The fitness room and cardio theatre are overlooking the Rideau Canal. Fancy swimming in a saltwater pool? You are covered. From a relaxing sauna to the sundeck, to ample space with lockers, sitting rooms and a lounge, the health club has many facilities.    
We loved their salt-water spa and massage services. We also liked using their new Peloton bikes with a high-definition touch screen and Wi-Fi capability.
On the downside, we noticed that the sought-after massage service is offered only one day a week. Additionally, we also found out that when we went to the spa, no robes or towels were offered. This made us feel that the spa service needed a little more improvement.       
Fitness room & cardio theatre are overlooking the Rideau Canal
Cardio pieces are equipped with personal screens and Cable TV
Saltwater pool and hot tub
Relaxing sauna and sundeck
Squash Courts
11 Colonel By Drive (6th Floor)
Ottawa, On K1N-9H4
Tel: 613-560-7337
The gym offers three membership options. A 1-year membership is quite affordable and requires a single payment of $1080 for one year. This brings down the monthly gym costs to $90/month. A 6 Month Membership costs $660 ($110/month) while the most expensive option is a 1-month membership program that costs $135/month.    
We recommend that you avail of their 1-day free trial to test their services and see if this gym is a right fit for you. 
If you are looking for some more individual attention, you can sign up for their Personal Training Program at $60/session. Do you believe that you need advice on food and nutrition too? Sign up for Program Diet & Nutrition Consult which costs $120/session.  
Compliment your training with massage therapy by a certified therapist. A 30-minute treatment costs $75 while a 90-minute session costs $150.  
1-day free trial
Spa options
Nutrition consultancy
Scenic view of the fitness room and cardio theatre. 
The spa can be tempting and distract from achieving fitness goals. 
Very little exercise equipment is available. 
Towels and robes are not offered when you go to the spa.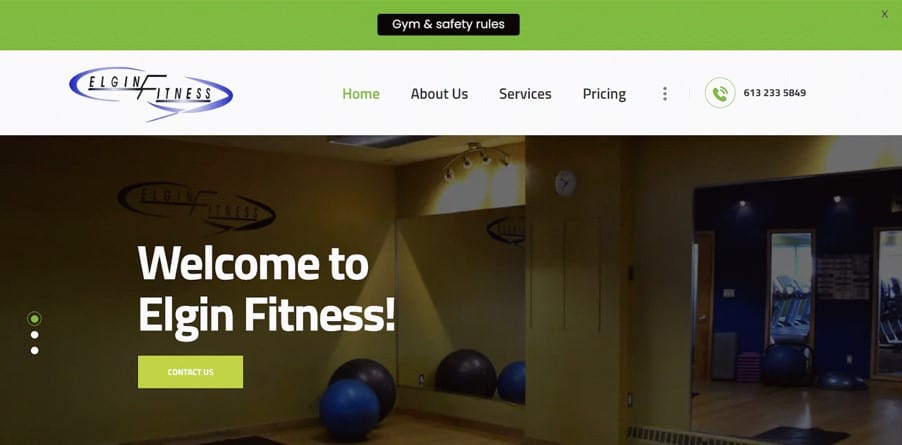 Many people prefer locally-owned and operated gyms over big-name chain gyms. It is because these big health clubs are often overcrowded and offer cookie-cutter services. On the other hand, a small locally owned gym offers a great culture, honest pricing, and is run by local people for local people. If this is something which interests you, Elgin Fitness is the best choice. 
Besides being a smaller facility as compared to some other fitness clubs on the list, Elgin Fitness is well-equipped. It has all the cardio equipment like ellipticals, treadmills, bikes, rowing machines and steppers. The free weights include a Smith machine, Dual adjustable pulley, Leg press, a Squat rack and much more.
What we liked most about this gym was the very friendly and welcoming environment. Most of the members knew each other. The owner Brian Fleming was very supportive. We attended one of their specialized classes and found it challenging as well as motivating.
On the downside, we found out that it closes a bit early on the weekends leaving less time for the members to exercise.    
A modern, clean gym with a variety of machines 
A well-equipped cardio theatre with 4 ellipticals, 4 treadmills, bikes, a stepper and concept II rowers.   
A stretching room 
Personal training program 
200 Cooper St. Suite 6, Ottawa
+1 613-233-5849
There are three membership options. Single Membership costs $55/month, Couples Membership costs $99/month and Student Membership costs $49/month. There are no free trials but you can try out their facility after buying a guest pass for $15.  
Family-owned gym, and friendly staff 
Most members are quite respectful 
Clean changing rooms and sufficient lockers
No lock-in contract  
Motivation and accountability 
It doesn't have swimming pools, hot saunas or massage facilities. If you are looking for a place to relax, this gym doesn't offer much. 
Their weekend hours are 10 am to 6 pm. This means that you can't get an early start on the day and can't get a workout after supper. 
Follow our list to find the perfect gym. Remember that having all the bells and whistles doesn't make a gym perfect for you. Having a great price or fancy machines might not be right for you. Choose a gym that enables you to achieve your personal fitness goals and inspires you to be a better person.  
There's no dress code for the gyms. However, it is recommended that you wear comfortable clothing. 
Exercise improves your mood, reduces stress and makes you sleep better. Besides improving your physical health, it improves your mental health. The exercise triggers chemical activity in your brain to release hormones which make you relaxed.
Each gym membership is different but most of the membership plans provide access to the equipment and training classes to help meet your fitness goals. They also offer access to other amenities like saunas and hot tubs to relax.