Do you know kickboxing can help you burn up to 900 calories in one hour? Kickboxing has enormous health benefits, like many other exercises. Ottawa has many gyms where you can train for different types of kickboxing like Muay Thai, Combat Sambo and Cardio Kickboxing, but which are the best places you should try?
Our team of healthcare experts and physiotherapists have looked into several kickboxing gyms in Ottawa to curate this list. It is also to be noted that each type of kickboxing training helps you in achieving different fitness goals, improving stamina, reducing weight, and helping you tone your body and getting stronger core muscles.  
Depending on your fitness goals, you can pick either of the kickboxing gyms.
1. Ottawa's Fight and Fitness Gym
- The Best Class For Muay Thai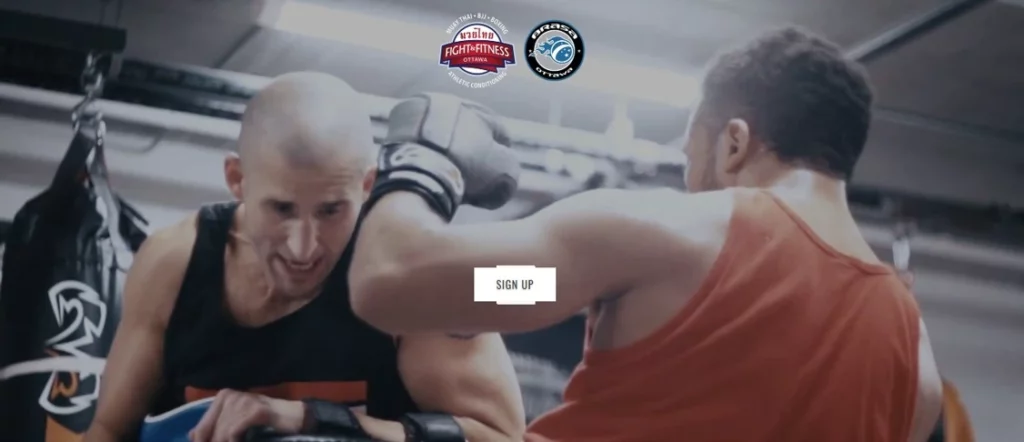 Also known as Thai boxing, it is a combat sport that uses a combination of stand-up striking and various clinching techniques. In Muay Thai, the entire body acts as a weapon. The body mimics weapons of war using eight points of contact. 
The hands act as the sword and dagger, the shins and forearms become hard and tough, acting as armour against blows, the elbow becomes the hammer, and the legs and knees act like an Axe.
Several gyms and schools train in Muay Thai in Ottawa, but the one that has made it to our list is Ottawa's Fight & Fitness gym. Their classes and training are quite similar to the training in Thailand's boxing camps. Many reviewers appreciate their classes for the positive environment and expertise of instructors. 
What do we like about this class?
When we visited the class, we noticed that the training was quite intense and fun. Their classes begin with skipping, followed by shadow boxing, pad work, heavy bag work, and finish with conditioning drills. We also noticed that it was a mixed-ability class, but everyone seemed comfortable working out at her own pace. 
A majority of trainees in the Muay Thai class were women. They seemed to enjoy training, and it looked like a fantastic community.      
This gym is a perfect place for developing a champion mindset. The trainees seem to know that there is no quick fix, so they seem to be working pretty hard to achieve their fitness targets. You can also lift tons of weights or do functional fitness exercises on their mats. 
4500 Sq/Ft. Of matted training area.
20 Heavy Bags
12 MONTH MEMBERSHIP

$99/Month + 13% HST
Total: $111.87/Month

6 MONTH MEMBERSHIP

$120/Month + 13% HST
Total: $135.60/Month

MONTH TO MONTH

$135/Month + 13% HST
Total: $152.55/Month
The gym offers a free Introductory class to teach you about all the basics.
Brazilian Jiu Jitsu: This is a self-defence martial art. The main focus in BJJ is on grappling, ground fighting, and submission holds. This skill teaches you to gain a dominant position over one's opponent.
Boxing Classes: The experienced boxing coaches teach members the fundamentals of movement and footwork, offensive and defensive drills, and advanced punching techniques. 
Great Muay Thai
Athletic Conditioning
Personal and Small Group Training
Corporate Training Programs
Spacious Gym
Clean and positive environment
Great coaches
High-quality equipment
Excellent classes for Muay Thai Kickboxing
No online course is available.
2- 9ROUND Orleans — The Best Walk-in Kickboxing Class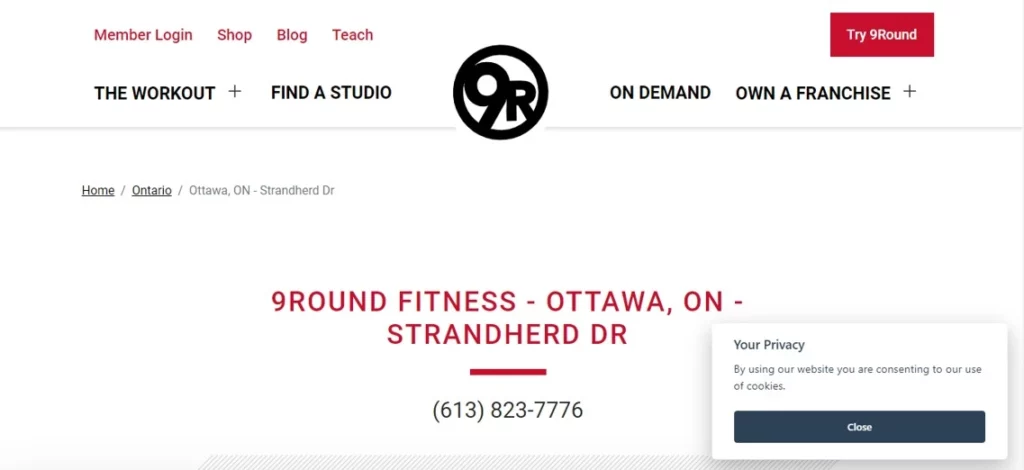 Why do people prefer walk-in gyms for kickboxing?
Many people couldn't join a fitness program because they couldn't take scheduled classes regularly. Walk-in gyms are an easy solution for such people. When we looked into the walk-in kickboxing gyms in Ottawa, 9Round stood out. It is a franchise of gyms that offers a 30-minute kickboxing class. A new class starts every 3 minutes so you can easily go on your time.  
The idea of 9Round was created by Shannon and his wife, Heather. Shannon was IKF Light Middleweight Kickboxing World Champion. The couple had the vision to create a Karate school, a place where people could go without taking classes or spending hours at the gym. They created a walk-in gym where people could do killer workouts while also being able to enjoy themselves. 
What do we like about it?
The flexibility of drop-in formula– Anybody can come to the gym at any time and train. 
Intense Workout Sessions– Those 30-minute sessions are quite intense. They encourage you to focus and get in the best shape of your life without spending hours in the gym. 
Online Workout– 9Round Orleans also offers the opportunity for online Workouts. People across the globe can have access to their guided workouts from any device, anytime. 9Round Orleans app is supported on multiple platforms, including iOS, Android, Roku, Apple TV, FireTV, and Android TV, along with being Airplay and Chromecast compatible.
Black Friday Sale- Many people buy the yearly membership during Black Friday Sale, when the cost is reduced by $200.  
Heart rate training: They allow you to wear a device called a 9ROUND PULSE monitor during a Workout. It tracks your heart rate and calories burnt on the monitor. You can stay in your optimal fat-burning zone while exercising.  
Nine challenging workout stations. 
Kettlebells
Dumbbells
Medicine balls
Jump ropes
Energetic trainers
Locker rooms
9 Round-approved meals by nutritionists delivered to your doorstep. 
Monthly
7-day free trial
Monthly $19.99 


Yearly
7-day free trial
Yearly $199.99 
Free introductory classes
One-on-one sessions 
Online on-demand workouts, so you can achieve your fitness goals from anywhere your device takes you. Each workout session includes a dedicated trainer on-screen to help guide you through every exercise.
Excellent, motivating and encouraging trainers.
A cutting-edge heart rate training program. 
Quick shedding of body fat by following the programs
An email summary is sent to each participant after a training session reflecting their performance in heart rate training. The data is extracted from the 9ROUND Pulse Monitor device that you wear during the Workout.  
They don't have a place where people can take a shower after a workout.  
Kickboxing Classes For Beginners- Many beginners find kickboxing quite intense when they start out. They need experienced coaches, a small circle where they might get individual attention and a positive environment. Beginners are usually not ready to buy a very expensive yearly membership too. When looked at from this perspective, the following two kickboxing classes are rated as the best places for beginners by our experts. 
3. N1 Thai Boxing Academy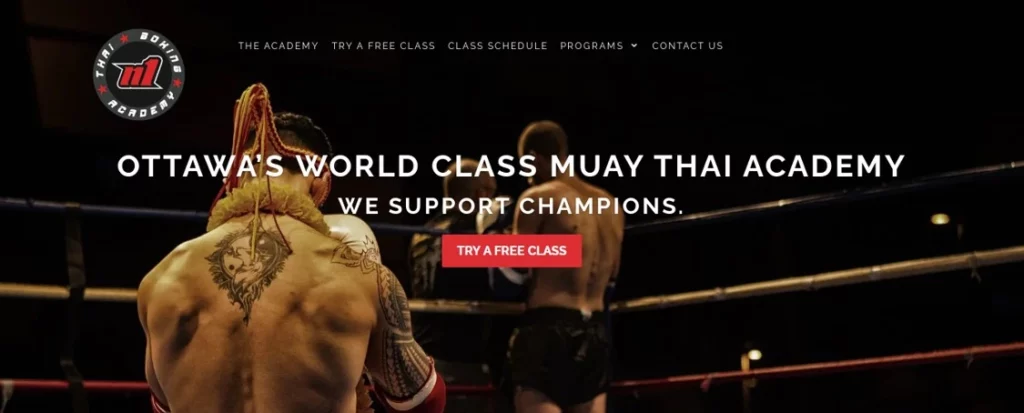 What do we like about this class?
A Positive Environment- Almost every member that we surveyed mentioned that the gym had a very positive, stress-free and welcoming environment. It is an ideal place for all the people who have never done any martial arts before.  
Skilled Coaches- The knowledgeable and experienced coaches help beginners progress fast and improve at a great pace. 
Inexpensive Drop-in Classes- You can attend a drop-in class which is as low as $20. Even their regular membership is relatively inexpensive, i.e. CAD$150, and it includes access to Muay Thai, Boxing, Strength & Conditioning, Brazilian Jiujitsu, Sparring, MMA, Kettlebells, Yoga, Yoga Tune Up, Aikido, Strength & Conditioning and Open Gym training
Membership provides access to a wide range of Programmes
 Muay Thai
 Boxing
Strength & Conditioning
 Brazilian Jiujitsu
 Sparring, MMA
Kettlebells,
 Yoga
 Yoga Tune Up
Aikido
Strength & Conditioning 
Open Gym training
 Laido
Pikiti Tirsia
Kali Silat is a separate program outside of standard membership. 
Visit the website to see multiple class options the school offers to fit your schedule, goals and interests.
10 fitness classes for $150
Top-notch environment
Supportive and encouraging instructors
Variety of classes to choose from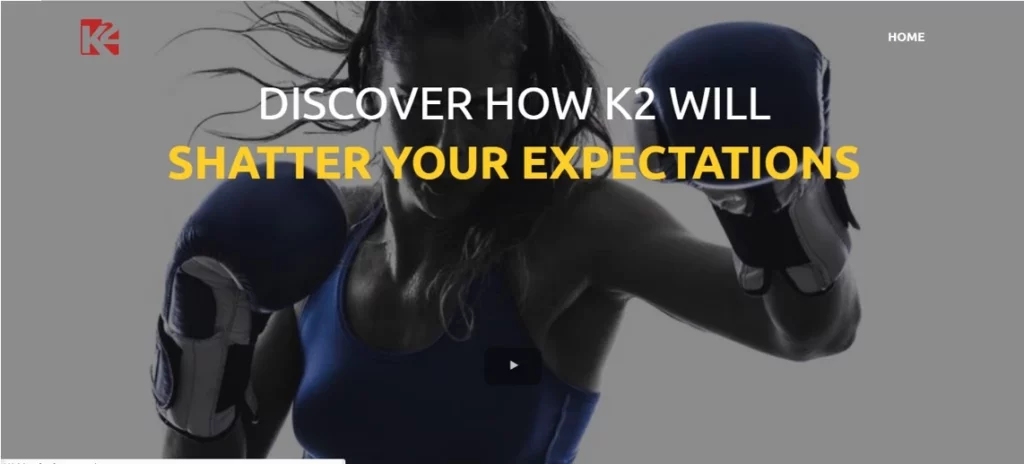 What do we like about this class?
Another beginner-friendly place for learning kickboxing is K2 Martial Arts. This class made it to our list because of its excellent environment. Classes are safe, fun and friendly, where the participants work at their own pace. A reviewer mentioned that you wouldn't hear toxic fitness or diet culture here. Another reviewer reported that they consider this class a safe place because you can learn self-defence in a supportive, inclusive community.
This program focuses on unshakeable confidence in your child and the relentless self-discipline to achieve their full potential
This fitness program is perfect for burning fat and toning your body. K2 kickboxing will revolutionize what you have come to expect out of a fitness program
This program focuses on self-defence training.
The Brazilian Jiujitsu classes aim at boosting your strength and toughness. 
Amazing workouts
Caring and helpful coaches
Flexible schedules
Accessible car parking
5. Therien Jiujitsu — The Best Place For Competitive Kickboxing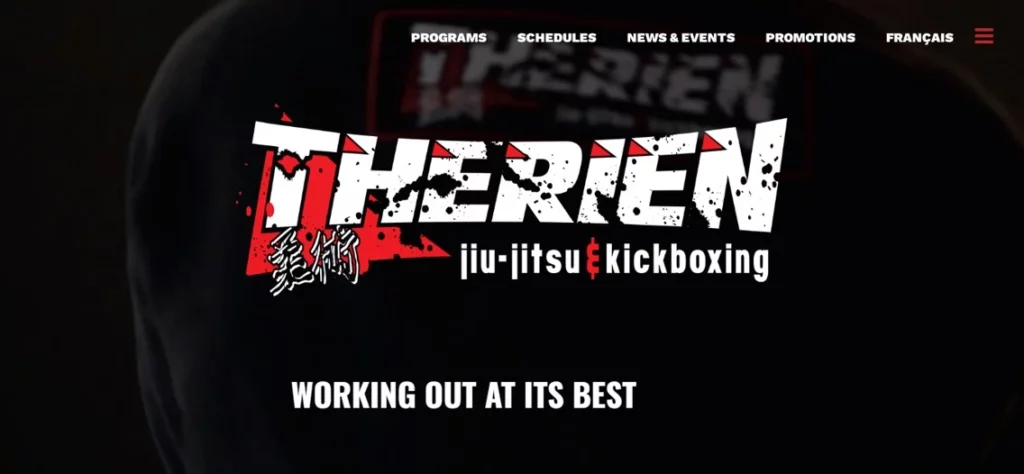 What do we like about this class?
If you are looking forward to fighting in the ring one day, Therien Martial Arts and Fitness Studio is the best choice. The coach Yves Theriault is a 23-time world champion and is considered one of the best kickboxers of all time. He has coached multiple national and PanAm champions in that gym. 
Another great thing about that gym is the fact that pro-MMA fighters are training in this gym. Training side by side with the champions can help you to level up your game and excel in your skill.  
Jiujitsu
Kickboxing for children 
Brazilian JiuJitzu
Mixed Martial Arts 
Weight Loss 
Virtual Kickboxing 
$19.95 for the beginner program. This program includes:
– 1 introductory lesson
– 1 group session
– 1 info session
The cost of membership programs depends on your level of expertise and your fitness goals. It is determined after your initial meeting. 
Top-notch kickboxing classes 
Affordable starter package 
Customizable training schedule  
Chance to practice with the world-class champions. 
Some of their members complained about the customer service at the gym.
6. Douvris- The Best Kickboxing Class For Kids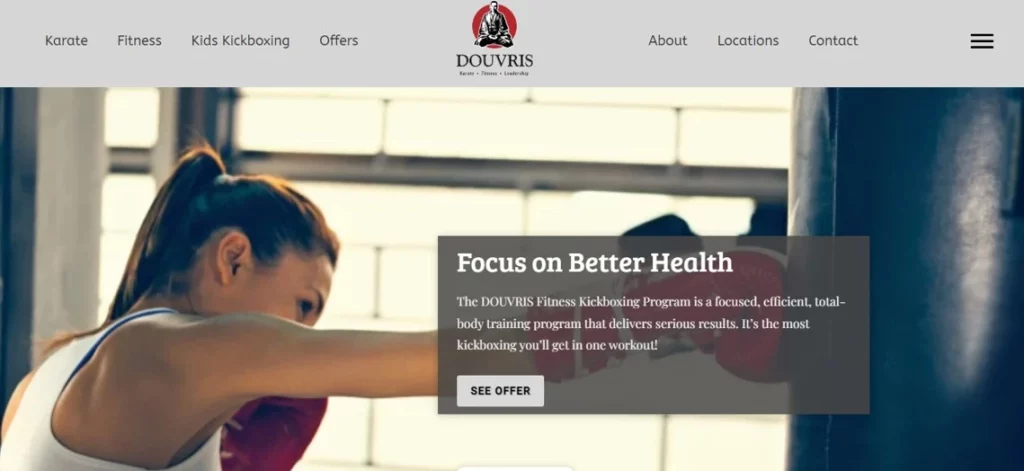 Address: 1270 Bank St, Ottawa, ON K1S 3Y4, Canada
A kids' kickboxing program can help your child in staying active and engaged and burn off excessive energy. Children learn self-defence by understanding how to correctly punch and kick to be able to fight competitively.
What do we like about this class?
This class made it to our list because of its exceptional age-appropriate training. The class is a combination of heavy bag training, pad kicks and cardio exercise. The training relies heavily on kicking and striking targets (heavy bag and focus mitts) to give your child a complete body strength workout. 
Another great thing about this class is that it is completely safe. There is no competitive element or contact between the children.
Your child can learn self-defence, which helps in bullying prevention. The instructors are quite trained and use age-appropriate techniques to keep your child active and engaged and help them burn off fat.
Karate
Summer camps
Kids Kickboxing 7-12
Fitness kickboxing
Personal training 
Character development 
Confidence course
Leadership 
Two classes (one group class and one private lesson) and a new uniform for $19.95.
Try Douvris Fitness with 1 class pass for only $10.00.
A great place for kids to learn valuable life skills
A great place for toddlers 
Motivating and skillful instructors
Low instructor-to-student ratio
A wide range of programs to choose from
7. Tina Takahashi Martial Arts— The Best Class for Combat Sambo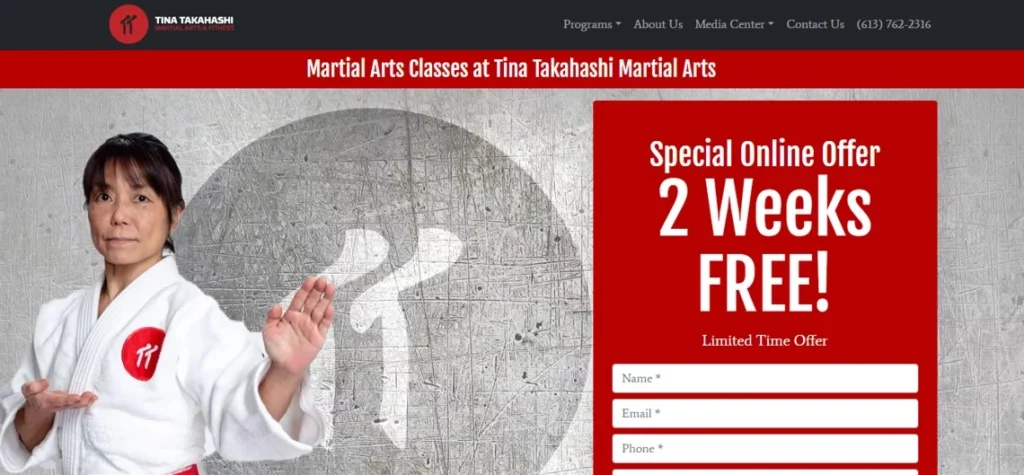 Address: 1061 Merivale Rd. Ottawa Ontario K1Z6A9
Combat Sambo is an integrated mix of kickboxing, judo and wrestling. Derived from Russian Military Fighting Systems, Combat Sambo combines all aspects of fighting and self-defence techniques with and without weapons. Sport style Sambo resembles MMA training with a kurta (jacket) and sambo boots. 
What do we like about this class?
If you are looking forward to getting training by a legend in kickboxing and martial arts, this is the best choice. Tina Takashi, the owner, is from the famous Takashi judo family in Canada. She is also in the Judo Canada House of Fame. She and her husband have opened this gym where they are providing state-of-the-art Combat Sambo training. 
Their tuition is individualized. Every student has her own fee structure, depending on her fitness goals and the frequency of classes. 
The facility is quite well maintained. Many reviewers mentioned that sparring is encouraged and done regularly. Another great thing about this gym is the fact that they try to pair you up with the same size, smaller size, or larger size students to test your techniques. 
While they teach sports rules, they also try to incorporate some "no-rules" techniques. This makes their training quite unique. 
Rank progression is based on the individual. This means that you can not guarantee to get a black belt in a specific time period. 
Martial Arts for Kids to enhance focus, concentration, self-control, and discipline. 
Judo & Jiu Jitsu for adults and teens: This class gives you self-confidence, improves your personal safety, and boosts up your physical, mental & emotional capacities.
Muay Thai Kickboxing 
Combat Sambo 
Martial Arts Birthday Party
Individualized tuition fee plan
They allow you to freeze your membership if you get injured. 
You get high-quality training from legendary kickboxers. 
Individualized tuition plan. 
Chance to compete in the championship. 
Some of the reviewers complain that they are a bit pushy in getting you to sign a year contract. 
School uniforms are required. 
They have only a limited-time offer on membership. 
8. Bergeron Martial Arts- The Best Class For Fitness Kickboxing

Address: 2544 Bank St
Ottawa, Ontario K1T 1M9
What is Fitness Kickboxing?
Fitness kickboxing is only for fitness or cardio, not for self-defence or fighting. Many gyms offer fitness kickboxing classes that combine aerobic exercises with martial arts moves. It is a calorie-burning workout that helps you to lose weight, tone up your muscles and burn off ugly body fat. 
What do we like about this class?
High-quality fitness training– This class is a great way to get in shape and burn off ugly fat. Many of their members reported that their training sessions are high energy, calorie-crushing, and give you a head-turning body. 
Flexible schedule-They offer group lessons as well as individual classes. All skill levels are welcome. 
Kids martial arts program 
Kickboxing fitness class 
Mixed martial arts class 
Adult martial arts class 
Well-trained instructors. The owner Kyoshi Claude Bergeron holds a 7th-degree black belt. 
 A positive and encouraging environment.  
Learners of all skill levels are welcome. 
Some reviewers complain that if you cancel the membership during the middle of the course, they don't offer a refund or freeze your membership to be continued later on. 
If you want to keep yourself active, strengthen your body, stay in shape and develop defence skills, then you must go to a kickboxing class. Kickboxing is a great option for your fitness. Choose your favourite kickboxing gym from the above list, head out to our recommended spot, and achieve your fitness goals.