Play Some Sets At The Best Public And Private Tennis Courts In Downtown
Did you know that playing tennis for an hour can burn 580-870 calories? Tennis offers a wide range of health benefits but where can we find good tennis courts in Ottawa? Our team of health experts and physiotherapists has done some research to compile a list of the best tennis courts. While compiling our list, we have kept the following criterion in our mind: 
Affordability 
Location 
Membership options 
Amenities 

We have also looked into the fact that a tennis court is public (free to use and managed by Municipality) or Private (requires a membership fee to use.) 
Some of the public tennis courts that have made it to our list are free to use. They are located in a public park that offers other recreation facilities. These public tennis courts are maintained by the Municipality in conjunction with volunteer organizations. 
On the contrary, private tennis courts offer premium membership options. You can enjoy a variety of amenities and facilities when you join a private tennis club. 
Are you looking forward to maintaining your fitness after recovering from an injury? Book a consultation with expert physiotherapists at Kent Chiro-Med.   
Public Tennis Courts In Ottawa
There are around 132 tennis courts in Ottawa. View the locations of all the city of Ottawa tennis courts here. Are you looking for free tennis courts in Ottawa? Most of the public tennis courts are free to use. We have selected 6 public tennis courts that stand out due to their location, or amenities.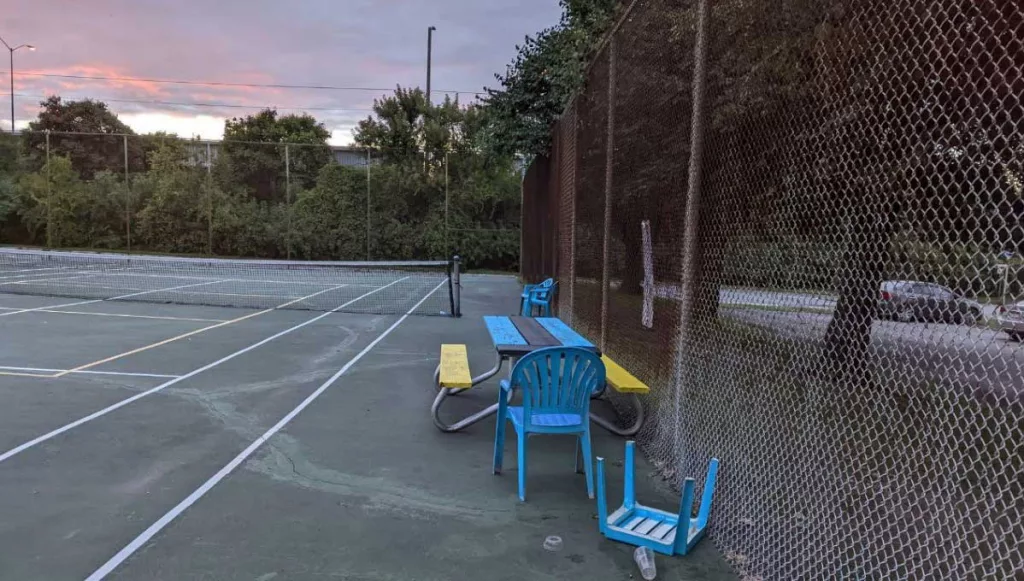 There are two courts at Chamberlain park which are free to use and pretty well maintained. These courts are ideal for adults as well as youth. If one of your family members loves soccer, you are in luck. There is a soccer field next to these tennis
The parking is close by and free. 
The crowd and the people are usually quite friendly and readily take turns to play. 
There are also some picnic tables and chairs for the people to relax and have fun.  
The surface of the court is not very smooth and has some cracks. This makes the ball jump at odd angles.  
The courts are not too big. There isn't much room in the back for faster, long balls.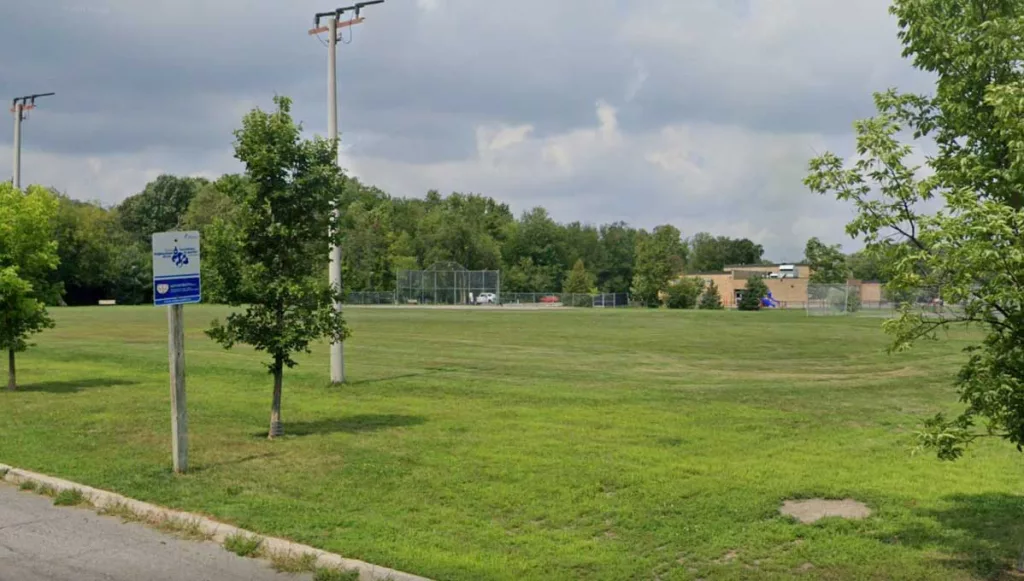 This tennis court is surrounded by a green space which is well maintained. It is an ideal place to spend time with the family. 
There are two hard tennis courts of a good size. 
The park offers plenty of recreational facilities for families. 
It is a bit crowded. Some of the online reviewers complained that when they visited it on the weekend, they had to wait for quite some time before they could play.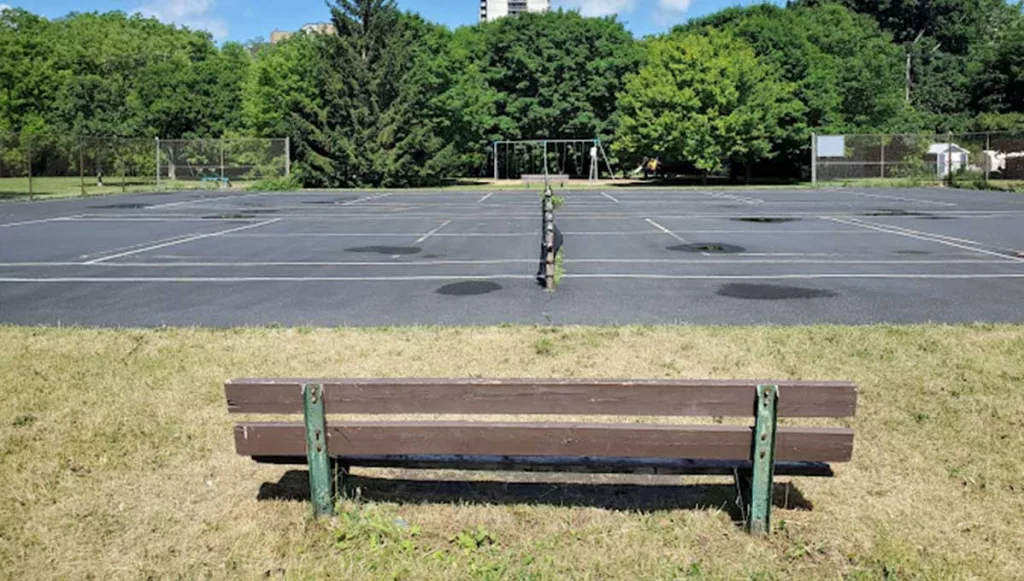 Located between Abbey Road and Cancer Survivors Park, Dale Park is a favourite recreation spot in the area. The park includes a climber, two sets of swings, teeter totters, a few picnic tables and benches. There's also a narrow paved path running through the park. Two tennis courts are located here. 
The courts are well maintained. The surface is quite smooth.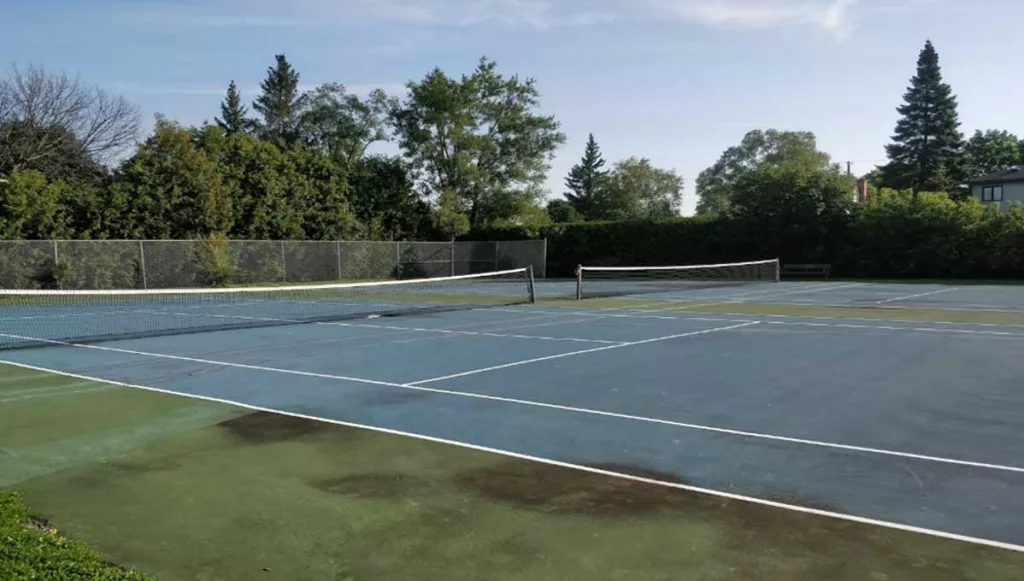 It has 2 courts. The surface is hard and well-maintained. 
They are not very crowded and you can use them without any waiting time. 
Besides tennis courts, there is a basketball court and 2 baseball fields. 
There is a walking path available with plenty of street parking.  
There are no lights for the night play.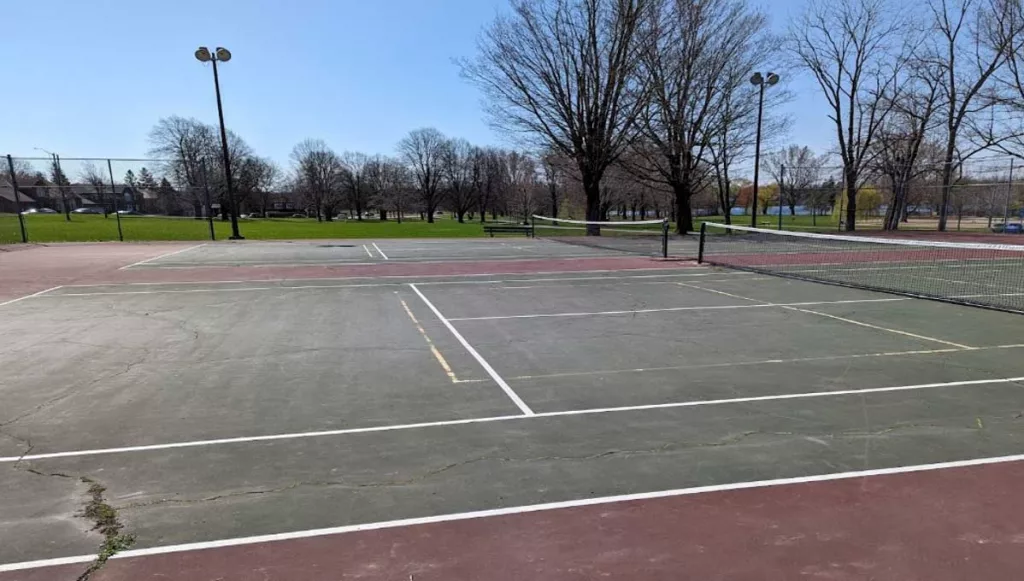 The park has multiple play structures, swings, toddler swings and other attractions. There are two tennis courts located here. Some other amenities include unstructured fields, a toboggan hill, and a bicycle pumping station.  
It has 2 courts. They are close to the parking and usually vacant.
The courts have lights to play during the night.   
The courts are not properly maintained. The lines on the surface are faded. 
There is no cover from the sun or wind.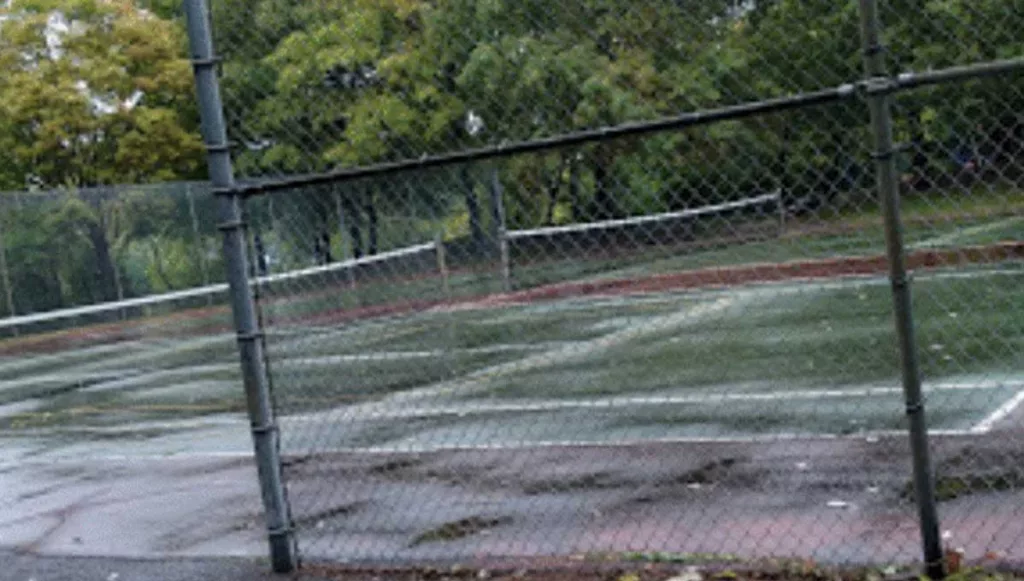 It is a scenic neighbourhood park with tennis courts, a playground, an off-leash dog area and river views.
There's a great community around this park. The tennis courts are quite active but people happily rotate and share the space. 
There's a nice playground for the kids. 
There's a small dock for kayaking. After tennis, you can have fun with a water sport. 
There are no lights for the night play. 
Private Tennis Clubs In Ottawa

If you are looking for a tennis club that offers a perfect combination of fitness, fun and socialization, Ottawa Tennis and Lawn Bowling Club stands out. It has the largest number of clay courts in Ottawa where you can get lessons or play according to your level of expertise. It is a full-service clubhouse offering a variety of luxe facilities like a swimming pool, beach volleyball, meeting spaces, dining room etc. OTLBC is a perfect venue for special events like weddings, business meetings etc. 
Phone number 613 730 7207
Email info@ otlbc.com
Address 176 Cameron Avenue Ottawa ON K1S0X5
Club activities and Courts
The club has the largest number of courts in any tennis club in Ottawa i.e. 18 
The clay courts are well maintained. 
The club offers a wide range of activities and programmes which include:


Ottawa Tennis Lessons: These include private and semi-group lessons. Private coaching includes one-on-one lessons with professionals. Semi-group lessons include lessons for groups of 2 to 3 people.
Adult Programmes:  These include House Ladders, Clinics, and Round Robbins.
Afterschool Junior programmes and summer camps for children
Club tournaments 
Club Etiquettes and Rules
Incorrect age declaration would also result in the cancellation of membership.
Membership fees are non-refundable except on medical grounds.
| | | |
| --- | --- | --- |
| Membership | Returning Member | New Member |
| Adults 36-64 years | $1140 | $1390 |
| Seniors 65 years plus | $1050 | $1300 |
| Intermediate adult 22-35 years | $530 | $780 |
| Juniors 21 years and under | $450 | $600 |
| Couple with dependent children up to 21 age with same address | $1270 | $1620 |
Multiple sports under one roof.
Efficient and cooperative staff 
Well-maintained courts.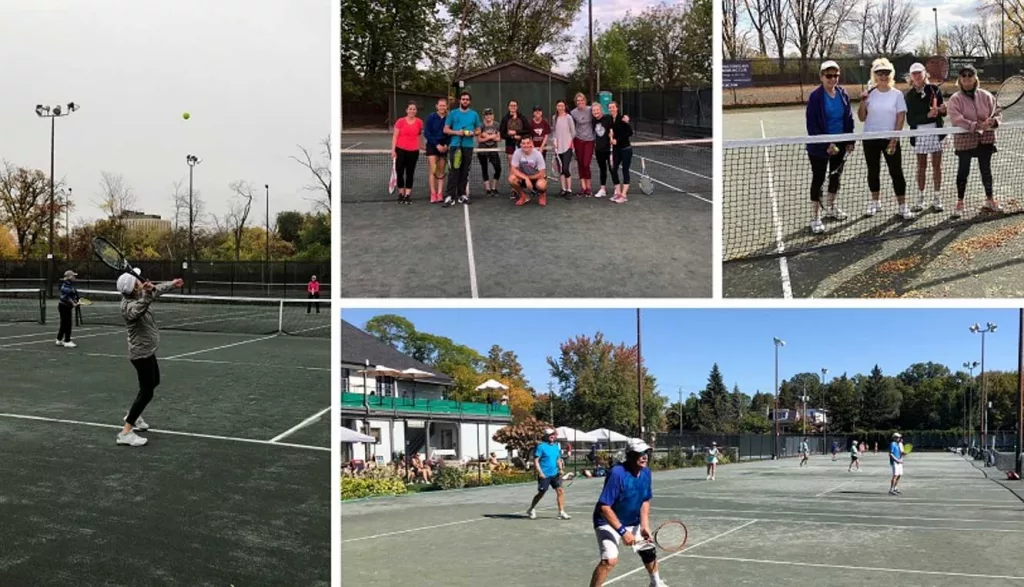 First, let us discuss the average cost of membership on a tennis court in Ottawa. It ranges between $700 to $2000 for a 9-week program depending on the facilities and amenities available. Some clubs also offer discounts when a couple or a family signs up. As we compared the membership costs of various tennis courts, Lynwood Park Tennis Club stood out due to its affordable rates and the high value it offered. 
This tennis club was founded in 1971. It is considered one of the oldest tennis clubs in Ottawa. The main goal of this tennis club is to promote this sport in the nearby community. This club caters to people of all age groups.
Address: 7 Sycamore Drive, Ottawa
Contact no: 6138206852
Email: Lynwoodtennis@gmail.com 
Club activities and Courts
There are four beautiful hard courts available.
The club offers an "after-school program" for children, "day camps" and "partner programming" for adults.
The club encourages the people to play "Doubles". This maximizes everyone's enjoyment.
Club Etiquettes and Rules
It is mandatory to wear tennis attire and non-marking tennis shoes.
Avoid abusive language and speak quietly near the tennis court.
Balls and rackets should not be thrown indiscriminately.
The players must not be disturbed when a game is in progress.
Bags, balls, jackets etc must be placed out of players' way. 
The lights must be switched off when the game ends at night.
The gates must be locked all the time to ensure the safety of the courts and avoid their misuse
Membership Type
Description 
Fees
Family
Both adults and children
$120
Single
One individual aged 18 or over
$80
Senior
One individual aged 65 or over
$60
Student
Full time
Any age
$50
Courts are always clean and ready to use.
    Courts have high surrounding wire fences which prevent balls from going out.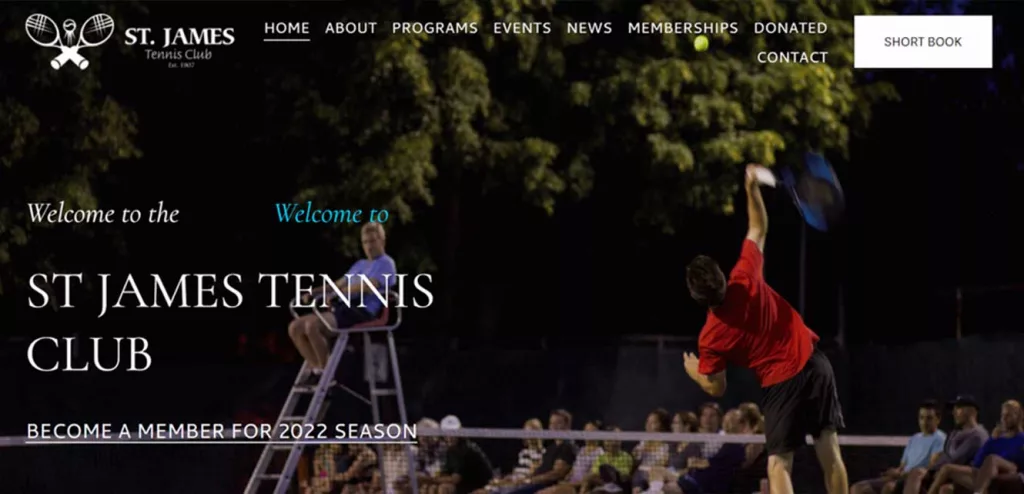 Saint James Tennis Club stands out because it offers something for all family members. It has some awesome junior tennis programs as well as adult tennis programs. The juniors can take either after-school lessons or weekend lessons. Similarly, adults can take either beginner or intermediate tennis lessons. They can also choose to play cardio tennis or learn doubles tactics. 
If one of your kids is at the beginner level and the other one at an advanced level, you don't have to drop them off at separate tennis clubs. This club has something for everyone.  
St. James Tennis Club, 183 Third Avenue Ottawa, Ontario
Contact No: 613-237-5469
Club activities and Courts
The club has four hard courts and a fifth practice Court at Corpus Christi Elementary School located across the street. 
It offers a wide range of activities including individual and group lessons, club tournaments and competitive leagues.
The club allows members to turn up anytime and play tennis through a membership program called "Round Robins." 
There are special offers for junior members which include a range of lessons, free activities and tennis camps. On average 100 juniors participate in each session. 
Club Etiquettes and Rules
Memberships are non-refundable.
The registration fee is nonrefundable after the commencement of the first lesson.
 Players must be in proper tennis uniforms and tennis shoes.
 Be respectful towards your fellows
You can stretch yourself before and after the game but not behind the court or at the entrance gate.
 Do not retrieve stray balls from adjoining courts, remain on yours.
 After the game is over shake hands with your opponents
 
Membership Type
Description 
Fees
Family
Both adults and children
$120
Single
One individual aged 18 or over
$80
Senior
One individual aged 65 or over
$60
Student
Full time
Any age
$50
Well maintained courts
Competent and cooperative instructors
Multiple programs for different levels of players
 Nonrefundable registration and membership fee.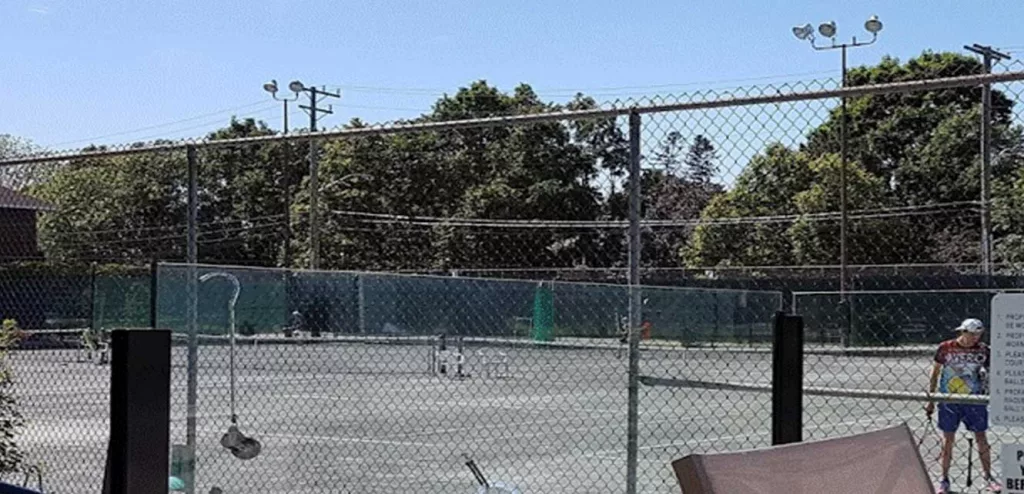 This club has made it to our list because of the special clay courts made up of Har-Tru clay. Clay courts are considered better than hard courts due to various reasons. They allow players to slide easily and avoid injuries. In addition, the surface of the court absorbs moisture and remains cool during summer. 
Elmsdale clay courts are well-maintained and in good shape. They also offer a "Round Robbins" program where members can show up any time and play.  
Address: 184 Holland Ave, Ottawa, ON K1Y 0Y5
 Email: info@elmdale.ca
 Contact no: 613-729-3644
Club activities and Courts
There are 6 designated courts which are made up of Hartru clay.
Three courts are usually reserved for the Round Robins. These run for 2 hours. Round Robins are a great opportunity for socialization and diverse competitions.
The club offers a junior spring program which focuses on learning the basic strokes of tennis movement and reception
Club Etiquettes and Rules
Members must be courteous and respectful towards club staff, fellow members and guests.
Members are required to wear "clay shoes" or shoes with non-aggressive soles. 
There is always a designated court monitor whose duty is to keep a record of the score and judge line calls. The players must respect his decisions
*The membership costs are updated frequently and displayed on their web page and FB page. Please check out the updated costs before you sign up. 
The 8-week program costs: $225 per week for an Elmdale member (or direct family member) or $250 per week for a non-member (subject to HST).
Players having a membership have access to a ball machine, a practice wall and a basket of balls for serving each year since 2015
Good environment
Well-maintained clay courts 

Rideau Sports Centre is a famous multi-sport facility. The reason it has made it to our list is because of its amazing tennis programs for juniors. It is the largest Junior Tennis Development Centre in Ottawa. There are weekend and after-school programs designed for kids of all ages. The best part is their "progressive tennis" approach that introduces tennis in a fun way for gradual skill development.     
Phone number 613 749 6126 
 Email info@rideausportscenter.com
Address 1 Donald St, Ottawa, ON K1K 4E6. 
Tennis Courts and Club Activities
Are you looking for an indoor tennis court in Ottawa? Rideau Sports Centre has 4 indoor tennis courts, 7 outdoor seasonal clay tennis courts and 3 beach or snow tennis courts. These can be booked online on a one-hour notice.
Outdoor clay tennis courts are weather dependent and open seasonally from May to October.
 Rideau Sports Centre offers multiple ways to play tennis. "Round Robins" is offered every week and is a great way to meet new people and socialize with friends. 
 Private, semi-private and small group lessons are available.
RSC offers beach tennis as well as snow tennis. Beach tennis is a great source of cardio workout as it is played on sand and has a low impact on knees and joints. Snow tennis is played during the winter months. 
Tennis
Yoga and fitness classes 
Ball hockey
Basketball
Beach tennis
Beach volleyball
Indoor soccer
Padal 
Rideau Winter trail
Swimming
Club Etiquettes and Rules
The club discourages harassment and negative behaviour against an individual or a group. 
Parent and Me (4-5 years)
The red ball (6-8 years old)
Orange ball (9-10 years old)
Green ball (11-12 years old)
Teen Tennis (13-17 years old)
It offers young tennis players professional training all year round. 
It provides state-of-the-art facilities. 
The coaches are experienced and train youngsters. That is why, every year, a number of their high-performance tennis athletes compete at the provincial and national levels.  
RSC holds multiple Tennis camps for kids of different ages and levels. 
Some of the users complain that the parking is always full. There should be more room for parking.
Tennis Centre West Ottawa situated near Britannia Beach welcomes members to relax and socialize. The club has a long tennis background. The experienced and hard-working coaches at the centre are always ready to welcome members both young and old. The Tennis Centre West Ottawa offers adult and junior programs at a very reasonable range. 
Contact no: 613 8287 622
Email info@tcwo.ca
Tennis Courts and Club Activities
The West Ottawa Tennis Club has 6 indoor clay surfaced courts and 7 outdoor specially designed Har Tru courts. 
These courts are shock absorbers, reducing stress on joints. Specifically designed clay courts develop stamina and energy.
Ball bounce on these courts offers a controlled game as there are longer rallies and good strokes.
The centre offers activities for both Adults and Juniors. Adult programs include club championships, social events, leagues and ladders. Junior programs include camps for juniors, junior ladder and junior group programs.
Club Etiquettes and Rules
A proper dress code must be followed which includes wearing specially designed tennis shoes for courts.
Show sportsman spirit at all times. This includes a good introduction with the new members, acknowledging good shots, shaking hands and tapping racquets at the end of every match.
 Proof of membership needs to be shown if asked by the staff.
 Fees need to be paid before entering indoor or outdoor courts.
| | |
| --- | --- |
| Type of Membership | Cost |
| Senior (65+) | $611.09 |
| Adult (19-64) | $762.56 |
| Junior (under $18) | $205.28 |
| Junior Plus | $315 |
| Family | $1509.37 |
Spacious and well-maintained courts
Good customer service
Non-members are allowed to book court ahead of 24 hours before the booked time.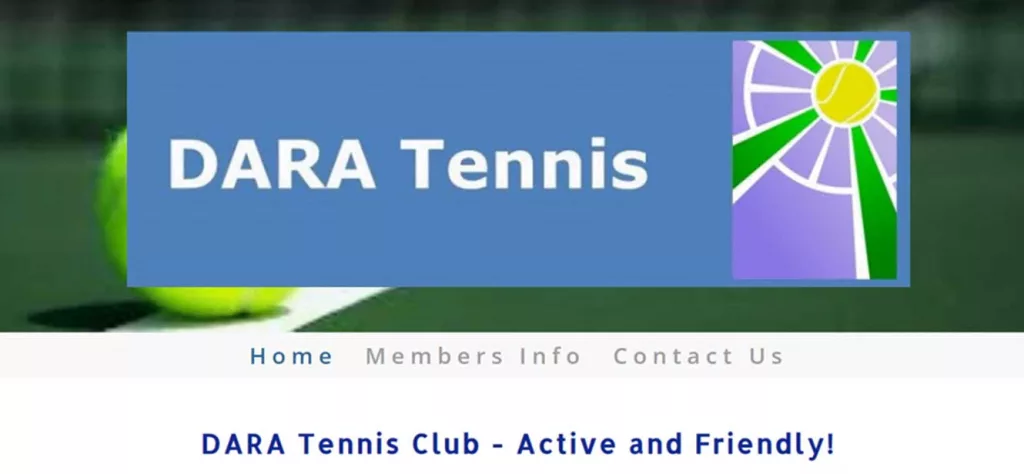 Dara Tennis Club has made it to our list because of its small size and very strong community environment. The club has only 3 tennis courts that offer tons of value. It is a private non-profit club managed by volunteer members. The goal of this tennis club is to promote tennis and to encourage members of all skill levels to come out and play. 
Address: 49- A Maple Drive Ottawa, Ontario K1M 1G7
Phone: 613-715-5165
Email: clubpro@daratennis.ca
Tennis Courts and Activities
The club has 3 hard courts and practice courts.
The clubhouse has proper change rooms, restrooms, shower facilities and a patio.
The club organizes "Active ladder," and "Round Robin." 
The club also offers private and semi-private lessons and group clinics.
Club Etiquettes and Rules
It is the responsibility of the members to ensure that their guests must follow the rules and etiquette of the club.
 A membership tag must always be attached to the shoe to play. Players must be in proper tennis shoes and tennis attire.
The club is not responsible for any personal injuries at the time of the game.
Membership Fees
Adult (Single) = $100
Adult ( Couple with the same residence) = $150
Youth ( 16- 18yrs old)= $ 50
Juniors (15yrs or younger)= $ 25
Good location with quiet surroundings.
Friendly environment.
Well-maintained courts. 
It has a very less number of courts.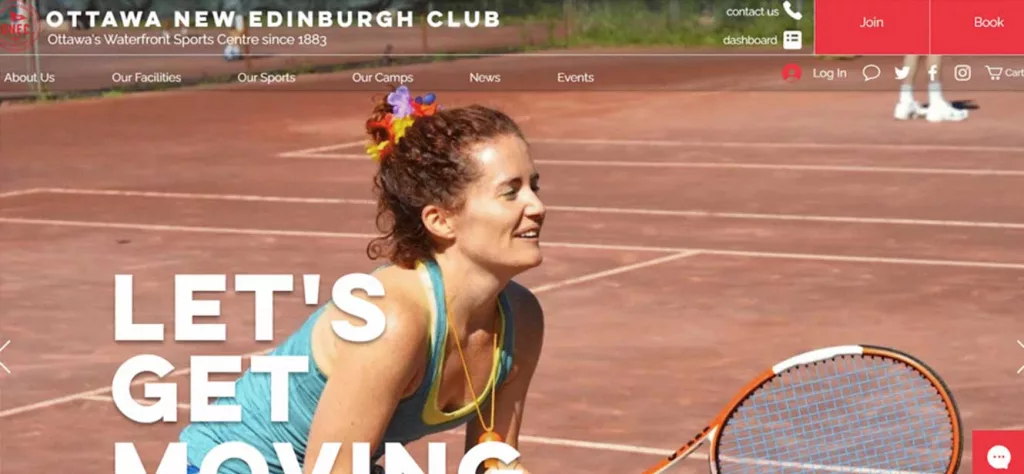 Lots of big green trees, quaint clubhouses and red clay courts- ONEC has made it to our list because of its exotic feel and look. When you are at ONEC, it feels like you are outside the city at a luxurious cottage. Offering tennis, rowing, paddling and sailing programs, the club stands out for its classy crowd, facilities look and feel.  
It is one of Ottawa's oldest sports clubs located just minutes away from the downtown and close to forested waterfront parkland.
Telephone: 613-746-8540
Email: info@onec.ca
Address: 504 Sir George Etienne Parkway Ottawa, Ontario.
Paddling
Tennis
Sailing
Rowing
Tennis Courts and Activities
The club has 7 red clay courts and 4 hard courts.
The club offers a program called Regular Drop-in Clinics. The key focus of this class is on your fitness level, keystrokes and drill. This allows you to build your confidence in Court.
The club organizes training for adults and juniors. 
The club also organizes Tennis Ladder and Round Robin programmes to accommodate tennis players of different fitness and skill levels. 
There must be a one-day booking of the courts through an online booking system.
The guests of a member can enjoy the free facilities of a club thrice.
| | |
| --- | --- |
| Adult | $485 |
| Family ( 2 adults and 2 children per household) | $814 |
| Young Adult (18- 30 years) | $243 |
| Youth (17 and under) | $150+ HST |
The place is full of entertainment and fun. 
Well-maintained red clay courts. 
Various other games and water sports are available. 
Get fit this summer by playing on your favourite tennis court. Hone your skills by playing tennis in your favourite environment. If you are recovering from an injury or plan to take your fitness to the next level, choose from one of the above-mentioned tennis courts.