Outdoor Gyms In Ottawa: 9 Exciting Places To Get Fit
Do you know that physical activity outdoors can lower your blood pressure, strengthen your muscles and reduce anxiety and depression? There are numerous benefits of an outdoor workout. Most of the people in Ottawa prefer to make the best out of the beautiful weather during summer and autumn by exercising outdoors. But which are the best places for an outdoor workout?
Our team of physiotherapists, chiropractors and health experts have looked into several trails, parks and gardens in Ottawa to curate this list. For this article, we have gathered information by:
Surveying hundreds of users of these facilities 
Analyzing thousands of data points 
Digging online reviews 
Visiting these places ourselves
We will also discuss the benefits of different types of workouts, plus any other tips or information we could dig out, either about the workout or about the place.
What Is An Outdoor Workout Anyway?
Outdoor workout refers to the exercise undertaken outside a building to improve health and fitness. Some of the places where an outdoor workout could be performed are parks, trails, wilderness, beaches, paved courtyards etc
Benefits Of An Outdoor Workout
1. Increases Exposure to Sunlight
In outdoor workouts, we are fully exposed to the natural golden sun rays. Exposure to sunlight stimulates the production of vitamin D which is good for bone health. It improves our immune system and lowers the chances of inflammation. 
Outdoor workouts work like antidepressants. Exercising stimulates our bodies to release hormones called "Endorphins." Several studies reveal that physically active individuals, who exercise outdoors are at a lower risk of experiencing depression as compared to those who are inactive. That's why psychotherapists recommend that patients with anxiety and depression exercise outside as this helps a lot in their treatment.
Working out outdoors not only reduces depression and anxiety but it acts as a mood booster. A study reveals that 5 minutes of exercise in the natural environment makes them more energized, revitalized and optimistic.
Whenever we do something repetitively in the same environment, we get bored. That's why many gymgoers complain of losing interest in exercise after a certain period of time. You might have seen people trying to fight boredom by listening to music or the radio while running on a treadmill. When you exercise outside, this problem is naturally solved. Depending on where you are running or exercising, you can enjoy scenic views, flora, and fauna. Interacting with nature keeps people engaged, happy and motivated.   
5. Improves Cognitive Abilities And Concentration
Outdoor workouts are an excellent example of green exercise. In case you are unfamiliar with the concept, green exercise is a physical exercise performed in natural environments. A study conducted by Michigan State University analyzed the effects of green exercise on children and youth. They found out that it improved their concentration span, and cognitive abilities and reduced depression and mood disorders.   
An outdoor workout is an environment-friendly form of exercise. The consumption of energy is very less as they don't require proper lighting, ventilation or air conditioning as compared to the indoor park or indoor exercises. 
Tired of spending $120 every month on that fancy gym? It is time to give outdoor workouts a try. Step on one of the trails around the city for jogging, running or walking. Fancy yoga or exercise? Go to one of the amazing parks or green areas in the city and achieve your fitness goals.  
Say Goodbye to
Pain and Hello to Relief
Tired of chronic pain? Kent Chiro-Med can help.

Our experienced chiropractors offer non-invasive relief with personalized plans, flexible scheduling, and a welcoming clinic.

Don't let fear stop you - schedule your appointment for a better life.
Which Are The Best Exercises For An Outdoor Workout?
Adapted from Harvard Health Journal, the following chart shows how many calories are burnt in a 30 minutes activity for people with different weights. You can choose a combination of activities from the list or start with one or two workouts in the beginning.   
| | | | |
| --- | --- | --- | --- |
| Workout Activity  | 125 pound person | 155 pound person | 185 pound person  |
| Hiking: cross-country | 170 | 216 | 252 |
| Bicycling: 12-13.9 mph | 240 | 288 | 336 |
| Kayaking | 150 | 180 | 210 |
| Walking: 4 mph (15 min/mi) | 135 | 175 | 189 |
| Jog: jog <10 min. | 180 | 216 | 252 |
| Running: 5 mph (12 min/mile) | 240 | 288 | 336 |
| Rope Jumping (Fast) | 340 | 421 | 503 |
| Stair Step Machine: general | 180 | 216 | 252 |
| Swimming: general | 180 | 216 | 252 |
9 Places To Get An Intense Workout In Ottawa
The following is a list of outdoor workouts along with our recommended spot in Ottawa.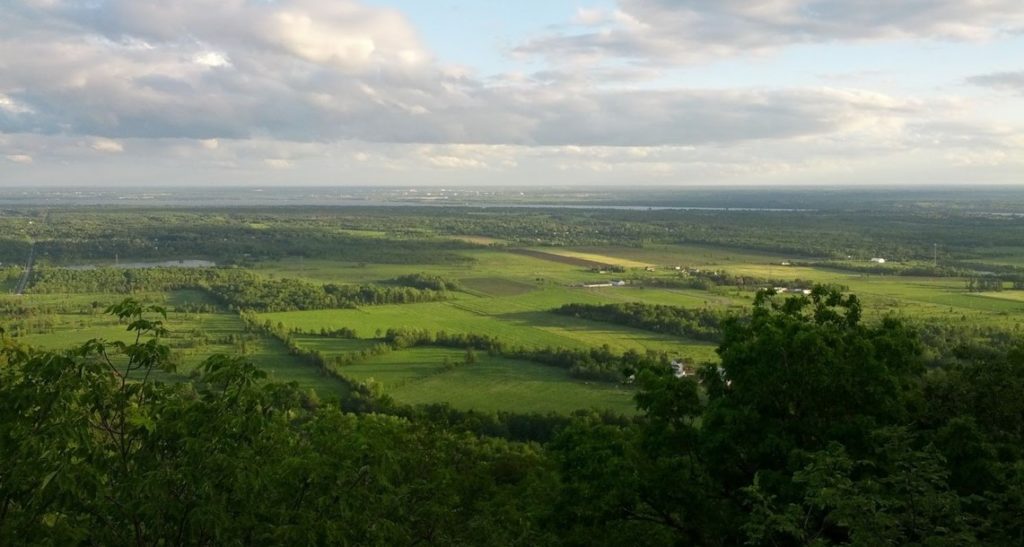 Hiking is a great outdoor workout. A University of Michigan study reveals that you use 28%more energy while hiking on a rough train as compared to walking on a smooth plain. 
Similarly, if you spend more time in trees, it is a great way to lower your blood pressure, improve your immune system and reduce symptoms of depression. 
King Mountain Trail is a great place for hiking in Ottawa. It is 1.9 km long and has beautiful lookouts. You can easily hike for about an hour and burn all the extra calories. 
If you love flora and fauna, this trail might interest you. There are interpretive signs along the way that describe local wildlife and plant life.  
This trail has beautiful views of the surrounding farmland and ridges of Gatineau Park. 
It's a wonderful hike with steep stairs and rocks. 
It has a fair size parking. 
There are some toilets and picnic tables available too. 
You need to leave your dogs at home as the pups are not allowed. 
The hiking trail can be best enjoyed during the autumn. During summer, there are lots of mosquitos and bugs.
2. Biking In Experimental Farm Pathway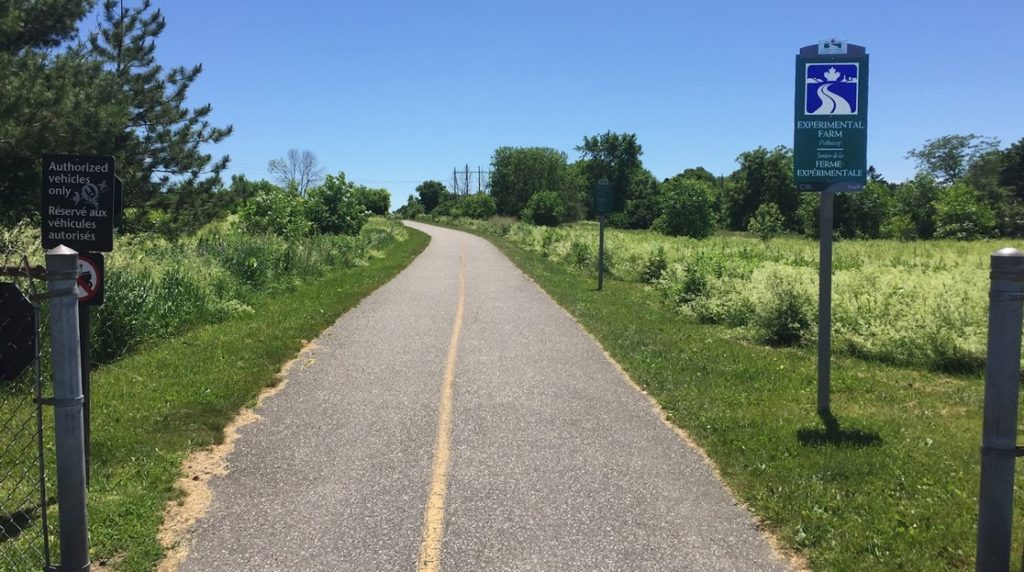 Biking is a top-notch workout as it burns about 400 calories an hour. It also strengthens your lower body, legs, and hips. If you want a workout that is gentle on your ankles and hips but at the same time, improves your fitness, biking is the best choice. 
In Ottawa, there are several biking trails but the one that we have chosen for this article is Experimental Farm Pathway. It is mostly flat with a few hills. It also offers beautiful scenery. 
It is quite long i.e. around 7.2 km. Biking on a long trail like this provides an intense workout to your body. 
It has beautiful scenery. 
It is mostly flat except for a few hills. 
You can bring your dogs but they have to be on a leash. 
It is welcome all day long. 

Walking is a great cardiovascular activity that improves pulmonary fitness and reduces the risk of heart disease or stroke. It also improves the management of conditions such as hypertension, joint and muscular pain and diabetes. It is not an intense workout but it helps significantly to improve overall health. 
Rideau Canal Loop has a great location. It is 12.4 km long and it takes an average of 3h 24 mins to complete. The trail allows you to see all the important places in the downtown area like City Hall, the National Arts Centre, Parliament Hill and the Supreme Court of Canada.   
The trail goes by some of the best areas of Ottawa. 
You can also make a lot of side trips.
The trail is quite scenic as it goes beside the water. It starts at Dows Lake and goes along the Rideau Canal and the Ottawa River. 
The trail is wheelchair-friendly and stroller friendly.  
There is some construction going on around the last quarter of the trail, right after the parliament building. Some people might not find the view very interesting. 
The trail is a little confusing at times due to the lack of signage.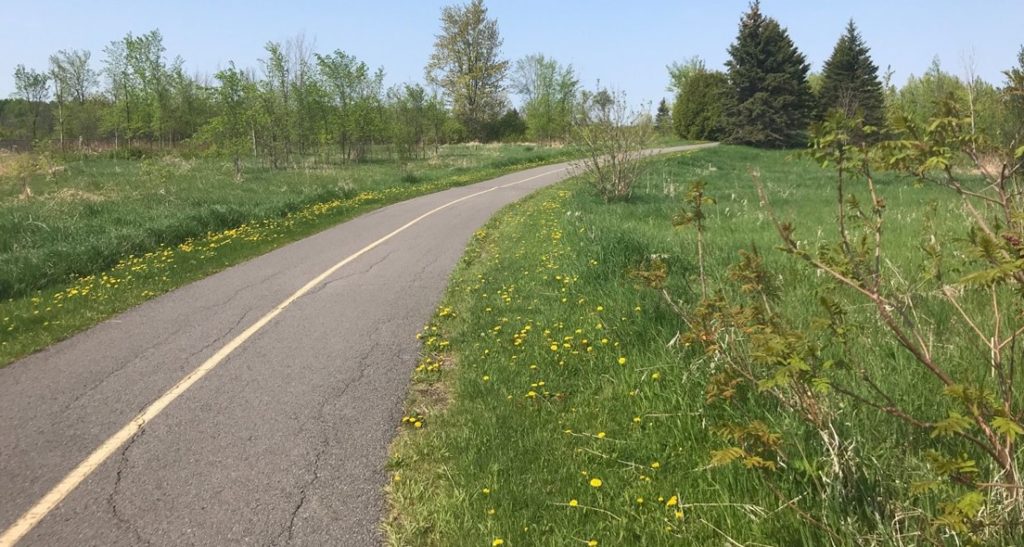 Jogging is an excellent workout. It helps to build stronger bones and muscles. It also improves cardiovascular fitness, burns calories and helps to maintain a healthy weight. 
Ottawa River Pathway is an 11.6-km long trail near Ottawa, Ontario. Besides jogging, people go there for birding, fishing, and paddle sports. The best times to visit this trail are April through November.
The pathway allows you to view many important places like Canada Aviation and Space Museum and the RCMP Musical Ride headquarters.
It is mostly a flat trail with a paved path.  
During the winter, the trail is not maintained and is turned into an ice rink.
It is a mixed-use trail so there are many cyclists there too. Some of the cyclists go very fast on the trail and don't care about the speed limit. 
It is not safe for dogs on this path as there are lots of bikes there. 
5. High-Intensity Interval Training In Gatineau Park
High-Intensity interval training (HIIT) is one of the most efficient workouts. This workout is characterized by short bursts of intense movement, followed by short periods of recovery. HIIT improves your stamina and strength, helps you burn a lot of fats and keeps you healthier and younger. 
There are many ways of doing HIIT. One way to do it is to run for 60 seconds and then walk for 60 seconds. You can repeat it as many times as you like. If you want to make it more intense, you can increase the time of your running. For beginners, jogging for 30 seconds followed by walking for 30 seconds could be quite intense.
One of the best ways to do HIIT is at Gatineau Park. It is quite close to Ottawa and Gatineau and there is over 240 km of trails here. There are pull-up bars and other equipment installed in the green You can also choose to run either on a paved or an unpaved path. It is the Capital's conservation park too. 
The park occupies the largest green space in the region. 
It is the second most visited park in the region and a popular spot for outdoor enthusiasts. 
There are different trails for different activities. If you are walking or running, you can stay away from the path of cyclists. 
The park is the home of over 50 species of mammals, more than 230 species of birds and around 1000 species of plants. If you love flora and fauna, you can find a lot to interest you. 
On weekends, the park is overcrowded so finding parking might be an issue. 
The place is quite large. If you do not follow the right trail, you might get lost.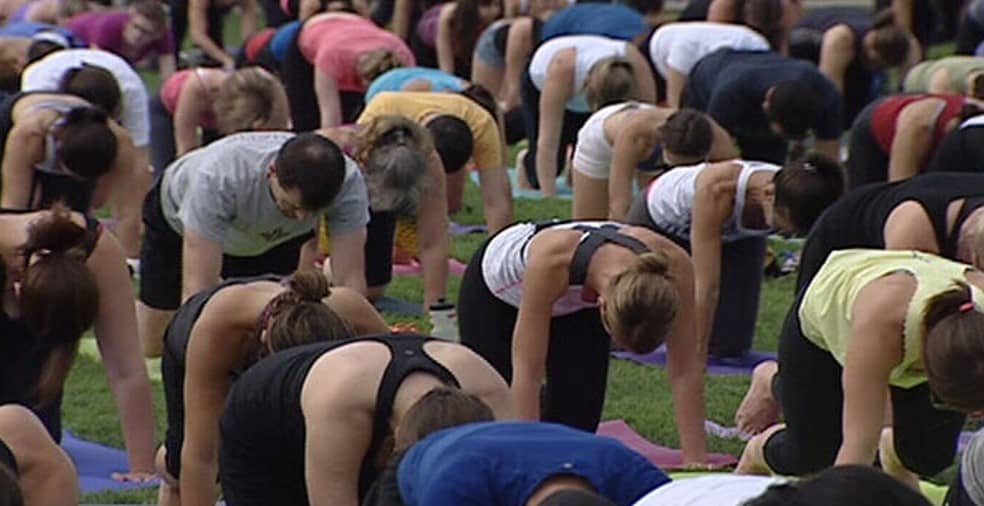 Yoga is an excellent exercise to improve strength and build muscle tone and strength. It's a combination of slow movements and deep breathing exercises which improve blood flow, warm up muscles, and build strength. The level of intensity varies between different types of yoga such as Yin (gentle yoga) Vinyasa (fast-paced yoga) or hot yoga (quite challenging, fast-paced yoga) Some other variations of yoga are Sivananda, Kripalu and Lyengar. One hour of fast-paced yoga like Hatha can burn around 400 calories.  
If you plan to do outdoor yoga in Ottawa, Parliament Hill is the best place. Every Wednesday, hundreds of yogis gather to attend a free class hosted by Lululemon Athletica, an apparel company. This free yoga class has become one of the attractions of Ottawa. Even during the other days of the week, people come to do yoga in the same place. 
The grounds of Parliament Hill are immense. The total area of Parliament Hill is around 22 acres and is maintained by the National Capital Commission. 
You can find lots of like-minded yogis, especially on Wednesday. 
The place is a bit overcrowded as it is a very important attraction. 
7. Stair Climbing On Plaza Bridge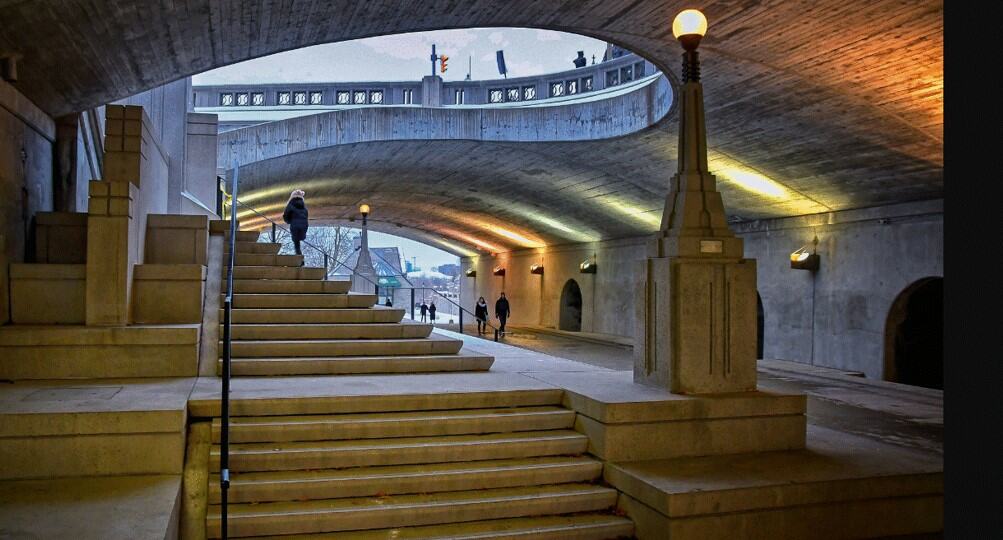 Stair climbing is one of the best exercises as it burns fat, tones the muscles and strengthens your abdomen. According to research, stair climbing improves the amount of good cholesterol in the blood, increases your leg power and reduces the risk of injury from falls in the elderly. 
It can help you achieve and maintain a healthy body weight, burns more calories, maximizes your cardio efforts, and increases core muscle strength. 
One of the great places in Ottawa where you can find lots of stairs is the Plaza Bridge. The Plaza Bridge is an automotive and pedestrian bridge over the Rideau Canal. It joins Wellington Street and Elgin Street to the West with Rideau Street to the east. The stairs leading to the bridge are iconic. 
A striking mural has been installed on these stairs by artist Yasaman Mehrsa. If you are a fan of art, Plaza Bridge Steps can be of great interest to you.  
It is a fairly long and challenging staircase. This means an intense workout for burning fats and building stamina.
Climbing stairs can improve your leg muscles but it doesn't tone up other muscles in your body.  
If you have knee pain due to an injury or sickness, climbing stairs might aggravate the problem. 
Say Goodbye to
Pain and Hello to Relief
Tired of chronic pain? Kent Chiro-Med can help.

Our experienced chiropractors offer non-invasive relief with personalized plans, flexible scheduling, and a welcoming clinic.

Don't let fear stop you - schedule your appointment for a better life.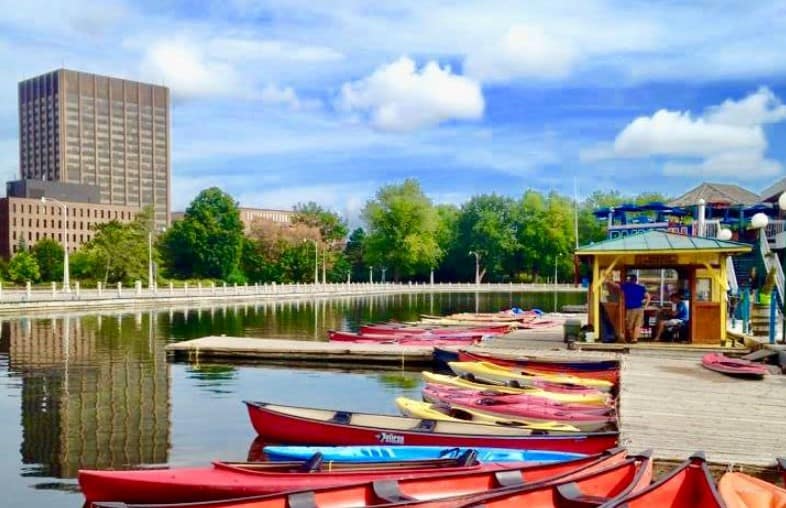 Kayaking is a popular water sport. It helps in weight management and improves upper body strength. When you are kayaking, you use your arms as well as surrounding muscles in your chest, back and shoulders. This way it tones up your muscles and enhances your core strength. There are several great places for kayaking in Ottawa but the one that has made it to our list is Dow's lake.
Dow's lake is a man-made lake with serene water quality. Located south of downtown, it is an ideal place for kayaking or canoeing. The site has been declared a UNESCO world heritage site. You have the option to rent a boat or bring your own equipment. If you choose to bring your own boat you can put it in at several locations along the Rideau Canal. Some of the access points include Patterson Creek and Dows Lake Pavilion on the west side, Clegg Street and Waverley Street on the east side.  
If you are new to canoeing or kayaking, you can get lessons offered by a local company called Urban Ocean. 
It is one of the most picturesque waterways around Ottawa. 
The facility offers a wide body of water and relaxing urban parkland views. 
There are several restaurants, and washrooms at the pavilion and the parking lot nearby.  
This facility offers a variety of boats for renting such as canoes, paddle boats, kayaks, row boats and stand-up paddle boards 
Some people complained that the staff were rude and indifferent. 
There's no free parking. 
The quality of equipment available for rent is not very good.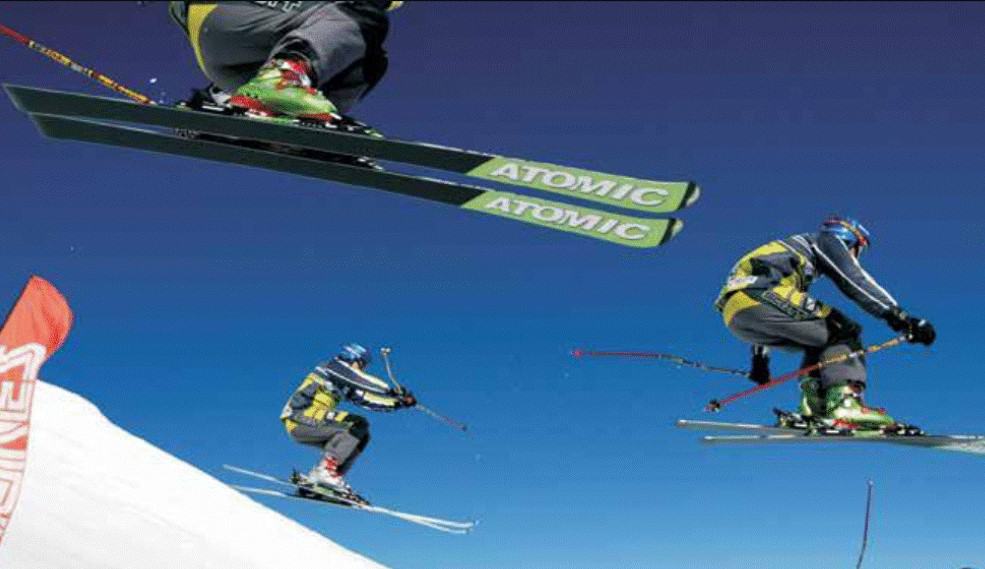 Skiing is a great workout but how effective it is, depends on your skill level and the type of terrain you are on. It is a combination of cardio endurance and strength. If you are looking for a workout to strengthen your lower body and burn calories, skiing is the best choice. While you are skiing, you are using your quads, glutes, hamstrings and calves as you have to do a lot of squats. Skiing for an hour can help you burn 400 to 600 calories. 
Ottawa is full of skiing terrains during winter. The one that we have chosen for this list is Mer Bleue Conservation Area. It is a very popular area for cross-country skiing, hiking and snowshoeing.   
It has more than 20 km of trails so it offers plenty of opportunities for skiing in different areas. 
One of the trails called Mer Bleue Bog Trail is popular with families as it is mostly flat and universally accessible.
It offers free, year-round parking. 
The washrooms are available in parking lots P20, P21, P22, P23, and P24. 
Some users complained that they had to deal with the branches from fallen trees after a storm on the trail. 
Ski tracks are not properly maintained effectively during busy days.  
If you are looking for an alternative to an indoor gym, an outdoor workout is a great option. Besides offering a variety of health benefits, an outdoor workout could be very flexible. From high-intensity cardio or strength training to low-impact workouts like brisk walk, outdoor workouts are flexible and rewarding. The best part is that you can try these workouts without any equipment. Choose your favourite workout from the above list, head out to our recommended spot and achieve your fitness goals.
Outdoor workouts improve your mental and physical well being, reduce depression and anxiety. They also improve your exposure to sunlight. 
An outdoor workout is equally helpful in building muscles as an indoor workout. When you exercise outdoors, it is less strenuous and pushes you closer to your maximum performance.  
Some of the best outdoor sports are running, hiking, skiing, and jogging.