Being a physiotherapist with years of experience helping people recover from injuries, I have realized the benefits of engaging in sports. Sports challenge the mind as well as the body. Rock climbing is a rewarding activity for fitness enthusiasts, like tennis, kickboxing, and martial arts. 
It is a complete workout that improves strength, endurance, balance and mental focus.
Our team of healthcare experts has looked into several rock-climbing places in Ottawa. We visited indoor gyms as well as outdoor places to find out their pros and cons. If you find rock climbing outdoors more challenging, skip the first 3 gyms from this list and check out the last three options.   
It is also to be noted that each type of rock climbing has its own health and fitness benefits. We have briefly explained each of these types of climbing along with the best place to practice them. 
This list also contains a few spots from around Ottawa. We noticed that Ottawans like to visit them for one-day trip to enjoy rock climbing, hiking and othe fun activities. 
Choose the best rock climbing place according to your interest and health goals from the list mentioned below. Whether you are an experienced climber or a beginner, these climbing destinations can make you feel invigorated and inspired. 
Rock climbing is a type of sport in which people climb up and down across natural or artificial rocks. The ultimate goal of rock climbing is to reach the end point of an already-defined route. Rock climbing challenges you both physically and mentally. This type of sport is a test of a climber's strength, balance and mental control. Rock climbing can become a dangerous sport unless and until you have complete knowledge about the climbing techniques and usage of specialized climbing equipment. 
Indoor Rock Climbing Ottawa: As we mentioned earlier, rock climbing can be done both indoors and outdoors. Indoor rock climbing is effective if you want to avoid the harsh weather and focus on climbing. The first three places in this list are indoor rock climbing gyms, while the last three are outdoor places.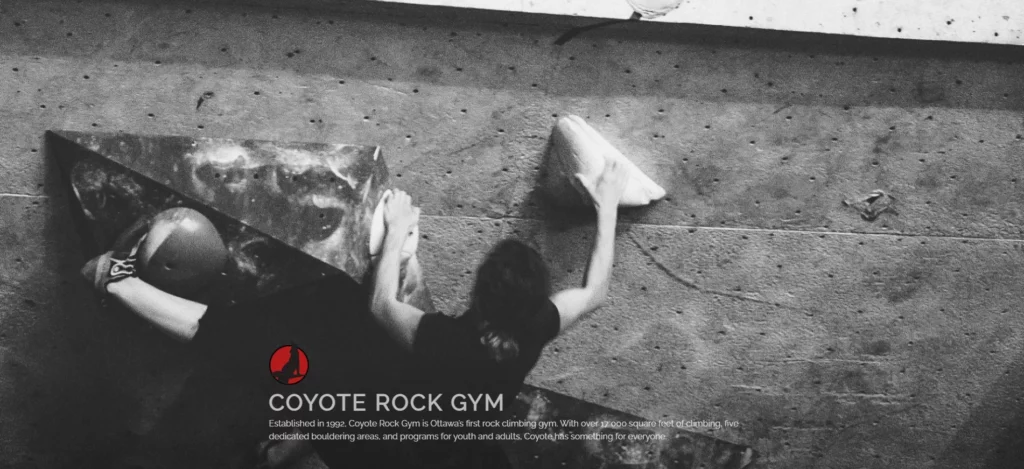 In this type of rock climbing, the climbers do not use ropes or harnesses. They use climbing shoes and a bag of chalk over safety mats to climb short but tricky rocks. This challenging climb is a test of your balance, technique, strength and problem-solving. 
Climbers climb over large natural boulders or artificial boulders. This type of climbing can also be done at the base of larger rock faces.
What did we like about this place?
When we visited this gym, we noticed that the training program was quite fun. A 17000 sq ft area was purely dedicated to bouldering. We noticed that the Coyote Gym had climbers with mixed abilities, but all the climbers were working at their own pace. The gym had a very positive environment, and all the trainers seemed to be encouraging and non-judgmental. 
Besides being friendly, they were also challenging and encouraging the climbers to do their best. We noticed that the route setters were constantly upgrading the routes and boulder problems for people according to their skill level. It made the climb more thrilling and engaging. 
Coyote Rock Gym has a total area of 17000 square feet for climbing.
Five dedicated bouldering areas
Lead and toprope routes
A specialized area for training with two campus boards
A system wall
Multiple hang boards
Treadmill
Exercise bike
Free weights
Yoga balls
Nautilus machine 
Moonwalk
Route Setting
New lead and toprope routes
Rentals:
Shoe Rental–  $5
Harness Rental—$5
Liquid Chalk Rental—$2
1 Month Membership– $55 per month. Minimum two months, with a startup fee of—$20
3-Month Membership—$ 250
6-Month Membership—$ 410
12-Month Membership—$ 600
Adult Climbing Course for Beginners
It is for beginners and new climbers. During this Program, they usually climb to a height of 5.8 ft or under. The participants of this Program learn all the basic movements, techniques, and terminology with an emphasis on safety. 
Intermediate Adult Climbing Course
This program is specifically designed for the people who climb at the height of 5.9 to 5.11 for routes at red or blue bouldering levels. It helps the climbers to learn advanced techniques with a special focus on fitness, flexibility, and injury prevention. 
Advanced Adult Climbing Course
It is especially for those who have taken the intermediate course. The participants of this course climb at the heights of 5.11 or higher and are bouldering in teals. 
This course is beneficial for the lead climbers, and it is quite challenging. 
Youth Climbing Course sessions 
This Program includes personalized one on one sessions with expert coaches and group sessions with an emphasis on drill, technique and activity.
This Program is specifically for the best young climbers polishing their climbing skills so that they can compete at regional, national, and international levels.
Summer Camps ( ages 7–14)
Summer camp is a great opportunity for your kids. There are lots of fun games and challenges all related to climbing. 
Friendly staff. 
Very nice environment
Standard prices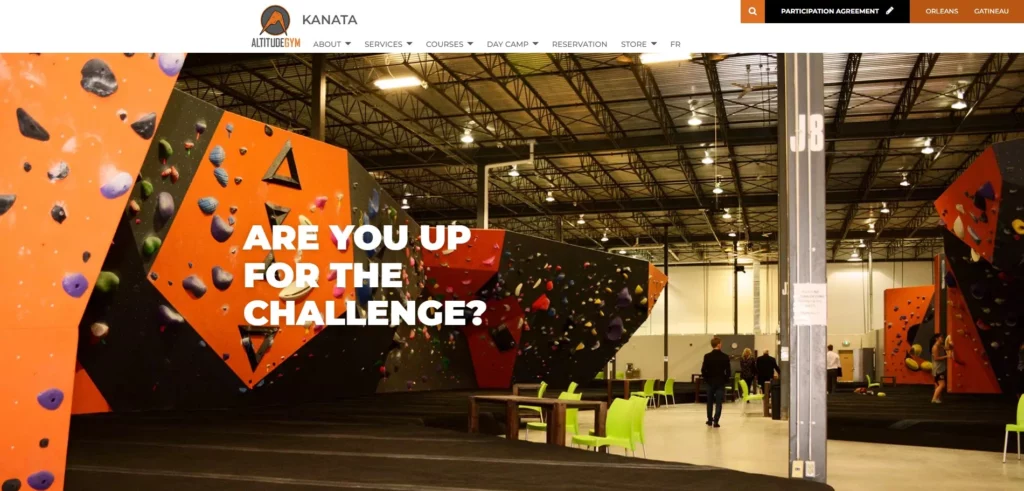 What is top rope climbing?
In top rope climbing or top roping, a rope is used for the safety of the climbers. The rope is tied from a belayer at the bottom end of the route. It is also connected with an anchor system at the top. The climber is attached to the rope by means of a harness. This technique helps rock climbers in climbing the most difficult routes.
What did we like about this place?
On our visit to this gym, we found the place was perfect for rope climbing. There were specifically designed boulders with ropes and anchors for beginners. The motivating staff was constantly encouraging the beginners to do their best. 
An auto belay is a great climbing tool during the initial climbing days as it calmly lowers you down. The gym has a specifically designed area for the whole family with activities such as a ninja warrior obstacle course, and augmented reality climbing wall, so just don't miss this opportunity and visit the altitude gym with your friends and family members.
10 to 15 ft tall boulders for climbing
All types of ropes and anchors for beginners
Cushioned bouldering pads
The facility of auto belay climbing: It is a specialized facility for all climbers. You reach the top of the wall and let yourself go. The auto-belay will calmly lower you down to the ground.
Augmented reality climbing wall: It is a wall with boulder climbing and video games. It is possible only because of the motion recognition system; you can play different games, similar to video games, on the climbing wall.
Ninja warrior obstacle
Family Zone: The specifically designed family area offers different climbing challenges for the whole family.  
Climbing birthday party packages
Recreational courses fees—- price $165
14-17 years old level 1 and 2 progression course—–price $190
Ninja Recreational courses: 6 weeks Price: $114
Recreational courses
Level 1 = This course is an introduction to rock climbing. It is for beginners, teaching them basic techniques, games and exercises to build confidence.
Level 2 = This course is for intermediate youth or youth with relevant experience, once a week, further improving the climbing skills of the participants through practice and more advanced and intense technical lessons. This can become the basis for competitive programs.
Adults 18 years and older
Progression Level = This course is specifically designed for all those who have very little climbing experience but they are very enthusiastic about exploring new horizons. 
The Altitude Gym Climbing Team – This Program aims to take motivated and enthusiastic climbing athletes to the next level with the aim of improving performance. They are given specific technical and physical training along with some exercises. 
Ninja Recreational Courses – These courses are for 7-14-year-old children. 
The group environment creates a very positive environment and camaraderie spirit among the individuals to explore their hidden individual potential. 
The coaches motivate others and emphasize a lot on healthy team culture. The members enjoy their training.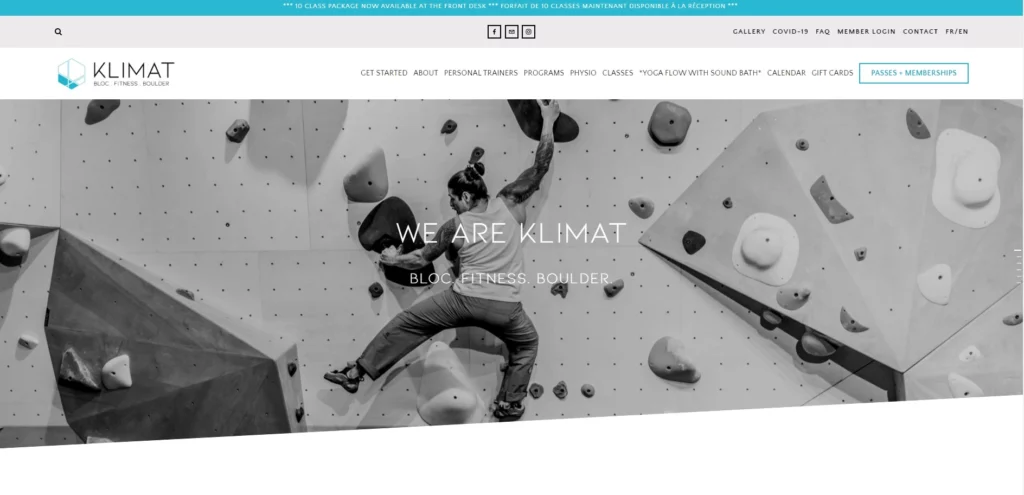 Engaging young people in climbing has several benefits. It promotes physical fitness, full body coordination, balance, and flexibility. It also improves motor skills, agility and endurance. Young climbers learn to navigate challenging routes and overcome obstacles. They also develop problem-solving skills, perseverance and adaptability. Additionally, climbing helps people develop self-confidence and push their limits.  
What did we like about this place?
This gym offers specialized youth bouldering programs for children and teens to learn climbing. On our visit to this place, we found it a perfect place for beginners. Young people are taught all the basics of climbing in a highly encouraging atmosphere. There is a physiotherapist available 24/7 who looks after all kinds of injuries. 
The gym offers 2 different climbing programs for youth. The first one is for 5-12-year-old children; the second one is for 13-17-year-old kids. You can also sign up for one-one coaching to get individual coaching sessions. 
3200 ft of bouldering surface
Full training facility on 2nd floor
Custom campus board
Two well-equipped lounges for relaxation and fun
Lockers
Free wifi
Custom swag
12×12 adjustable kilter board
Showers
Physio des collines. This center deals with all types of orthopedic injuries incurred during climbing under the supervision of a specialized physiotherapist.
Yoga
Youth climbing program
180$+tx / child
200$+tx / child with shoe rental
Youth climbing program for ages 13-17
360$+tx / teen
380$+tx / teen with shoe rental
Private Lessons on adult bouldering Program 
COST*: 230$+tax for one person, 270$ for two people
Next Step Bouldering Lessons
Cost*: 230$+tax for one person, 270$+tax for 2 people
Youth climbing program for ages 5-12 years
The children in this Program will get to know about the basics of climbing; they will develop their skills in a fun-filled, safe environment. There will be a special focus on their fitness.
Youth Climbing Program for ages 13-17 years
The participants will be familiarized with the climbing terminology. For example, climbing holds foot/hand positions and body positions. They will visualize and will be able to solve the boulder problems. The Program also includes warms ups, cool downs, injury prevention and climbing etiquette
Adult Bouldering Program
These are beginner adult private lessons. The 4-week Program is specifically for those who have never done climbing in their lives
Next Step Bouldering Lessons
This Program offers an in-depth understanding of climbing techniques. The participants learn advanced skills and movements.
Incredibly friendly and helpful staff.
Motivating environment for kids and youth.
Excellent place for bouldering as they guide you on how to do certain routes
Rock Climbing Ottawa outdoor Destinations: 
Ottawa offers several opportunities for outdoor climbing. Surrounded by crags and mountains, it is the climbers' paradise. The following are some great mountains where you can practice rock climbing.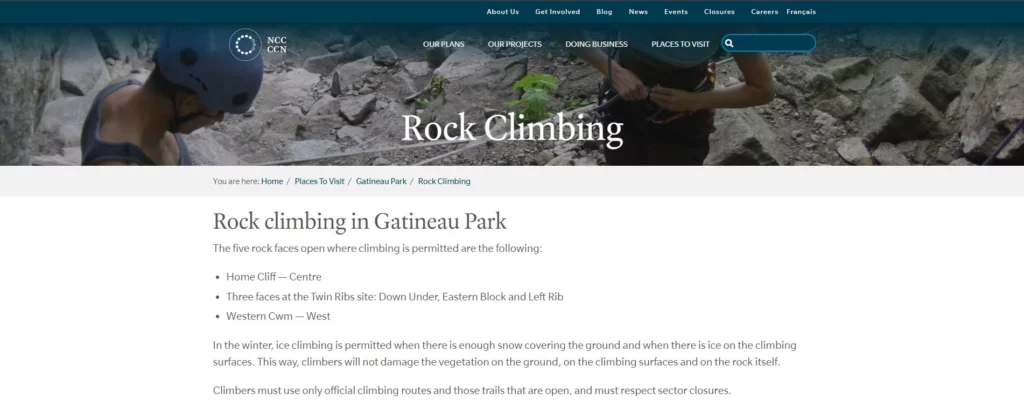 Ice climbing is one of the most challenging types of climbing. Climbers spend hours clinging to a frozen waterfall or a glacier. They use a variety of equipment to inch their way to the top. Ice climbing can be violent too. Climbers swing metal tools into ice, which often leads to chunks of ice flying at your face or down below on top of your partner. Levels of difficulty range from relaxed climbs to extremely dangerous ascents.  
Specialized equipment used by the climbers includes double ice axes, modern ice tools, rigid crampons, boots, socks and very warm clothing. 
What did we like about this place?
It is the second most visited park in Canada. It is the capital's best conservation park, with lots of attractions and activities for visitors. 
It is widely known as the best place for ice climbing for climbers of all skill levels. The park has an impressive array of waterfalls, ice walls and steep cliffs to provide an unforgettable experience. Its unique geographic features and weather during winters make it an ideal destination for enthusiasts. 
The park has other recreational facilities, too, which include mountain biking, skiing, camping, picnic, and horseback riding. This means that you can have great fun. 
Rock climbing
Ice climbing
Non-motorized boats
Road bikes and mountain bikes
Four-wheeled scooters
Cross-country skis, snow shoes and fat bikes
Camping
Overnight accommodations
Picnic facility
Swimming
Hiking and walking
Horseback riding
Boating 
Cycling
Skating 
Fishing
Youth climbing program
180$+tx / child
200$+tx / child with shoe rental
Youth climbing program for ages 13-17
360$+tx / teen
380$+tx / teen with shoe rental
Private Lessons on adult bouldering Program 
COST*: 230$+tax for one person, 270$ for two people
Next Step Bouldering Lessons
Cost*: 230$+tax for one person, 270$+tax for 2 people
Excellent environment
It has well-maintained hiking paths and easily accessible washrooms
All the rock climbing equipment is available for rent
Due to the remoteness of the climbing location, it is very difficult to communicate with the emergency services
In case of assistance, the rescue services take a lot of time to reach this location.
GPS Coordinates
GPS:    45.26716, -76.80046
Traditional climbing, or Trad climbing, is a type of rock climbing in which the lead climber places the safety equipment while climbing on the route. After the lead climber completes a route, the second climber or belayer removes the protection equipment as he climbs. Traditional climbing differs from sport climbing, where the protection equipment is pre-drilled into the rock in the form of bolts. Trad climbing is considered a risky sport too.
What did we like about this place?
There are several cliffs located close to Calabogie Peaks Ski Resort. Most people like to climb on the main cliff. The area has granitic gneiss and decent rock. 
It has a beautiful forest setting with flat landings. The place has a beautiful rest and refreshment area for climbers, along with other entertainment facilities.
Good rock, flat landings, and a beautiful forest setting
Otter Pond is the most popular of Calabogie's bouldering areas. 
150 established problems, mostly in the easy to moderate range. 
The Eagles Nest is a beautiful hiking spot to watch the sunset. 
Barnet Park on Calabogie Lake offers swimming, fishing, and picnic tables for your post-climbing cookout.
 A grocery store 
A number of restaurants include the Calabogie Brewing Company. Neat Cafe, in Burnstown, is a popular stop for the climbers.
Live music sessions
A long section of rock faces the lake, which is a nice place for climbing with varied difficulties
Toprope
Trad
Ice climbing in the winter season
A great place for beginners to start.
It is easier to climb solo or with a single pad.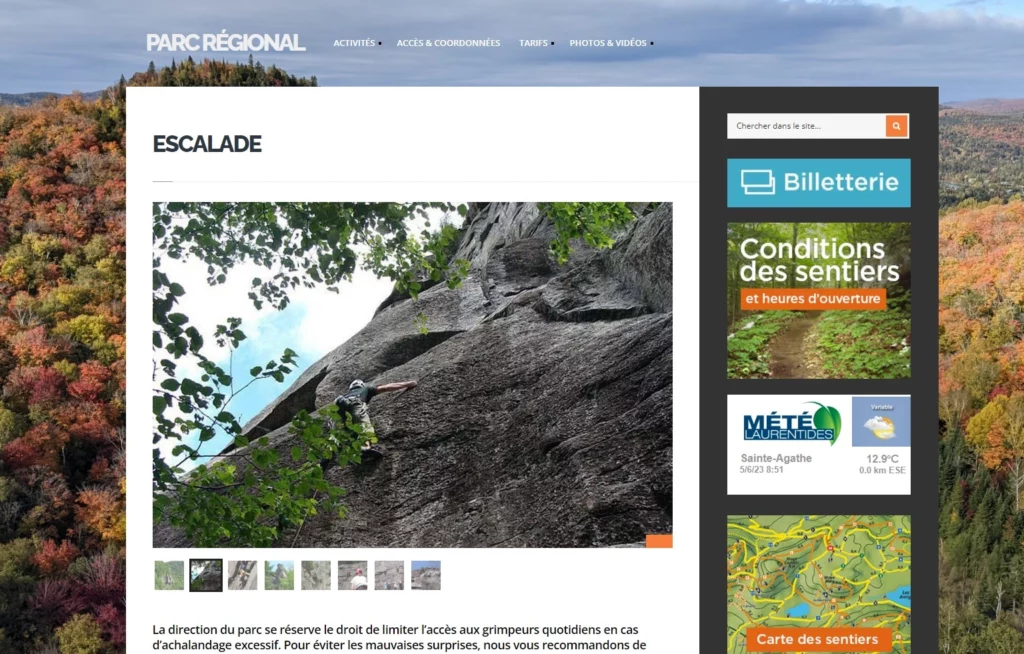 Multi-pitch climbing is a type of rock climbing that typically takes place on routes that are more than a single rope length ( 50 to 70 meters) in height. The lead climber cannot complete the climb as a single pitch. The number of pitches is required to complete the rote. The following are the steps involved in multi-pitch climbing. 
The climbers start climbing at the base of the rockface and establish a belay station with the help of safety equipment. The leader begins climbing the first pitch and places protective gear like bolts on the way. He also attaches the rope to it to prevent a long fall or slip. 
Once the leader reaches the top of the first pitch, he builds an anchor system to belay the second climber. The second climber starts climbing up, and as he ascends, he removes the protective bolts along the way. The second climber joins the leader at the belay station. They repeat the process to climb more pitches. 
What did we like about this place?
This place is ideal for those who want to climb through multiple wall routes. It is a multi-pitch land with three different Monts and multiple sectors. The Reg Park offers more than 500 wall routes and many possibilities for bouldering. The best thing about this place is that people of all skill levels can practice climbing here. Choose a sector of the mountain according to your level of difficulty and skill level.
50-70 meters long rope
Quickdraws
Carabiners
Rock climbers
Jammers
Harness
Crash pad.
Mountain bike
Hiking
Family activities
Nature watching
Cross country skiing
Visit the website for online tickets
Rock Climbing for non-resident adults: $14
Rock climbing for 60 years and above $14
Student 18 years + $ 14
The programs here at Regional Park include top-roping, sports routes for all levels, along with multi-pitches
The regional park has three main rock climbing areas, which include Monts Césaire, Condor and King. They are further divided into twenty subsectors.
The most popular initiation walls program is at Chico and Dizzy sectors at Mont Césaire.
 Most of the rock courses are rated 5.9 or less and are mainly climbed on cams or top ropes.
Champs-Élysées (Mont Césaire), L'Aiguille and La Bleue (Mont Condor) are the rock climbing areas for intermediate and advanced climbers. 
Dame de Coeur and Gemini sectors are the best areas for sports climbing.
Mont King is famous for High-flying adventures. 
Amazing atmosphere
Very economical packages
Ottawa offers a vibrant rock climbing scene with exceptional indoor and outdoor rock climbing spots. These places cater to the climbers of all skill levels. Whether you are a beginner or an experienced climber, these places offer something for everyone. Choose your favourite rock climbing place from the list above, head out to our recommended spot, and achieve your fitness goals along with the fun.