Whether you are an experienced skier looking for plenty of black runs or a beginner gearing up for a green slope, Ottawa has loads to offer. It is the skier's paradise. With mountains reaching up into the clouds, an ever-constant supply of snow in the winter months and a landscape that allows skiing for people with different skiing ability levels, it is one of the best places in the world for skiing.
With more than 57 ski resorts in Ontario, it can feel a little overwhelming to choose the right one. This article represents the considered opinion of our healthcare experts, who have racked up years of skiing and snowboarding and visited almost every ski resort in Ottawa. We have narrowed down the list by analyzing the following features: 
Accessibility 
Length and variety of slopes
Skier and snowboarder reviews 
Quality of Apres-ski scene

Whether you are looking for downhill or cross-country skiing, this article will set out the best destinations for the next ski season. You will also find helpful advice on packing appropriate clothing and staying safe.
What To Pack For A Skiing Trip?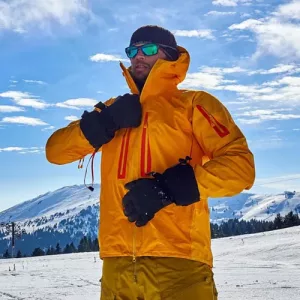 Waterproof Outerwear– Durable waterproof ski jacket and trousers can ensure safety and comfort while skiing. You should also buy waterproof mittens and socks. 
Thermal base layers (thermal tops or fleece) can keep you warm and dry underneath your outerwear. A good thermal layer is normally wool-based, moisture wicking and comfortable. 
Ski goggles- Ski slopes often blow snow. A pair of fog-resistant goggles can keep the snowflakes out of your eyes and ensure clarity of vision.
Warm hat 
Neck warmer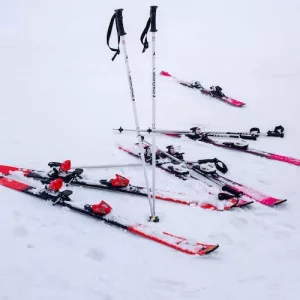 Ski boots
Skis
Poles
Day rucksack
Helmet
Transceiver, shovel and probe 
Water bottle 
Multitool for repairs or adjustments on the go
Best Ski Resorts In Ottawa
1. Mont Tremblant - The Best Overall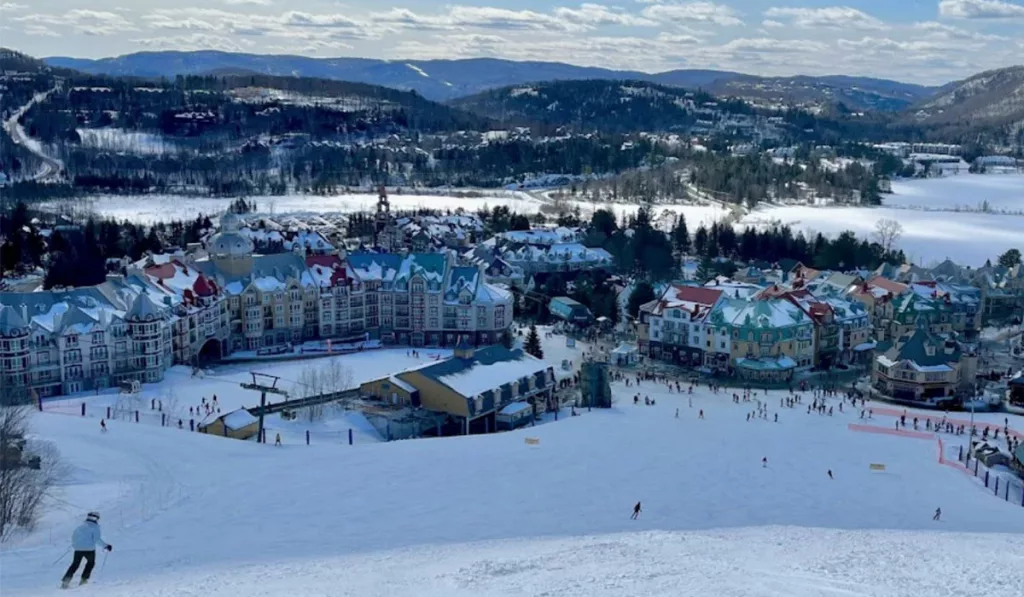 Ability level: All levels
Distance from Ottawa: 153 kilometres Accommodation on site? Yes, many options
Mont Tremblant is an ideal weekend getaway from Ottawa. It is located at an elevation of 875 meters. The resort's 102 trails are spread across 755 acres and allow you to enjoy some of Quebec's best snow. There are also 1200 snow cannons on the mountain. In other words, you're in for some amazing skiing all season. Mont Tremblant has also been voted the best ski hill on the east coast of NA several times. 
Activities In and Around Mont Tremblant
3-hour zipline experience- Soar high above the forests and mountains on an exhilarating route. 
Laurentians treetop observatory and walk- While on this tour, you can discover the Laurentian forest and mountains through a unique hiking experience.  
Enjoy a helicopter tour with an optional stop-over.
Play games at the VR gaming centre next to the Fairmont Hotel. 
Hiking, skiing and snowboarding.   
 You can find trails of different levels of difficulty, so the whole family can enjoy a day on the hill. 
Avid skiers can head over to the North Face and make their way downhill skiing and snowboarding. 
Tremblant has glades, mogul runs, and near-vertical slopes. Avid skiers can have a lot of thrill.  
Explore the European-style village for delectable restaurants and charming boutiques. 
There are a variety of other entertainment options. 
Mont Tremblant is very crowded during the school vacation weeks. You might experience massive wait times during those days. 
Check out the dates for school vacation in Quebec before planning your trip. 
Bring the right gear, as it is very cold during the peak season. 
The best time to go is in February. Many people found skiing difficult in January due to crazy snowmaking and low visibility due to fog. 
2. Mont Sainte-Marie- The Best Place For Advanced Skiers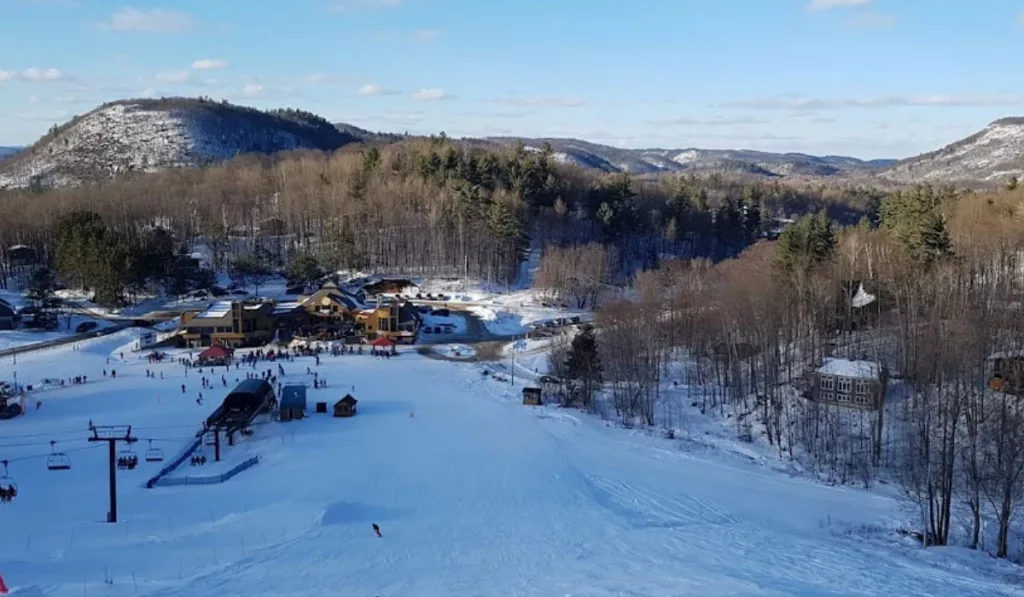 Ability levels: All levels
Distance from Ottawa: 90.5 kilometres 
Accommodation on site? Yes, many options
Rising at a height of 1250 feet, it is one of the highest verticals in the area. It is a privately owned ski resort 1 hour north of Ottawa in Lac-Sainte-Marie, Quebec. Mont Ste Marie is best suited for advanced skiers and snowboarders. 
Besides some of the most challenging runs, the resort also offers runs for variable levels of difficulty. There are 12 km of cross-country ski trails too. The resort has 3 ski lifts and 25 trails. 
Snowboarders can ski at the terrain park. Nearly all the trails at Mt.St Marie are covered by snowmaking. 
Activities In And Around Mont Sainte-Marie 
Snowshoeing
Downhill skiing/snowboarding
Cross-country skiing: 10 km
Telemark
Fat biking
Reasonably priced student day ticket at $49. 
High-speed chairlift. 
Less crowded. 
Ski school is available for kids as well as adults. 
Excellent customer service. One of the reviewers mentioned that when his son broke his snowboard, he was given a snowboard free of cost for the rest of the day. Another reviewer mentioned that his 5-year-old booked a lesson and balked when the time came. He was given a refund, no questions asked. 
It is located 40 mins past most other Ottawa ski hills. 
Sometimes it is closed due to a lack of snow.  
Go skiing during the 4th week of February, as this week is the snowiest week in Mont Sainte-Marie. 
3. Calabogie Peaks Resort- The Best Place To Learn Skiing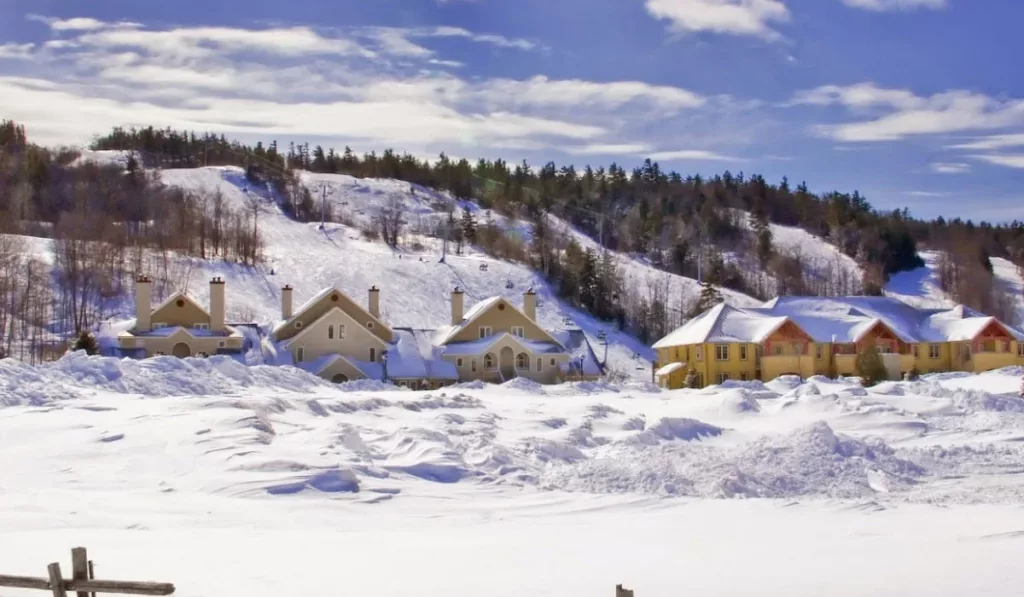 Ability levels: All 
Distance from Ottawa: 107 kilometres 
Accommodation on site? Yes, many options
Calbogie is a beginner-friendly destination with a great ski school. There are expert instructors, lots of easy ski runs and wide open slopes to make turns back and forth at your own pace. It is the tallest public ski resort in Ontario.
It has the longest beginner run in the province. The resort has 80 acres of skiable terrain. The resort has a ski school for adults as well as kids.
Another thing beginners need is peer support. This resort allows you to join one of the following clubs and ski with like-minded people. 
Calabogie ski racing club 
Calabogie peaks freestyle club 
Calabogies adaptive skiing 

The mountain offers the highest vertical drop in the region (780 ft). The resort has 24 trails, and the longest run is 6961 ft long. The resort has 2 quads and 1 carpet lift to reach the top. 
Are you looking for an apres ski scene? Head to Black Donald's Pub, the pirate-themed taproom with some amazing mountain views through the tall windows. You can enjoy local entertainment or hit the dance floor if you are not very tired. Check out Canthooks Restaurant to try out the valley's best craft beer and locally sourced food like mushroom barely risotto or pan-seared trout. 
Activities In And Around Calabogie Peaks Resort
Skiing
Snowboarding
Snowshoe treks
Cross-country skiing
Pond skating
Ice fishing
Nightly campfires
Local Craft Breweries Calabogie Brewing
Local Craft Breweries -White Water
Wander the quaint communities of the Ottawa Valley for antiquing, gift shops, galleries, and museums
Snowmobiling
It is located only an hour's drive from downtown Ottawa. 
Beginner and intermediate terrain
Convenient location marks
Excellent dining, apres and lodging options. 
The lifts are quite slow. 
Some of the runs are ungroomed, making them dangerous. 
The terrain report on the website is sometimes inaccurate. 
The ski patrol (Calabogie peaks employees) are not expert skiers.  
There could be a long line during the holiday season. Ensure that you are well before time to get the rental equipment.  
During the storm, some of the hotels on the site lose electricity and water. Bring your flashlight during a stormy season.   
4. Gatineau Park - The Best For Cross-Country Skiing
Distance from Ottawa: 17 kilometres (~15 minutes)
Accommodations onsite? No
Experience levels? All levels
If you are new to skiing, let us discuss how cross-country skiing is different from downhill skiing. Cross-country skiers use a gliding or skating motion to propel themselves on an almost flat terrain. They don't need ski lifts to go up the hill. Instead of the big downhill slopes, they ski on purpose-built tracks.  
If you are into cross-country skiing, Gatineau Park stands out. It has the largest network of winter trails for cross-country skiing in North America. You need a winter pass to use any of the ski trails. 
You can rent the equipment from the same location. Enjoy beautiful views as you make your way through snowy forests and lakes. It is also to be noted that there are different trails for different types of skiing. 
Activities In and Around Gatineau Park  
Cross-country skiing 
Snowshoeing 
Hiking 
Snow biking 
Skating at Brewery Creek Skating Rink 
It has over 200 kilometres of well-groomed trails for classic skiing and 45 kilometres of trails for backcountry skiing. 
The trails are regularly maintained, and their condition is updated regularly on the NCC website. 
Winter campsites are available. 
Parking areas are also available.  
Big crowds are expected on weekends. 
Pets are not allowed. 
Gatineau Park is easily accessible by public transport. Several starting points are available through public transit. 
Choose the trail according to your level of skiing ability. 
Bring your own snack/lunch. Take a break at one of the park's shelters or outdoor rest areas. You can warm up and have a snack before proceeding. 
5. Mont Cascades For Night Skiing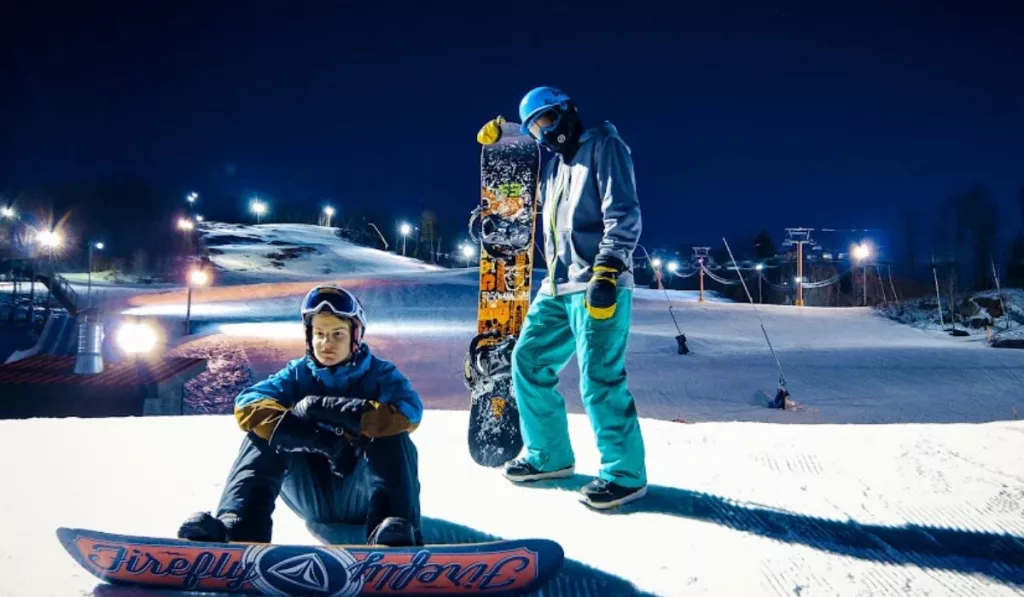 Distance from Ottawa: 28 kilometres (~30 minutes)
Accommodations onsite? No
Experience levels? Intermediate
Night skiing comes with various benefits, such as shorter lines, cheaper lift tickets, wide open slopes and a breathtaking view under the stars. Mont Cascades is an ideal place for night skiing as 15 of the 20 runs are open for night skiing. The hill has 165 m vertical and spans 60 acres. Most of the runs are for the intermediate level. Snowmaking covers almost the entire mountain.
Activities and Apres Scene
Hiking.
Snowshoeing.
Downhill skiing/snowboarding.
Telemark
Climb Montmorency Falls
Alpine luging 
Great view at night from the top of the mountain 
Good range of terrain 
Smaller resort 
Not much crowded 
  It is a smaller resort and has short runs. 
Select clothing that is waterproof, breathable and has a loose fitting. Put on long underwear. Choose a fabric with thermal properties, such as polypropylene, to transport moisture away from the skin. In case you need to buy some extra mittens and hats, there's a boutique shop inside the north lodge that sells warm clothing.
 Wear a helmet that covers your ears. 
Do not wear a cotton-based shirt. Choose polypropylene clothing.  
6. Ski Vorlage - The Best Ski Resort For Families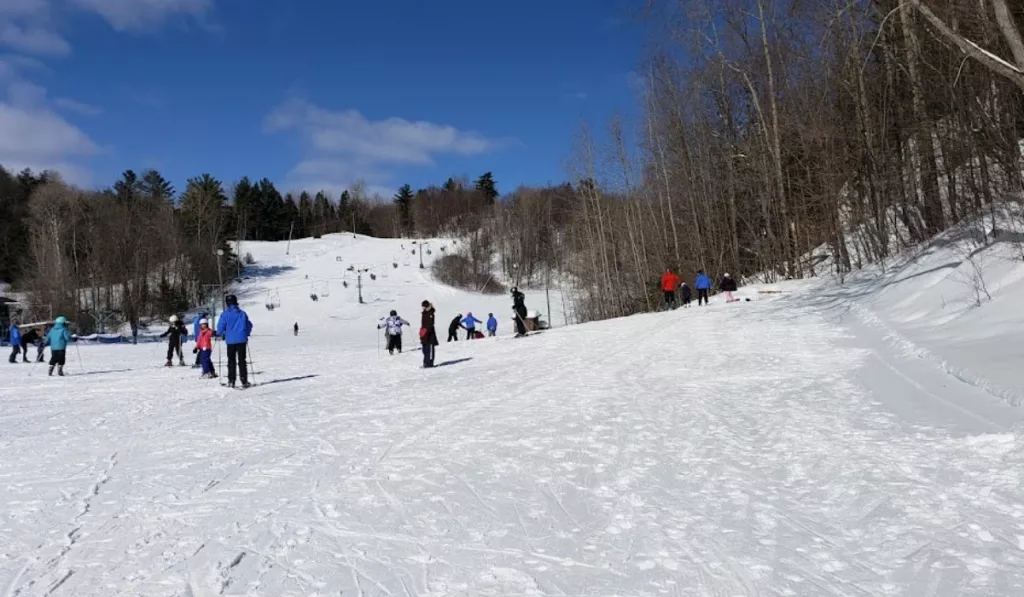 Distance from Ottawa: 31 miles ( 40 minutes drive)
Accommodations onsite? No
Experience levels? Intermediate 
When you are going on a winter vacation with family, you need a resort that offers entertainment for everyone from non-skiers and kids to experienced grown-ups. Such a ski resort should allow for fun family activities like gondola rides, snowboarding etc. Needless to say, the fun apres scene is also an important part of family vacation. 
When looked at from this perspective, Vorlage can easily be called a family ski resort. It offers extraordinary conditions, incomparable grooming and welcoming service. The resort also offers discounts for groups and schools. There are 18 short runs open for 6 days a week. The mountain has 466 feet of vertical as well as a terrain park, so skiers with different levels of ability can have a fun time. 
It is located next to the beautiful village of Wakefield, which means excellent opportunities for dining, shopping and lodging. 
There's also a ski school located in the resort. If your young one wants to have a lesson, you are covered.  
Activities And Apres Ski Scene 
Night skiing 
Snowboarding 
Snowshoeing 
Dogsledding 
Alpine skiing 
Winter Camping 
Visit Fairbairn House
Wakefield Market 
Great place for children and beginners
Lively après scene and plenty of dining choices
Family-friendly
Free outdoor Parking
The day passes at Ski Vorlage is CAD51 making it one of the 10 cheapest ski Resorts in Quebec.
Snow coverage is usually best during March, offering an average snow depth of 59″ at the summit elevation and 0″ at the base.
7. Camp Fortune- The Best Resort For Snowboarding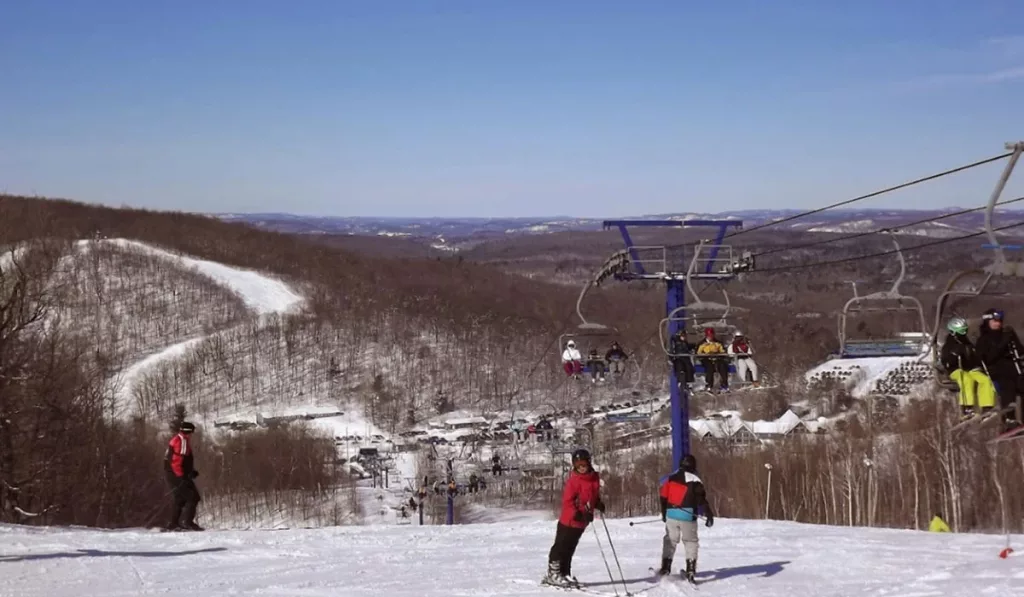 Distance from Ottawa: 21 miles ( 40 mins drive)
Accommodations onsite? Yes
Experience levels? All levels
First thing first, let us discuss the qualities of an ideal resort for snowboarding. 
A temperature of around -20 ºC without rain and a snow depth of at least 2 feet with fresh powder is preferable. The resort should have enough open runs so the crowds can spread out. Resorts with a large number of drag lifts, t-bars and flat tracks are quite discouraging for snowboarders. 
Ottawa has several resorts that are ideal for snowboarding, but the one that has made it to our list is Camp Fortune. It is the closest snowboarding resort to Ottawa. The resort has 627 feet of vertical. The 23 trails are divided into three distinct areas so that the runs of similar difficulty are grouped together. 
Activities And Apres Ski 
Skiing 
Snowboarding 
Snowshoeing 
Fat bike trails
Snowboarding lessons for kids and adults 
Ziplining experience 
Bus tour of Ottawa breweries 
Boat tour 
Visit the Canadian's Children Museum 
It is very close to downtown Ottawa. You can reach there in half an hour. 
It is relatively uncrowded except on the weekends.  
You can get exceptional ski conditions there. The runs are well-groomed and maintained. 
It has 24 runs for expert, intermediate and beginner snowboarders and skiers. 
It has 2 cozy snow lodges and 7 lifts. 
Ski rentals and snowboarding rentals are available on the site. 
There are several flat areas between the mountains. It is difficult to navigate between different parts of the mountain.
Choose the trail according to your level of ability
Some of the runs are not sufficiently lit during the night, so it's better to ski during day time
8. Pakenham- The Best Resort For The Beginners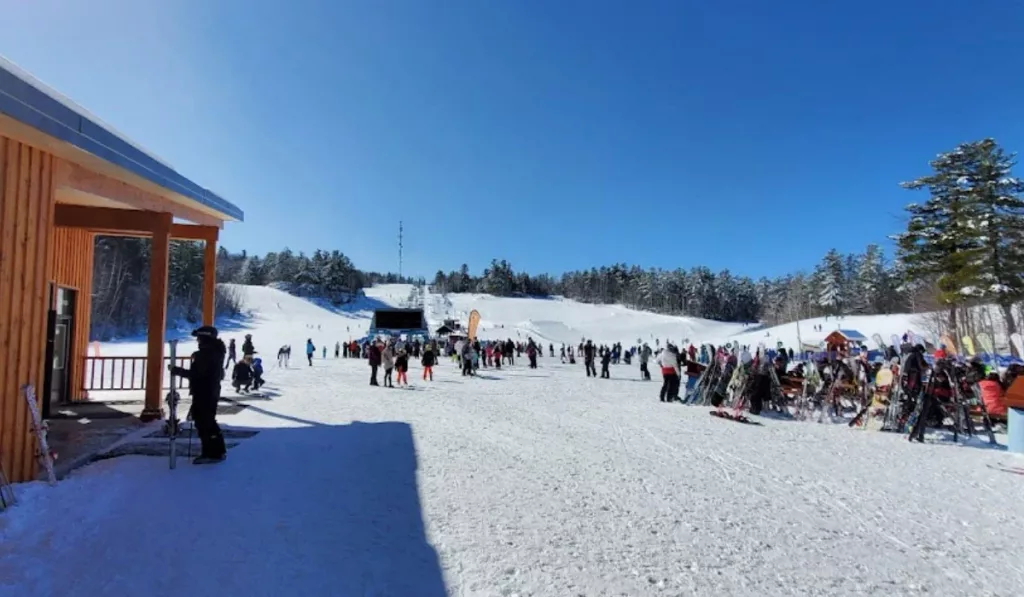 Distance from Ottawa: 41 miles (50 min drive)
Accommodations onsite? Yes
Experience levels? All levels 
The best ski resorts for beginners should have gentle slopes, wide space to practice long turns, and a good proportion of green and blue slopes to help beginners learn in a safe way. The ski resort should offer top-quality lessons too. It should also have modern ski lifts. The drag lift could be dreadful for beginners. 
We looked at several skiing resorts, but the one that has made it to our list is Pakenham. It's not too big, and there are not many hurdles for those who are learning. It's only a 45-minute drive from downtown Ottawa, and it is a great place for families to have fun and learn skiing.
The resort also has a ski school with friendly instructors. With 10 groomers, 9 glades, terrain parks, a snow tubing park and snowshoeing, there's something for everyone. 
Activities And Apres Scene 
Skiing 
Snowboarding 
Snow Shoeing 
Live music during Friday Socials 
Terrain park events 
Ladies Day celebration 
Outdoor BBQ 
Skiing lessons 
Visit the historic Five-Span Stone Bridge 
Cartwright Springs Brewery 
St. Peter Celestine Church 
Family-friendly
Excellent place for beginners
Friendly instructors
Many reviewers complained that the food in the cafeteria is expensive.
Bring your own snacks. 
There isn't enough locker space for bag storage. Leave the valuables at home or lock them in the car. 
We encourage you to use your vehicle for bag storage and booting up, as there is limited indoor storage. We recommend leaving valuables at home or locking them in your car.
If you love skiing, Ottawa has loads to offer. Depending on your idea of a skiing holiday, choose one of the above-mentioned ski resorts and enjoy your winter.
Camp Fortune is a beginner-friendly ski area. 30% of its trails are categorized as easy. Around 70% of the remaining trails can be categorized as difficult.  
Ottawa is a great place for skiing. It has a variety of hills and the right temperature for skiers of different levels of ability. 
With proper instruction, learning to ski is not difficult. You can start enjoying the mountain atmosphere and the whole experience of skiing just after your first day on the slopes.