Do you know that working in calisthenics parks can lower blood pressure, strengthen muscles, and reduce anxiety and depression? A study reported that Calisthenics parks have an excellent potential for improving fitness and building stamina and endurance among people. Ottawans love to spend time outdoors during summer and autumn. Likewise, the people in the fitness business take advantage of the Spring and Summer in-studio exodus and meet their customers in fresh, fun outdoor fitness classes. But what are Ottawa's best calisthenics parks?
Our team of health experts, gym trainers, chiropractors, and physiotherapists compiled together a list of the best calisthenics parks in Ottawa. We will discuss the pros and cons of different calisthenics parks and any other information we can find out.
What Is A Calisthenics Park?
Calisthenics, a street workout, is a form of strength training. The movements and exercises in calisthenics involve large muscle groups (standing, grasping, pushing, pulling, jumping, swinging, squats, etc.) Calisthenics workout results in a leaner body, better strength-to-mass ratio, and more functional strength. Proper rhythm and minimal equipment are required for these exercises.
A 2017 study revealed that a calisthenics workout is an effective solution to improve posture and strengthen body composition without the use of any significant training equipment. This style of exercise originated in the parks and streets of New York. Nowadays, it is popular all over the world.
Calisthenics parks usually have gym equipment like high bars for muscle ups, parallel bars, incline benches, low bars, monkey bars, Swedish ball bars, ab benches, pole bars, gymnastic rings, and lock a lot of other workout gear. Exercising in these parks offers some great health benefits.
Benefits of Calisthenics Parks
If you are new to the fitness domain, you might wonder why a calisthenics park is a better choice than a gym. The following are some of the benefits of calisthenics parks:
1. Exposure to Nature and Sunlight
If you are a nature lover and want to make your workout more effective, then go to the calisthenics parks. The increased exposure to sunlight, nature and fresh air is beneficial for your health. With good weather come good vibes, and you can experience them entirely at the park.
The workout equipment in these parks requires low maintenance and no power. Minimum human resources are used while using this equipment. The equipment is made up of aluminum, steel, and sustainable plastic. These are all recyclable, that's why calisthenics parks are an environment-friendly option.
3. Friendships and Socialisation
One of the greatest benefits of going to a calisthenics park is that you can exercise with someone with the same fitness level. Striking a conversation is always easy, and because of your common interest in calisthenics, you can always make new friends easily. People are almost always willing to help each other by lending equipment or giving a friendly pat on your back for your progress.
4. Pocket-Friendly Fitness
Tired of spending 150$ every month on a gym membership or a sports club? It's high time to try a workout in calisthenics parks. These pocket-friendly parks remove the barriers for all those people who want to remain fit and can't afford gym membership costs. A study revealed that residents of high-poverty countries had 145% greater obesity rates than those living in wealthy counties. The calisthenics parks provide opportunities for workouts to all people, bringing a positive change in the overall fitness and health of the community as a whole.
5. Improved Mental and Physical Health
Exhausted and depressed from the stressors of daily life? You must go to the calisthenics parks and have a therapeutic experience. Exercising in a calisthenics park improves the mental and physical well-being of the individual. They also reduce emotional and physiological stress. Calisthenics proves to be beneficial for physical health, increasing blood flow, improved cardiovascular health, immense strength, flexibility, and endurance of the whole body.
Calisthenics parks are a very good training platform for people with physically demanding jobs. Firefighters, police teams, and college athletes can work out in the calisthenics parks as these parks provide chances for pull-ups, push-ups, and muscle-ups in a high number of reps to build stamina. By being a calisthenics athlete, you build strength through movements like muscle up, human flag, front lever, or handstand push-ups.
7. Attracting Non-Exercisers
Calisthenics parks are so much fun that they can get anyone to start exercising. If you are on the verge of starting a workout, go to a calisthenics park. You will get the push you need to begin your fitness journey. If you want to level up your fitness, try working out in your nearest calisthenics park. You will upgrade faster than you think.
8 Fantastic Calisthenics Parks In Ottawa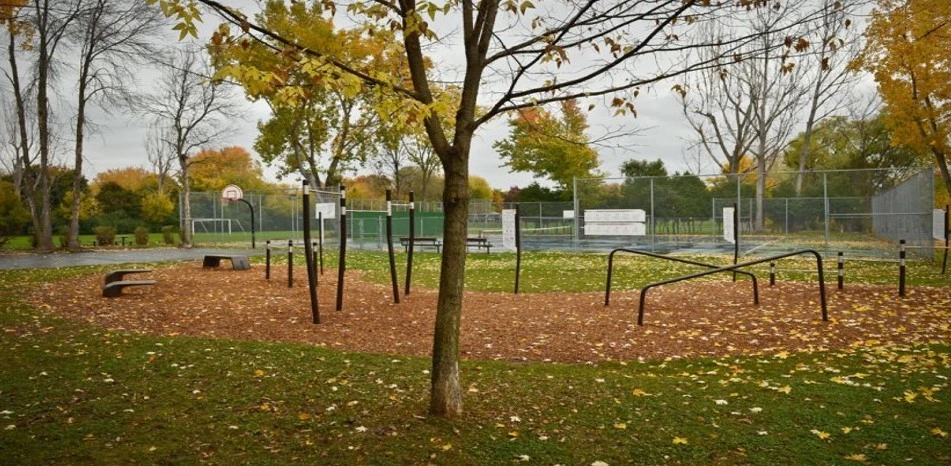 Address:
588 Hog's Back Rd, Ottawa, ON K2C 1N5, Canada 
If you are looking to have fun and a great workout experience, Sue Holloway Fitness park is the best choice. The park provides one of the most comprehensive lists of equipment for calisthenics. Besides calisthenics, the place offers various other forms of exercise and workouts like running and hiking. The place is ideal for spending time with families. There are picnic tables around. The park is stroller-friendly and wheelchair accessible. This means that everyone can come and have fun here.
4 exercise stations
5 Vault bars
Rope climbing
Triple Pull-up bars
Parallel bars
Monkey bars
Dip bars
Balance beam
Step benches (12", 17", 22")
Push-up bars
2 Long benches
Trail running and hiking
Rope climbing
Bodyweight workouts
Boot camp training
Wheelchair-accessible car parking and entrance.
Location right next to water creates a beautiful environment for a workout
The equipment is in a very good condition
No outdoor fitness machines to do "flies" or "legs."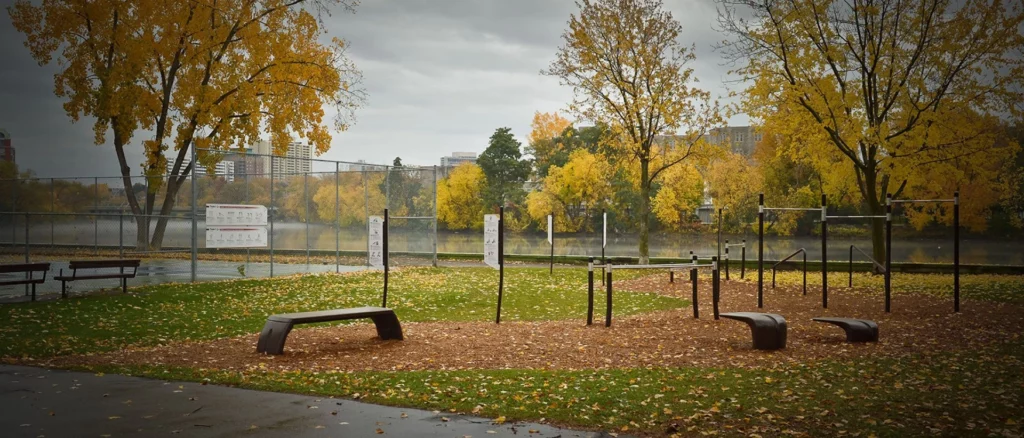 Address: 193 Stanley Avenue, Ottawa, ON K1M 1P2, Canada
If you love gymnastics and want to build up your muscles, then this park is your go-to place. Freestyle calisthenics resembles gymnastics in multiple ways. In freestyle calisthenics, people exercise and build up their muscles with horizontal bars and parallel bars. New Edinburgh Park has a wide range of bars which include pull-up bars, parallel bars, low bars, and push-up bars, along with other outdoor gym facilities. The park has a nice trail for walking and cardio and offers multiple workout facilities.
Pull up bars
Parallel bars
Low-bars
A trail for running
Step benches (12", 17", 22")
2 Long benches
Push-up bars
5 Vault bars
Triple Pull-up bars
Bodyweight exercises
Sling trainer workouts
Ninja Warrior
Functional training
Parker boot camp workouts
Obstacle races
Extreme muscle ups
360 Pull Up
Well-maintained bars for workout
A beautiful spot for exercise.
Very small parking area
No play area for kids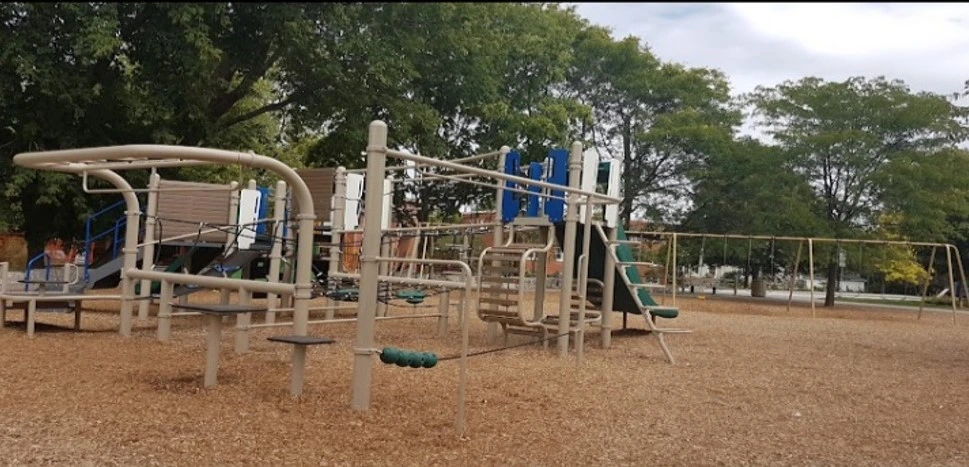 Address: 183 Stanley Ave, Ottawa, ON K1M 1P2, Canada
Street-style calisthenics involves working out anywhere. You can exercise in a park, on the street, or even in a playground with minimal tools. Stanley park in Ottawa makes it to our list because of its equipment, well-maintained grounds, and friendly environment. The place is always full of people who want to play soccer, tennis, run, walk, or exercise.
Besides calisthenics, the park has separate play areas for soccer, tennis, and baseball. Stanley Park has picnic tables for you to enjoy a picnic with families and swings for kids. There's an off-leash area for dogs, also.
Riverside park features soccer
Tennis
Baseball
A playground
Off-leash area for dogs.
Picnic tables
Swings for kids
Trail
Pull up bars
Vault bars
Step benches
Mountain Bike
Hiking
Trail running
Body weight exercise
One-arm push-ups and workout
One arm chin ups
Paved walkway for wheelchairs and strollers
Well-maintained equipment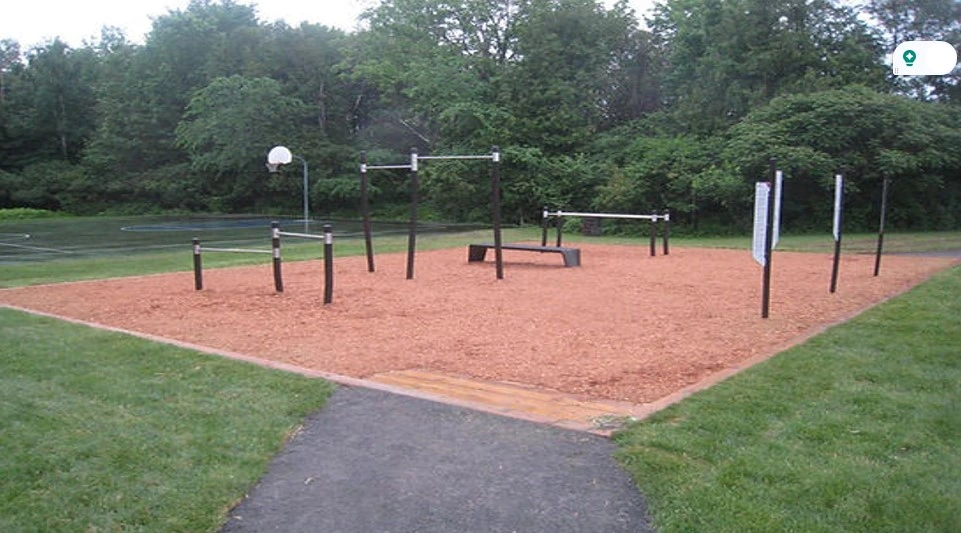 Address: 65 Stonehaven Dr, Ottawa, ON K2K 1A1, Canada
If you want to combine calisthenics with fun, you must go to Deevy Pines park. The park has some exciting sports facilities, which include baseball diamonds, great skate parks, and a soccer field. Your kids can have fun as there is a separate play area.
The park has a beautiful trail as well for walking, biking, and cycling. The park is wheelchair accessible, and there is a play area for dogs. Along with that, the park has a variety of calisthenics equipment which includes pull-up bars, vault bars, and parallel bars.
Trail
Two baseball diamonds
Great Skate Parks
Volleyball
Soccer
Swing for kids
Pull up bars
Vault bars
Parallel bars
Walking
Biking
Cycling
Sling trainer workouts
Bodyweight exercises
Off-leash area for dogs
Proper parking and wheelchair facilities are available.
Some parts of the trail are uneven
Park has more mosquitoes
No proper drainage system in the rain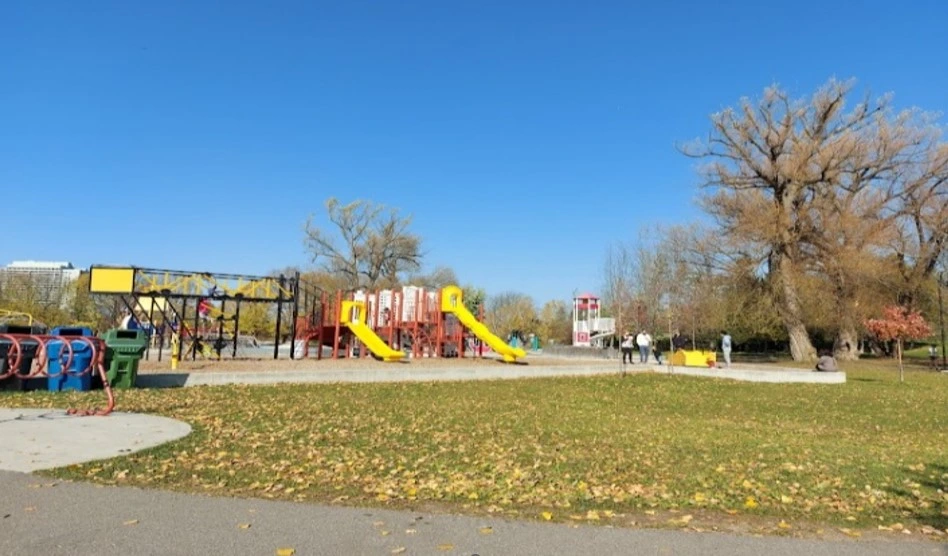 Address: 2960 Riverside Dr., Ottawa, ON K1V 8N4, Canada
In this type of calisthenics, you learn the skill of holding a position or movement for a long time. The park provides a wide range of calisthenics equipment and a trail for biking and walking. It's a great workout spot for kids too. Your kids can have a fun time as there is a playground and a picnic area for families.
Beach
Picnic areas
Children's playground
Volleyball
Trail
Pull up bars
Parallel bars
Swimming
Biking
Bodyweight exercises
Sling trainer workouts
Planche
Front lever
Accessible Wheelchairs
You can stay for a couple of hours as the parking meters are not so expensive.
Trail and equipment not well maintained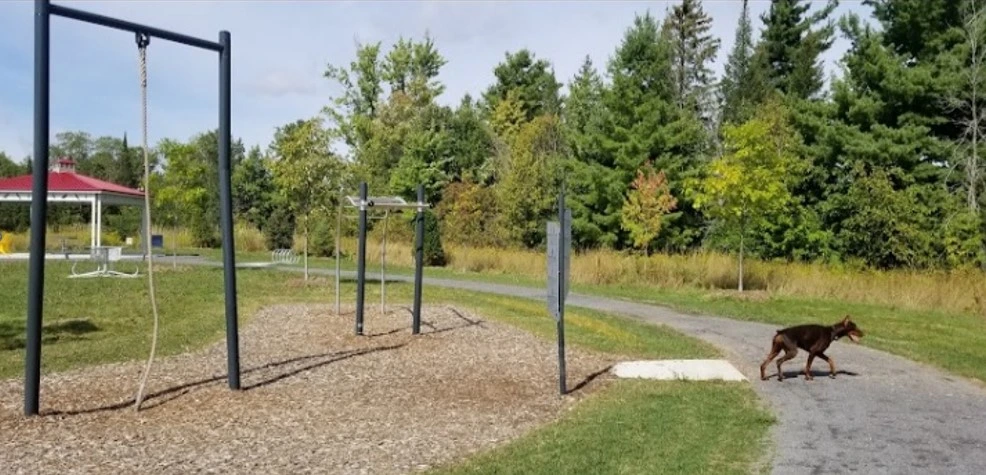 Address: 1825 Trim Rd, Cumberland, ON K4A 3P6, Canada
Want to have maximum flexibility and mobility? Are you recovering from an injury? Flexible calisthenics in Cardinal Community park can help in improving muscle mobility. This park allows you to do a range of exercises that could be a part of flexible calisthenics. As the name suggests, these workouts give your body a very good balance, maximum strength, flexibility, and mobility by stretching them.
These exercises are very good for people in rehabilitation centers as stretching helps in quicker muscle recovery. Along with that, the park has other activities for individuals and families, which include beach volleyball, basketball, and soccer.
Picnic table
Play area for kids
Splash pads
Swings
Slides
Beach volleyball
Basketball
Soccer
Trail
Dog park
Outdoor fitness circuit
Pull up bars
Parallel bars
Vault bars
Resistance bands
Low bars
Biking and Walking on a trail
Bodyweight exercises
Boot camp workouts
Sling trainer workouts
Crossfit
Chin-ups
Wheelchair-accessible car parking and entrance
A great community park catering to all age groups
A good area to play with sand and build castles
The trail is not so well maintained in rain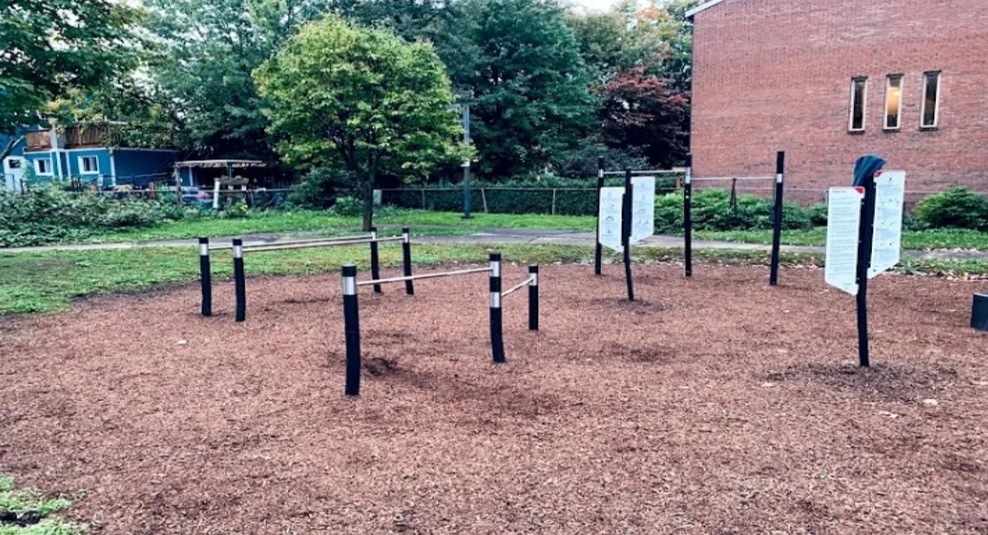 Address: 310 Bruyère St, Ottawa, ON K1N 5E7,Canada
If you are looking forward to having a leaner body through calisthenics, Rose Park is your go-to place. This park has made it to our list because it is a good place for aesthetic calisthenics. This type of calisthenics focuses on movements that are designed to improve overall body composition and give you a leaner, more toned physique.
The park has a well-equipped exterior calisthenics gym with pull-up bars, parallel bars, and vault bars. There is also a well-paved trail for walking/ running. You can make push-ups, pull-ups, burpees, squats, lunges, and other bodyweight exercises.
Calisthenics exterior gym
Trail
Pull up bars
Parallel bars
Vault bars
Play area for children
Calisthenics
Bodyweight workouts
Trail Walking/ running
Boot camp workouts
Chin-ups
A free exterior Calisthenics gym all year round
A field for playing with your dog
Work out space is not so spacious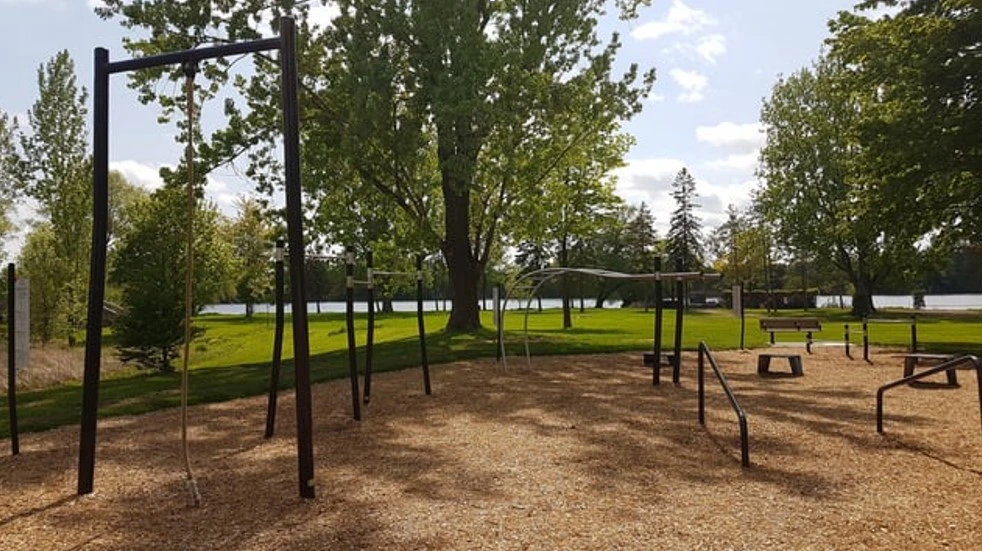 Address: 1465 Ridgebrook Drive, Ottawa, Ontario K1B 3X5, Canada
Do you know that calisthenics has been a part of the military's key drills and exercise routines? The purpose of military-style calisthenics is to build endurance and stamina. Some of the exercises in military calisthenics are:
Push-ups and push-up variations
Pull-ups and pull-up variations
Bodyweight squat and squat variations
Chest dips and dip variations
Russian dips
Planks and plank variations
Crunches and crunch variations
The isometric pull-up bar holds
Jump rope
Swimming
Running
If you want to do a military-style workout, you must visit Pineview Park, Ottawa. This park has an extensive list of calisthenics equipment and offers advanced workout sessions with fitness apps. In between lunges, squats, and push-ups, you can run on one of the trails to improve endurance and stamina.
Pull up bars
Parallel bars
Low-bars.
Vault bars
Kettlebell
Gymnastic rings
Gym Chalk
Resistance bands
Training gloves
Push-up handles
Push-ups
Pull-ups
Sit-ups
Bodyweight exercises.
Training with fitness apps
Sling training
Bootcamp workout sessions.
Cross fit
Frank Medrano Calisthenics bodyweight workout
Bar brothers workout
Advanced workout with fitness apps
Well-maintained calisthenics equipment
No play area for kids
Dogs not allowed
An outdoor workout in a calisthenics park is the best alternative to an indoor gym. Often you find a fitness class taking place in a calisthenics park. Calisthenics offers you a variety of health benefits, and the best part is that these eco-friendly workouts require minimum resources. Calisthenics workouts are more flexible and rewarding. Some of them are beginner-friendly, but experts can also utilize them for improved fitness. Sometimes, a fitness class in a calisthenics park is accompanied by music too.

Choose your favourite calisthenics park from the list mentioned above. Head out to our recommended park and achieve your fitness goals.